Veo camera sales happen a few times a year and are a good chance buy a soccer camera at a discount. After recording soccer games for several years with the Veo camera and several other soccer cameras I keep my eye on soccer camera deals – not only on ai sports cameras but also on Veo camera batteries, soccer livestream hotspots, camera tripods, tilt mounts, travel bags, camera cases, tripod adapters, Wi-Fi accessories, camera mics, etc.
There are certain times of the year like Amazon prime days or Black Friday when you can get deals on camera accessories and save some money. The summer isn't' a bad time to find deals because many sports are off season so you're not spending money on league fees or tournaments. The end of the year has some big sales but you're often spending more in general around the holidays so your sports technology budget is smaller.
You might not need a camera battery, hotspot, or tripod in the off season but it can be a good time to find some deals. You're not in a rush and have time to do some price comparison on different models of tripod mounts, camera bags, Bluetooth mics, travel bags, etc.
When you first start using an automated sports camera like Veo, Trace, Pixellot, Hudl, Reeplayer you spend more up front on the technology so you're not excited to add in soccer camera accessories to the bill. But over time as you record soccer or your other sports you start to realize there are definitely some gadgets and accessories that make your sports cameras easier to use or can help you record better soccer footage.
Throughout the year as we see soccer camera deals we'll list them here. For example, here are some deals this week on items that we own and use for our Veo camera.
Veo Camera Battery
We really like this portable battery but we've also been testing these other portable chargers. They're not as nice as the Blade above but they are easier on the budget:
We did a test over a tournament weekend last Spring and didn't charge any of our 3 cameras we were using from the wall. As we used the cameras for tournament games for our 3 kids we only charged them from the Baseus batteries above and were able to make it all weekend.
Of course we did charge the batteries overnight but never the cameras. We only charged them from our 3 batteries and made it the weekend without missing a game. It was a little tight on battery juice in a few games but we made it!
Livestream Hotspot
Having a hotspot is nice not only for livestreaming but also for uploading games when you're on the road so you don't have to rely on hotel internet.
We use this Inseego MiFi 2000 for many of our games but also use this Solis Lite for teams that use our rental cameras. It's nice because it supports multiple carriers so it should get good signal where ever you're playing. So far we've tested it around the U.S. and in Mexico with good results for livestreaming and uploading
Camera Tilt Mount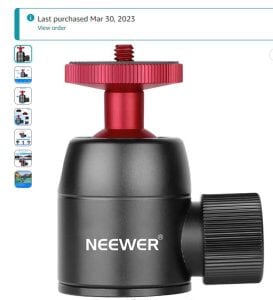 For the first year or so we had our Veo camera we didn't use a tilt mount but then we got our first Pixellot Air and they use an angled mount so we thought we'd try out a tilt mount for Veo.
One thing we learned is that not all camera systems appreciate recording at an angle. In doing this Trace vs Pixellot vs Veo comparison we tried recording all 3 at the same angle to get an equal comparison.
What we learned is that Pixellot works best when recording at an angle, Trace doesn't like recording at an angle (requires a level camera) and Veo seems to work ok either way.
The tilt mount is nice when you want to get less of the horizon and more of the field. We've started using it more and more over the last year, we've experimented with several types of mounts. Some ball head, some angled – some cheap, some expensive.
What we found is that this tripod ballhead tilt mount is cheap and easy to use and does everything we need.
It comes in really handy when you don't have much space to record on the sideline and you don't want to miss the action right under the camera. Either you have the camera up pretty high but not much room to scoot it back from the field. Or if you're indoor and space is tight.
Just last weekend we recorded and livestreamed from futsal youth nationals, when you're in a tight space like futsal or basketball courts, very helpful.
Camera Mic Windscreen
There are many versions of these windscreens and none of them are very expensive. You can't really save that much on them because they don't cost much in the first place but they definitely give you good bang for your buck when it comes to sports camera accessories.
If you've ever recorded in the MidWest where the wind comes sweeping down the plains, or on any windy spring day you know how loud the wind noise can get on the soccer camera recordings. You might have a calm Friday night game with hardly any wind noise and you can hear the players, coaches, and just sounds of soccer. Then the next day the wind kicks in and all you can hear in the audio is the howling of the wind. Of course you can mute it and now Veo and Pixellot have the ability to remove the audio but these can really help. These wind mufflers might be one of the best in terms of money well spent, the cost is low and it cuts down on wind noise if you live anywhere windy.
Sports Camera Tracker
As soon as these came out I bought one for each of our Veo cameras and put it in the camera case. The first time you leave your camera behind you'll know the money spent on this was worth it – https://soccerstripes.com/product/veo-camera-tracker/
Unfortunatley I've disocvered there is a max number of AirTags you can connect to your AppleId. We have lots of sports cameras so needs lots of trackers but for most people just one tracker will do the trick.
Tripod Bag
Traveling with your tripod is easier when you have a good bag. We like this one because you can use it for both shorter tripods like 12-13 ft or also for the taller 23 ft tripods – Padded travel bag.
If you're going to be hauling your camera around a lot from field to field or flying with it a lot these are nice because they protect your tripod better, have wheels and handles, and are TSA approved:
Camera Travel Case
When testing out different soccer cameras saw a variety of different protective cases and realized we are a fan of the hard shell case with the clasps. The trouble with zippers is that they take longer to open and close and they also get stuck and end up breaking when you zip/unzip over and over.
You can add a travel case when you order the Veo camera but what if you have a Pixellot, Trace, Hudl, Reeplayer and want a travel case? Thanks to one of our fans we discovered a few different models of camera travel cases you can use.
We were at an ECNL event one Saturday and I noticed the camera setting up for the next game had a different case I'd never seen before. I started asking him about his camera case and turned out he reads our site and newsletter so we chatted about options for protecting the camera. I ended up buying this camera travel case that lets me take 2 Veo camera's at once , but they also have smaller models and you can use it for any kind of camera.
You can also save money if you buy the smaller one rather than ordering a case from Veo. Of course, it doesn't have the molded interior like the travel case you get with the camera. That is nice because the camera fits exactly into it and you have a spot for your charger/accessories.
This model that I use has a a few layers of protective foam and it allows you to hollow out the space you need for your camera or other gear.
The other option is to use a laptop or camera backpack. We do this on tournament weekends when I want to carry a bunch of cameras all at once as I go from field to field. It doesn't protect them as well but does make it easier to move a multiple cameras around a soccer complex.
Sports Video Casting
We've used both the Google Chromecast and also HDMI mirroring cables to cast our games onto the big screen. This comes in handy when you're back home and the team is livestreaming and you want to share your Veo live to a big TV for everyone to see. It's not uncommon to have injured players, working parents, or family members that can't make the trip to the tournament or to post season soccer who want to watch the livestream on a screen larger than their phone or iPad.
Or if you're at an away tournament and you want to pull the game up in the lobby after the fact so parents can watch or you can do film reviews.
The HDMI mirroring cable often is a safer bet because you're not relying on a wireless connection and its also less laggy.
Soccer Game Backup
Once you download your games or video clips you need somewhere to store them. If you want to have them portable so you can take them to a film review the WD Elements portable is a good option. Or if you just want to archive them off to your desktop you can get twice the amount of space with a WD Elements drive like this one.
Game Video Commentary Speaker
If you'd like to commentary on your games this Bluetooth mic can help you project your voice right into the camera speakers. What some teams do is velcro strap a small Bluetooth speaker to the tripod right below the camera like this JBL Clip 3. The connect to the speaker with a Bluetooth mic app on their phone and do a play by play of the game. It's not for every team but we've been recording for some WPSL teams and other higher level teams who would like commentary on their video footage or livestream and this is one way to do it.
Camera Upload & Tripod AdaptorsVideo Commentary Speaker
Even though the Veo 2 camera can upload wirelessly it's faster to use this USB-C ethernet adapter to upload wired. I like this one because it lets you upload the game and also charge the camera at the same time. If you just have one game to upload it's not as big a deal but if you record several games at once and you want to get them uploaded quickly so they can be reviewed and also to free up space for more games it's nice to have the wired upload option. Sometimes with camps and tournaments we might have 30-40 recordings across cameras so its nice to have them upload faster.
This is for everyone that has or at some point might lose the quick release that threads onto your tripod. I order a LOT of these since teams that rent our cameras sometimes forget to send them on. It doesn't hurt to have an extra one in your case or if you lose yours you can order a new one. You can actually get a Manfrotto one but the generic one I linked to above is quite a bit cheaper so that's the one we use, in this case the discount is just getting a generic brand.
Sports Parent Roadwarrior
If you're like many sports parents you spend many hours driving to and from practice and games. As your kids get older you find yourself driving to St Louis, Chicago, Omaha, Kansas City or whatever the cities are in your region.
Eventually you'll leave the lights on or your battery will be old and struggling and you'll be at field somewhere and you'll turn the key and the car won't start. It literally happened to me a few weeks ago with a car full of middle school girls after in the hot summer afternoon. Let's just say they didn't smell the best so I was happy to pull this jumpbox out of the trunk and get the car started.
That wasn't actually that bad, often it's when you're out of town and it's a late night game and it's snowing and anything else that could make it a miserable situation. That's when your car won't start and that's when you'll be really happy to have this up your sleeve.  The trouble is that it's not cheap and you hate to spend the money on it when you're already paying for uniforms and league fees and soccer cameras. But when you need it you'll be glad you have it, just wish we would bought this Jump Box sooner in our soccer driving adventures.
Soccer Gifts
The other reason to keep an eye out for deals on camera accessories is that you have something that your coach, team manager, team tech dad will appreciate at the end of the season when it's time to give them a gift to show your appreciation for their season of work filming your games. Whoever is recording games for your team would likely be happy for a new camera battery, hotspot, tripod bag, or some other soccer camera accessory that would make their life easier.
I am the soccer tech guy for our team and if you order any of these items that we use and I linked to above then I'll get a referral since I'm a member of amazon associates program. Thanks in advance since that helps the site bring in some money so I can buy more tech to try and and share with you.
Hopefully some of these ideas were helpful! You can keep up with our latest on our YouTube Channel. or if you have any questions about how we use any of these you can send me an email, ben@easysportsvideo.com, or give me a call, 816-398-8846