If you record or livestream games for your soccer team here are some Black Friday deals you'll be interested in. We're a fan of saving money and technology isn't cheap so we always keep our eye out for deals over Black Friday for soccer cameras or related gadgets or internet options:
Solis Hotspot for Livestreaming
I ordered this a few days ago so the jury is still out on this deal. We use T-Mobile Inseego MiFi for streaming our games but I'm looking for hotspots that we can send out with our rental cameras when teams want to livestream with the Veo 2.
Solis hotspot interested me because of their U.S. data plan options. You can choose a monthly plan called GoData Subscription or a pre-paid "Pay Per GB" plan. The pay per GB plan has 1/5/10/20 GB options and the monthly plan has 1 – 100 GB options.
It seemed like a pretty flexible option for teams livestreaming sports around the country. I decided to try it because you can switch back and forth between the Subscription and the Pay Per GB on one hotspot.
The Black Friday sale gives you $20 off the hotspot and 50% off the plan. The plan doesn't start until you activate it so you can buy on Black friday and then activate it next spring season.
Once it arrives I'll use it to livestream a game and see what the performance is like. If it does well then it could be a good alternative for teams that want to livestream games on certain weekends in the Spring and Fall seasons but don't want to pay for an monthly service all year long like we are with T-Mobile.
Update, I livestreamed a game with the hotspot this weekend and it used about 2.8 GB of data to stream about 33 minutes of footage. So maybe for a 90 minute game would be about 8-9 GB. The performance was great, not laggy at all. I'd recommend this Black Friday deal.
Veo Camera Battery Backup
Just this weekend I had a soccer parent fail, I didn't charge the camera up before the start of a tournament weekend. As I mentioned I'm recovering from surgery so not on the top of my game (that's my excuse) and Saturday morning the camera battery was dead as a doornail.
Luckily my portable battery was fully charged and I was able to charge the camera on the way and keep it plugged in while I recorded. Sooner or later, you'll get to the field and go to power the camera on realize there's no charge.
I made a video showing how I charged while recording and the rate at which it charged up. I didn't track it the whole game but just for the first 6 minutes of recording. In those 6 minutes the camera battery went from 11-13%. What I forgot to do was see how much of the battery that took but I left it plugged in and was able to record the whole game.
This Baseus portable battery charger is on sale again this Black Friday for $80 instead of $100.
Veo Camera Sale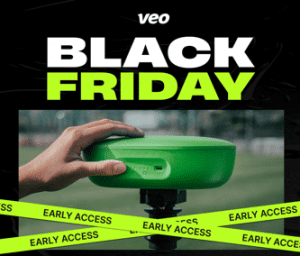 Veo is having their Black Friday sale again. We've written about it before in our Veo camera discounts update. One thing that's happened in the past is that Veo sold of ton of cameras in their sales so the delivery time stretched out afterwards.
Now that Veo has moved into their new headquarters with a new production facility that's helped speed up the delivery of cameras when they have a big sale. The cameras are made at the HQ in Copenhagen, Denmark and they ship to you via DHL.
Veo hasn't announced what the pricing will be for the Black Friday sale but last year it was 50% off when you signed up for an annual plan.  The way you get the camera discount is to enter your name and email on the Black Friday deal page. Once they announce the deal they'll send you a discount code that you'll use at checkout to get the savings on the soccer camera. Sounds like they'll be announcing the pricing on the deal here in a week but go ahead and sign up for the discount code now here – Veo camera Black Friday.
Soccer Camera Tracker
Isn't that just an AirTag, you might ask? Yes, but once you slide it into your camera case it becomes a soccer camera tracker. It might be the best $20 you spend this year if you end up losing your soccer camera. Whether you have a Veo, Pixellot, Trace, or even just a DSLR you should put one of these in your camera case this week.
We started using these because one night I left my Veo camera at the field. On a panicked 30 minute drive back to the field I decided I would put a tracker in all my camera cases ASAP. Now that we rent out Veo cameras its nice to be able to pull up the camera case in "Find My" devices when a team misplaces one of our cameras.
Try and slide it into a non-obvious part of the case so that it stays hidden and also doesn't move around. I slid it down between the foam mold and the outside of the pelican case so it doesn't move and also isn't visible when you open up the camera case. So if someone pinches your camera they wont just see the tracker and toss it.
This soccer camera tracker is on sale during Black Friday. You can save even more on a 4 pack, right now you can save $20 on an AirTag 4 pack.
Trace Camera Sale
Trace is also offering a sale on their sports camera for Black Friday. We're also evaluating the Trace camera you can see a Trace game clip.
Looks like they're offering $500 off the video package. The Trace system is a little different than Pixellot and Veo, with those companies you buy the camera. With Trace you lease the camera, tripod, and trackers for a year. Once the year is over you can sign up again or ship the camera back.
Pixellot Camera Sale
Pixellot is also discounting their sports camera for Black Friday. The Pixellot Air is one of the cameras that we're evaluating as we compare soccer cameras to find the best soccer camera for your team. I've actually seen two different deals advertised for the Air. One was $300 off and the other was 40% off the Pixellot Air camera. Not sure which one is current, maybe both?
Pixellot has a similar approach to Veo. You buy the camera and then pay a monthly or annual plan for the service, hosting, sharing of the videos that you record. So the discount isn't on the plan but you can save money on the camera. In order to get the discount you need to sign up for the 1 year or the 2 year plan.
Like Veo, Pixellot supports recording multiple sports like soccer, volleyball, lacrosse, football, and basketball. The camera sale has started, to get your discount click here for –  Pixellot Black Friday deal.
We'll update this page as we learn of more Black friday deals for soccer parents or coaches who record games for their team or club. If you know of one, send me an email, ben@easysportsvideo.com