Veo camera discounts are something many teams ask about so here's a list of ways you can save some money on the Veo soccer camera.
1) Veo Discount Code
Using a Veo discount code is typically the best way to save your team some money. As a Veo Ambassador we can help you knock some money off the price of the camera when you checkout if you use our Veo promo code.
The way it works is you enter your name and email to request the Veo discount code on this page – https://easysportsvideo.com/VeoDiscount
You'll get an email with your custom promo code (if you don't receive it you can always call me, 816-398-8846) . Then you enter your discount code on the last page of checkout and it applies the discount to the cost of the camera. Veo typically doesn't run promotions on the camera plans but they do offer ways to save money on the soccer camera, like these codes.
We've had a lot of questions about how the discount code works because it lowers the price of the camera, not the plan, so we made a video that shows you how to use our Veo Discount Code at checkout- how to get your discount.
The code to enter to get your discount will be different for each team, they'll give you a custom code when you enter your name and email.  If you run into issues with it you can always give us a call – 816-398-8846
2) Veo Camera Sales
Occasionally Veo will run sales on it's camera. For example, right after they announced the Veo 2 they were offering discounts to teams that already had a Veo 1 and wanted to pre-order the Veo 2.
You can check back to this page to see the latest Veo camera sales or you can enter your email here for Veo updates.
Veo Black Friday Sale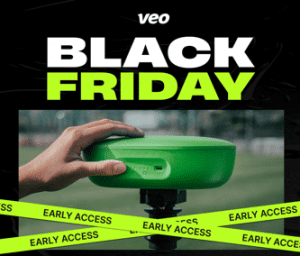 If you're thinking of getting a camera for next season the winter might be a good time to get a deal. Last year they had a sale in November and the Veo Black Friday sale is back again this year. They haven't announced what the discount will be yet, last year it was 50% off the camera if you signed up for an annual plan.
You get the deal by submitting your name and email here – https://easysportsvideo.com/VeoDiscount
The deal hasn't gone live yet, Veo will email you the details of the sale and your promo code once the sale is available on 11/23.
If you're wondering how soon you'll get the camera, there's a shipping estimate at the bottom of the page where you select your camera, tripod, and plan. You can see an example of how it works in this video – https://easysportsvideo.com/CameraDiscount , on the screen that has the "Proceed to Checkout" button it shows the estimated delivery timeframe of your camera.
Veo Season Start Sale
This sale has ended – at the start of the Fall Veo was running a start of the season sale, for 50% off the Veo 2 camera when you sign up for a one year plan. The sale lasted about two weeks. Getting the deal was pretty simple, you entered your name and email on the deal page. You were given a coupon code that you could use when you checked out to take half off the price of the camera. The promotion didn't apply to one month plans, you needed a 12 or 24 month plan in order to get the discount.
3) Veo Camera Plan Adjustments
Back when Veo first came to the U.S. I asked for discounts on the camera plan and learned that they don't reduce the rates on their subscription. What I discovered is that the best way to get a lower rate per month was to sign up for the longest term plan they had. At that point in time they only offered 12 month plans but did offer me a lower rate if I signed up for 2 year subscriptions. Since then Veo has started offering a two year plan for all users, which is the best way to get the lowest cost per month if you know you're going to use it long term.
This costs more up front because you're paying for a longer period but you do get a lower price per month. Obviously if you don't use your camera year round then this isn't the best option. It doesn't do you any good to lower the price per month if you're paying for months that you're not going to use. If you do play year round but you're not sure that you'll use the camera for 2 years, the good news is that the cameras are in high demand. Right now it's really tough to buy a used Veo camera because not many people are selling. If you do buy a 2 year Veo subscription to save money and then later decide you don't need it for 2 years you can always use our service where you can buy and sell soccer cameras to sell your Veo camera.
4) Other Veo Discounts
Here are a few more Veo related discounts:
Veo Camera Rental Discounts
If you need to rent our Veo cameras for multiple weeks we do offer multi-week and multi-month discounts on camera rentals. You can call us ( 816-398-8846 ) or email us ( ben@easysportsvideo.com ) to find out more about those discounts.
Veo Camera Rookie Discount
The Veo Camera Rookie guide is something we wrote for new camera owners and is a guide that we're constantly adding to as we learn more about the camera and best practices. It still has more sections and detail that we'd like to add so since we see it as a work in progress we have the Veo camera guide on sale.  We've gotten a lot of feedback from new camera owners really thanking us for putting it together. We're pretty proud that it's helped so many teams, you can read about it helped them and all about there guide here – Veo Camera Rookie Guide
Veo Camera Kickoff Discount
We offer the Veo Camera kickoff option for teams that would like in person assistance when they first get their camera. We get on a Zoom call with you and then help out with follow up phone calls and text messages. Not every team needs it but the ones that do really appreciate having the option available. It's something we've been doing informally for two years now but just recently started offering as a service so we're running a sale on the Veo Camera Kickoff as well.
Veo Freelance Discount
This guide is for teams that have a Veo camera and would like to make it available for rent to teams in their area that don't have their own camera. The reason we wrote the guide is that we get a lot of questions from teams around the U.S. about how they can help cover the cost of their camera system by recording games for other teams or renting their camera out. After sending enough emails we finally took all our answers and just put them together into the Veo Freelance guide. In the guide we share everything we've learned over the last 2 years renting out Veo cameras to over one hundred teams around the U.S.   Just like the Veo Rookie guide, we see the Veo Freelance guide as a constant work in progress so its also on sale. You can find it here – Veo Freelance Guide
Veo Camera Listing Discount
After hearing from many teams wanting to buy a used Veo camera we did a write up on how to sell your Veo and also created a service where you can list your Veo for sale. The point of the service is to make it easier for teams who no longer need their camera to find teams that are searching for their own. We do verification on the camera and the plan and help facilitate questions and the sale so there's work required on our part so we charge a listing fee. Right now that listing fee is also discounted. So if you want to sell your Veo camera, even at some point in the future when your season ends or you get a new camera you can list it now at a discounted rate.
5) Soccer Camera Contests
Right now you can enter a World Cup contest to win a free soccer camera rental for your team. This is a good option for teams wanting to record a tournament or to tryout the Veo camera. You can see the contest details on this soccer camera highlights page.
If you have questions about any of these Veo discounts or run into any trouble with them please give us a call ( 816-398-8846 ) or send us an email us ( ben@easysportsvideo.com )