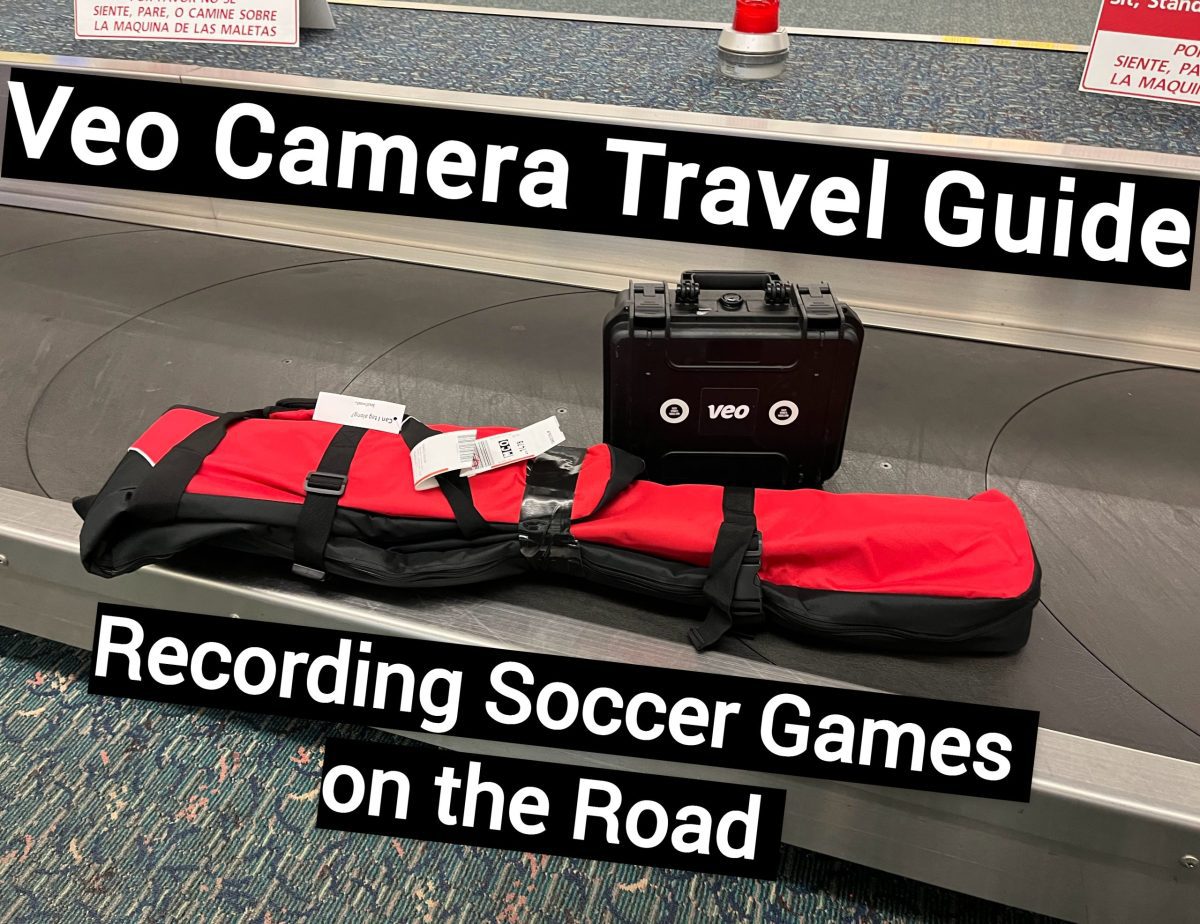 Are you recording travel soccer games or livestreaming soccer for your team? Be prepared for your next trip with this Veo camera travel guide for sports parents.
Planning ahead can save the stress of hunting good internet, hours of running around town trying to find the right adapter or plug, and of course can save you some money.
I'm writing this in a hotel lobby in Las Vegas as my wife drives our daughter to games in St Louis and I just booked our team hotel for games next weekend. We've hauled our Veo camera and tripod around the country and here I share what we've learned about traveling tips for the
We're a soccer family but if you're recording basketball games, volleyball, lacrosse, rugby, hockey, or other sports most of the tips for recording on the road will make your life easier with those sports as well. If you're taking a road trip then transporting the tripod's not a big deal, you can skip ahead. If you're flying this section should help:
Veo Tripod Bag
Which tripod should you travel with and how should you get it there? Here are the 4 tripods we've used and Veo tripod bags or cases for the plane:
Veo Tripod on the Plane
If you're taking the Manfrotto tripods in a travel case or padded bag you can check them on Southwest for no extra charge. We've been fortunate to have gotten direct flights to Orlando, Phoenix, Las Vegas recently so we didn't have to worry as much about our tripod getting lost in the transfer. I probably would worry about that if it wasn't a direct flight since without the tripod it's tricky to record.
I haven't taken the tripods on an airline other than Southwest, if you experience with other airlines, please let me know and we'll add it here for others to learn from.
Tripod Carry On
Last time we flew, the team on the flight with us actually carried the 13 ft impact onto the plane and put it in the overhead. I thought it would be too big but they just carried it on with no bag and put it in the overhead. I was so surprised, I snuck a photo as we lined up to board as you can see. Obviously the nice thing about this is that you don't have to worry about it getting lost.
The other thing to consider is that when I checked my Meking 15 ft tripod they asked what was in the bag. The airline attendant told me they were responsible for lost items but not for any damage. So basically they would get it there but wouldn't guarantee it wouldn't be broken. I didn't have any issues the 6 times I flew but of course it just depends on the situation. Overall, it might be a good idea to just carry on the smaller tripods if you can so you no its not lost or damaged. I just don't know how that flies on other airlines.
Padded Travel Bag
I bought the 185cm Athletico padded bag because it fits both the 12 ft and 23 ft Manfrotto. The last few trips I used it for the 15 ft and actually folded it over as you can see in the photo on the baggage claim belt. You can check the 23 ft in the padded bag, the only thing to consider is whether your $500 tripod is going to be damaged.
The nice thing about the SportTube is that the outer shell protects the tripod. For example, we had a soccer scout take our cameras to Nigeria along with the 23 ft tripod and the SportTube got it safely there and back. It does have wheels and pull handle so it makes it easier to lug around the 23 ft Manfrotto. Which leads us to the next section, what you'll do with the tripod once you land.
Tripod Driving Tips
One challenge when you're flying is what your rental car, taxi, or Uber will look like when you're travelling to the field.
In all of our travels we've simply rented a four-door sedan and filled it with 4-5 people, which didn't leave much room for a 23 ft tripod. If it's just two people, you can put the passenger seat all the way back and lay the tripod in the front but if your car is full that's not an option.
So when you're considering the size of the tripod to take, you definitely want to think about how you'll get to the field. We took an Uber to the rental car place from the airport and it was nice that the 15 ft fit easily in the trunk of the Uber. If you have the taller tripod you might think about the cost of an Uber XL so you can fit it in the vehicle.
As you're debating which tripod to bring lets talk about how the footage turns out once you're recording at the field.
If you're on a road trip, or if you drive to soccer fields every weekend, then you should check out this Battery JumpBox . It's not cheap but it will pay for itself if you drive a lot for soccer. I bought this one after our alternator died on the drive home so our battery died and we ended up stranded on the side of the road.
The tow truck driver who rescued us used one of these jump boxes. I ordered this online the next day and I've already used it myself twice. In addition, I've helped out two cars dead in the parking lot. One at the grocery store and one at the soccer field. You just have to make sure you recharge it at home after you use it. If you're a sports parent with multiple kid who drives a lot for sports and you buy this jump box you will thank me at some point over the next few years : )
Veo Tripod at the Field
When we traveled to Florida and Arizona we played at least one local team in the tournament or showcase and usually one of them had their Veo setup with the 23 ft tripod. Here's a photo of our 15 ft tripod next to a 23 ft from the home team in Florida (wasn't up all the way). Not that it matters but we did win the game so the size of the tripod didn't make a difference : )
Unfortunately we lost the next day to another Florida team who didn't have a camera but I shared the footage with them. So something else to consider, if you can't travel with your camera you could always ask the opponent team for footage if they're recording.
One thing I've noticed is that when I use the tilt mount it shows more of the field and less of the horizon. So if I get up 15 ft and tilt down at the field I get a pretty good shot of the game. You can get right up close to the field without losing much of the sideline.
Out West it was windy enough some nights that I wouldn't have put the tripod up all the way even if we'd have brought the taller one. In both Phoenix and Vegas two of the night games were so gusty that I was standing next to the tripod holding it to brace against the wind. Games like those you don't want to raise the tripod very high so having a 23 ft tripod wouldn't have come in handy those matches anyhow.
Sandbags or Stakes
Once you get to the field you definitely want to secure the tripod. No point to haul it all the way across country to have it blow over and break. Down South I saw several of the 23 ft tripods all the way up with no sandbag and it made me nervous for the other team! I should carry around postcards with photos of wrecked Veo cameras and hand them out to anyone with a tripod and no sandbag. It would read: "This is your Veo, this is your Veo with no sandbag & a strong breeze, any questions"….  That one's for the Gen X crowd : )
Of course you don't want to haul a big heavy sandbag when you travel so what I've done is bring two empty sandbags and then fill them up once I get there. I saw some teams in Phoenix that had empty containers you can fill with water as weights. They looked pretty slick, I haven't tried those, I guess my only concern is if they pop a hole traveling then they're done for.
Sandbag Fillers
What I've been doing is taking along empty sandbags, then at the hotel finding gravel or decorative rock and filling them up and just leaving them in the trunk of our rental car. Only downside is you don't have a wagon to haul them like you might at home so you're lugging them to the field. In Vegas we were on field 13 so it wasn't a short trip! The last day just be sure to dump the rocks back out at the hotel.
If you're playing on grass and you have the Manfrotto tripods then you can stake the tripods down. We've played on a mix of turf and grass at our travel tournaments so it's probably better to be prepared for both. Sometimes as you can see in the photo above the facility will have extra sandbags on the sideline. Doesn't matter how you get the sandbag, just make sure you have your tripod secured!
Flying With Veo Camera
If you're flying with the Veo I would use a travel case. You can buy the one that Veo sells or you can get your own on Amazon. The nice thing about the case is that you have the camera, charging cable, quick release plate, ethernet cable all in one place and protected.
Another option is to slide your camera into a laptop bag. I've done that for tournaments when I have multiple cameras to take to the field. Just make sure whatever you carry it in has good padding for when you accidentally drop or knock over the bag.
The Veo travel case will count as one of your carry on's but I always carry it on the plane, as opposed to checking it. I also make sure that I put it in the overhead right above me so it doesn't wander away.
For example, if you fly Southwest and get a C boarding pass sometimes there isn't overhead space open above the seat where you end up. Just make sure it's right above you or below the seat in front of you. I wouldn't want it at the front of the plane while I was at the back.
Tracking a Lost Camera
As you can see from the "Find My" screenshot when I was in the airport terminal, the other thing I do is put an AirTag in each of my camera cases. So if you leave your camera at a security checkpoint while you're rushing through with your team/family, you can find it. Or if you leave it in your Uber, or on the airport shuttle, or in the hotel lobby, or at the soccer complex, etc.
I would definitely use a Veo camera tracker in your camera case so you can find your camera if (when) you misplace it. If you don't have an iPhone you can try Tile, Chipolo, or Galaxy SmartTag. I've never used any of those since iPhone/AirTag works for us so you probably want to test those options out before traveling.
Veo Camera Battery
It's a good idea to bring along an external battery for the days when you have multiple games or for the times when you forget to charge the camera or accidentally leave it on. If you flew all the way across a few states for a game, it would be nice to get it recorded and would be too bad to miss it due to a dead battery.
I use this Blade by Baseus, and bring along a USB-C cord and a drawstring bag so I can hang it from the tripod and have the camera charging while recording.
This battery pack has saved me multiple times when my camera was low/dead and it helped me record a game I would have missed otherwise. I like this battery because it has has a digital display that shows you the battery level and also how much longer you're able to power the current device that's plugged in. When your battery is plugged into the wall it tells you what percentage of charge the battery is at and also how long until a full charge. I also like that it has 2 USB-C ports so I can charge 2 things at once, for example my Veo camera and also my hotspot. In addition it has two USB ports so you can charge your
phone, etc. It's not cheap but I've noticed that Amazon often has a "Save $15" button where you can knock fifteen bucks off the price with a discount code on that battery.
There is a cheaper alternative we've used, an Anker battery pack that doesn't have the digital readout, only has 1 USB-C port, and doesn't charge as fast but is about $40 cheaper. For that one you'll also need to buy a Powerline II or Powerline III charging cable to run from the battery pack to the back of the Veo which will run you about another $15 – 20.
If you're travelling with the Veo 1 you can't charge while you're recording but I use this portable battery charger in between games to charge the Veo 1 at the field.
One thing some people don't realize is that the Veo 2 is always drawing some power, even when it's turned off. So if you travel to your games/tournament and haven't charged your camera in a few weeks the battery will be partially/mostly dead when you arrive even if you charged it up fully after your last use.
Veo Camera Internet
I bring along my hotspot when we travel so I can livestream our games. I've been using our T-Mobile Inseego M2000 and its been pretty strong in metro areas around the US. We did have a game out by corn fields farther out of the city in Illinois and the coverage was spotty that day.
I've also been testing Solis hotspot as a backup for my T-Mobile, seems like a good alternative so far. I like Solis because you can buy pre-paid minutes. So if you're not livestreaming every month, you only pay for data when you need it. The cost per GB is more with pre-paid than using a plan like T-Mobile but if you don't need it regularly it might be worth the cost savings of not paying a monthly fee when you don't use it all the time.
The other thing I like about Solis is that they let you jump between providers with the same device. So if you travel to the opposite coast and your provider signal is weak, you can use Solis to jump to a different provider. So if T-Mobile is weak you can change over to AT&T or vice versa. Changing service providers is simple to do, just tapping a button in the app. I've done it at a soccer complex here locally and it worked great, service was good enough to livestream.
Veo Camera Wi-Fi
If you're traveling with a Veo 1 you'll want to bring a WiFi bridge for uploading from your hotel room. They work great, I've used them to upload lots of games on the road. You need it because the Veo 1 can only upload over a wired connection and the WiFi bridge does that. Of course you're still constrained by the speed of the WiFi connection that you're using.
You can do the same with the Veo 2 but since it uploads wirelessly you don't need to. I'm not sure why but it varies from hotel to hotel whether the Wi-Fi bridge speeds things up. Last trip I forgot to bring my USB-C to ethernet adapter so I uploaded all our games wirelessly via the Veo 2 camera, rather than the Wi-Fi bridge, and they uploaded fine. There have been other hotels where I tried without the Wi-Fi Bridge and it kept dropping the connection.
One thing I did this last trip was connected to the wi-fi on my iPhone first. Once I had that connection setup then I used that same phone to setup the Wi-Fi connection on my Veo 2 camera and it connected just fine. It didn't prompt me for a password when I was inside the Veo app and setting up Wi-Fi.
One thing I recommend if you'll be uploading over hotel Wi-Fi is paying for the Wi-Fi upgrade. We stayed at a Hampton Inn in Las Vegas and I paid the $5 a day for faster internet and my games uploaded really quickly over the Wi-Fi with my Veo 2 with no Wi-Fi bridge or adapter. Looking back at our hotel receipt, they only billed me $4.95 one time so it was definitely worth $5 for several days of faster internet.
If your hotel wi-fi is dog slow, you can always upload over your hotspot. At home I have google fiber so I'm used to really fast uploads but I was pleasantly surprised when I was able to upload our games over Hilton Wi-fi in 3-4 hours. I plugged it in about 2pm and it was done uploading by 6, might have been earlier.
Hotel Internet
If all else fails you can try the internet connection in your hotel lobby and business center. In this case, it's a good idea to bring along your Ethernet-USBC adapter if you have a Veo 2. What I've done in the past is find a cabinet in the Biz center that has power and internet and plug the camera in underneath there and leave it.
The travel case has a padlock hole so if you had a lock cable you could actually lock it mostly closed, with enough room to run the cords through, and attach the case to the cabinet itself so people couldn't walk away with the camera if they ran across it. I haven't tried this myself but will look for a cable the right size so we can test leaving our camera in a public place to charge or upload.
This section helps you upload your game but what if you want to do a film review in between games? For example, we had a morning game and an evening game and they wanted to do a film review in between. Since it takes a while for the footage to upload and process I pulled up the game in Veo Live on a TV in the lobby.
Veo Camera Film Review
The easiest way I've found to get your game on a big screen is to bring along a mirroring cable and mirror your phone or tablet to the TV. In my case I have a Lightning to HDMI Mirroring cable and use it to mirror Veo Live to the hotel TV.
You just want to find a TV that has an accessible power outlet that your mirroring cable can reach and also an accessible HDMI port. If the TV is mounted on the wall and the ports are on the back it might take a while to feel around and find the port. What I do is slide my iPhone between the TV and wall and take a few photos of the back of the TV to figure out where I need to plug in the HDMI cable.
In this case I had forgotten my cable and it was going to be $50 to buy a new one at Wal-Mark or Best Buy so luckily I had along my Google Chromecast. I have a video on how to use the Google Chromecast in your hotel . I haven't had a lot of luck connecting my Chromecast to the hotel Wi-Fi. I've always had to connect it to my hotspot in order to get it to work. Some smart TV's will let you cast your game right to the TV wirelessly but you never know what TV will be in your hotel so better to bring along your own cables.
Film Review Location
You can see above the game up on a TV in the hotel lobby but after I had it all setup, the coach asked me to transfer it to a different quieter section of the lobby. I had to take it down and set it back up quickly while the team was sitting there waiting, so the tip would be to find out ahead of time which TV the film review will be on. Hotel rooms can be tight with an 11v11 team of teenagers so if you can find a TV in the corner of the lobby that's a better bet. Ideally, if you can get a conference room big enough with a TV and a door that's even better.
I actually also bought a small projector that you can use to project your iPhone on the wall. That would get rid of the need for an HDMI mirroring cable or Chromecast, you just project your phone screen a conference room wall. The problem is in order to get a projector with a good enough picture you'll probably spend a lot of money so the cables to the TV are a cheaper option.
Playing in Rain & Snow
Over the winter we traveled to Florida, Nevada, & Arizona so we didn't run into any rain but if you're headed somewhere rainy in the spring it's a good idea to bring a lens cloth on your trip. For rainy days its nice to be able to wipe off your lens without scratching it.
In addition, I'm trying out the camera rain cover pictured here. I bought it back at the beginning of the year but haven't had a game in the rain yet so don't know how well it works. As readers of the site, we can help you get a discount on the Cam Glove if you're looking for a camera rain cover. Just email me, ben@easysportsvideo.com , and let me know if you're looking for a rain cover for the Veo 1 or Veo 2 and I'll send you the Cam Glove discount info.
You can put the camera into your travel case with the cover on it so that makes it easier to travel with.
Veo Showcase & Tournament Highlights
When you're on the road at a tournament or showcase here are a few things to think about while you're there (that you can't do after you get home).
– Take a photo of the tournament sign, flag, logo that you can use in your highlight video. It's nice to have a visual of the tournament to include in the opening of your video.  You're often busy racing to get to the field in time that you don't think about it. Sometimes the best sign in the one at the entrance to the complex and you can't take a photo of it while you're driving in so you might want to walk back to the entrance while you're waiting for a game to start.
-If you see a person taking still photos of the game with a big camera introduce yourself and offer to share the video footage with them. Often you can share your game video and they'll share some high quality action shots. Of course they're taking photos of their team but some of your players will be in the shots as well.
-Take a team photo before one of the games so you can use it in your highlight video. The tournament might have a backdrop you can use like in this highlight video:
-As you're watching the games make notes on your phone of the time of a big play, for example if a goalie makes a big save, etc. That will help once you get home and are putting together a highlight video, the list of moments jogs your memory of big plays.
-Put together your highlight video the day after you get back in town. You dragged your camera and tripod all the way there, you should use the footage for a highlight video. The longer you wait before making it, the less likely you will be to put together a highlight video. The most excited the team will be to watch it will be the day after you get back when the excitement of the showcase or tournament are fresh in their mind.
I know that you have to unpack and do a hundred other things to catch up from being gone. So if you don't have time to make a highlight video from your footage we'll make it for you. All you have to do is put in your team page on our easy highlight video page and we'll make your tournament highlight video for you.
Veo Camera Travel Summary
Recording soccer games on the road can be stressful. If you're in charge of recording and live streaming for your team then worrying about the battery, recording, uploading can ruin parts of your trip.
As you're getting ready to go it can feel like you're over-preparing. You ask yourself (or your spouse asks you), do I really need all these cables and accessories? Can't we leave some of these at home and bring stuff we really need?
Don't listen to that voice in your head (or from the passenger seat), the answer is "yes, you should bring them". If you don't then you'll be at the field with the game about to start and you'll be saying, "if I only had…."
Once you're in Chicago (or Frisco, or Phoenix, or Orlando, or Denver, or San Diego, etc) its so much more work to drive and find that cable, adapter, battery, etc. It'll be harder to find, and more expensive, and you probably wont have time to go find it. Plus, this is the time when you should be hanging out with your kid and the other team parents and enjoying the trip. So spend the money and time now and get everything you need so you can enjoy your sports trip. Hopefully the list above will help you prepare but if you're not sure which one you need, then buy both. I do it all the time – buy both cables and then send back the one I don't need.
It's good to have a plan B when you're charging, recording, streaming, uploading, etc. That's a picture of me in Orlando, enjoying our trip and not sweating about whether the games were live streamed or recorded. I did my job as video guy that trip, every game was recorded and streamed. In fact at that point all the footage had already been uploaded and processed and we were just killing time until our flight home.
The only reason it went so smoothly is because I had screwed up enough times in the 3 years prior that I finally figured out what I needed to make it work (and of course a little luck). So as you prepare for your next sports trip here are 3 things you can do: