Black Friday soccer deals can be a great way to save money on soccer gear and training. If you're one of those people that like to plan ahead you can pickup some deals this weekend and save some money over the next season. Of course basic stuff like water bottles and soccer socks are on sale but here's a list of some of the soccer deals for Black Friday that you probably won't find the rest of the year. Some of these might be over by the time you read this but oftentimes the deals are extended through Cyber Monday. As an Amazon Associate we earn from qualifying purchases.
Soccer Parent Lifestyle – This guide to being a soccer parent is invaluable to any dad or mom raising a soccer kid. They don't have a Black Friday deal but it's already a steal at it's current price. Grab a copy before it goes up – Soccer Parent Guide.
Renegade Soccer Training – Renegade offers a wide variety of training programs. Whether a player is looking to improve their shooting, juggling, or footskills they have a program for helping develop the technique. For Black Friday they're offering an Ultimate Black Friday Bundle, where you get 5 of their programs.
Also 40% discounts off individual programs like Mastery of Touch and Next Level Dribbling. To get the deal visit the Black Friday page.
Open Goaaaal – One year for Christmas we got our kids a rebounder from Epic Sports that we still use today but they don't carry it any longer. Open Goaaal makes a soccer goal that also has a backstop that serves as a rebounder. For example, the goal is 16×7 and the backstop attached to it reaches 29×10 and rebounds the ball if you miss the goal.  It's a pretty slick idea, we haven't tried one ourselves but they're offering a Black Friday special. To get the deal use the coupon code BF25 here.
Duktig Planner – Tiffany Weimer and Adelaide Gay are offering 35% off certain soccer planners for coaches and players. We got the myTrainer planner for our daughter at the end of her last season and it was a big hit! We gave a Trainer DLX planner to my daughter's coach last Fall and she used it for session planning. To get the Black Friday deal use the coupon code EDWARDS18 here.
DribbleUp – They're offering 50% off the smart soccer ball for Black Friday. Our 3 kids used the Dribble Up a lot during the summers when they were younger. It's a good tool for kids from 5 to about 10/11 years old. You can get the sale as part of the Black Friday promotion.
SoccerGrlProbs – If you've never watched a "Soccer Girl Problems" video you should head to their channel on YouTube and clear your schedule for a few laughs. In addition to poking fun at the challenges of being a female athlete they also share their lessons learned in their Survival Guide to Playing College Soccer. Their guide is discounted for Black Friday and their gear is 30% off.
Soccer.com – If you have kids playing soccer chances are you've ordered something off soccer.com. They're offering 30% off certain items, 20% regular priced items, and free shipping for orders over $100 for Black Friday. We recommend becoming a Goal Club member if you order from there more than a few times of the year, can definitely save you some money.  If you order a pair of Puma cleats they'll send you a free soccer ball.
Soloshot – As featured in our soccer gifts guide, the Soloshot camera is 10% off over the Black Friday weekend. They've now come out with the Soloshot 3. The discount isn't available on Amazon, you have to visit the Soloshot website to get the deal, no coupon code needed.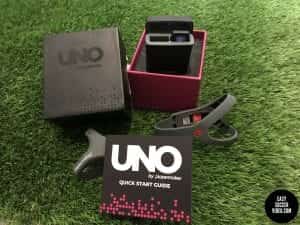 PlayerMaker – PlayerMaker is a great soccer tracker that our kids use. It used to be that you purchase the equipment, now you sign up for an annual plan and they'll send you the equipment. For Black Friday it used to be $200 for a year and you can get it for $150 for the sale with this link.
Dicks Sporting Goods – We buy a lot of shoes from Dicks Sporting Good for our 3 youth players. Youth soccer cleat discounts are nice to find when you're buying 3 sets of cleats. The Black Friday deal at Dicks is 25% off Nike and up to 50% off other items. One reason we like buying soccer cleats there is that we can buy 2 different sizes and then return the ones that don't fit in our local store. Their Adidas Tiro soccer pants are also a regular purchase for us around this time of the year. Normally $45 they're $25 on sale so we load up on a few different styles and sizes. One thing to note is that the more standard styles and sizes (ex: Black/White/Black) tend to sell out early over the holidays so if you're interested get the size you need before they go out of stock.  We recommend opening a ScoreCard membership with Dicks if you shop there at least a few times a year. The rewards points do add up over time and it's nice for returns to be able to pull up your purchases with your ScoreCard account. No discount code needed for the sale, just visit Dicks Sporting Goods site.
Train Effective – Founded by soccer player Nick Humphries, Train Effective is another training program offering a Black Friday Deal. Humphries documented his journey from amateur to professional soccer player online and now offers other aspiring professional players help preparing themselves. His Effective Academy program offers a Virtual Academy program and they also offer a camps and a  Train Effective app. The program, camps, and app are on sale for Black Friday. To get the discount just visit the Train Effective site..
World Soccer Shop – I first heard of this site when they became a sponsor of the Men in Blazer's show. Their Black Friday deal is different than saving a certain percentage on your purchase. Their deal is based on how much you spend. If you order items over $150 you get $30 off your order. The larger the size of the order the bigger the amount they knock off the total up to $150, no coupon needed, just visit the site .
CoachUp – A great way to find a good trainer for your kid is by word of mouth but if you're new to an area, all the good trainers you know of are booked up, or you'd like to try someone new you can use CoachUp to find trainers in your area. You enter your zip code and sport and they give you the profile of of local coaches and let you book a session with them through the site. We've never used it to book a coach but some of the trainers that we've used in the past have had profiles on CoachUp so we left them feedback based on our experiences. They're having a Black Friday sale where you can get $10 off your first training session or $30 off your first 3 sessions when you book using coupon code BLACKFRIDAY2022.
Storelli – "Soccer Safety & Performance" is what Storelli aims to deliver to soccer families. You've probably seen some of the Storelli headguards out on the pitch and they also make BodyShield gear that you can wear under your socks, shorts, or jersey to help save some of the wear and tear when your kid hits the ground. They're offering a Black Friday sale:
$100+ Spend (15% off) – use code BFCM15
$200+ Spend (20% off) – use code BFCM20
$300+ Spend (25% off) – use code BFCM25
Under the Weather – WeatherPods from Under the Weather have popped up all over soccer sidelines around the US. Just for a few days Under the Weather is offering 20% off some of their weather pods.
Beast Mode Soccer – In the past I've picked up individual programs on Black Friday but this year looks like it's a package deal. You get 3 different programs (Soccer Vortex, SWAG Mindset, and The Challenge) for 50% off.  No coupon code for this deal, just visit the Beast Mode soccer page.
States Soccer – The soccer apparel company founded by 2 MLS players (Matt Besler & Seth Sinovic ) is offering 30% off their gear for Black Friday and Cyber Monday with coupon code EXTRA30.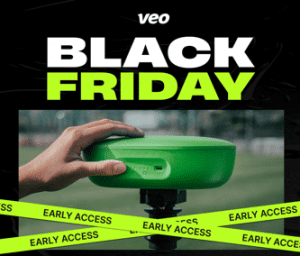 Soccer Books – We shared a list of the best soccer books for kids that can make a great gift or stocking stuffer. You can get most of them free on the Kindle if you sign up for the Black Friday promotion of Kindle Unlimited. For 3 months you can read unlimited Kindle books for free, pretty good deal.
AudioBooks – When our family travels to out of town tournaments we often listen to an audio book together in the car. Every year on Black Friday they have a sale and we buy a gift card for 6 or 12 months of credits because it's a lot cheaper than paying per month. We don't usually use them right away but save them for soccer road trips in the Spring or next Fall.
Soccer Video – Here are some soccer cameras and accessories that are offering black Friday deals. You can get big discounts on Veo camera, Pixellot Air, Trace camera, and Pix4Team cameras. Also, some of the batteries and hotspots for charging and livestreaming are one sale. You can see them on the soccer camera Black friday discounts.