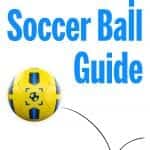 The DribbleUp Soccer Ball Guide is written for parents who are considering getting the smart ball as a soccer gift idea. Every year we get a lot of calls from grandparents and parents about how the ball works, if it's worth the money, and how to get it setup and the kid using the ball.
We decided to put it all into one guide that would hopefully help answer those questions. We've been using the smart ball for about two years so we've head lots of different opinions, uses, and questions. We tried to capture them all in the book and help parents understand if the smart ball would be a good fit for your kid. This guide is not about how to develop better foot skills, there are many good resources available for that. We wrote this guide to help you answer 2 questions:
1) Is a smart ball right for your family or team?
2) How can you get the most out of your smart ball?
There are 6 different types of hacks that we cover in this guide:
Money Hacks – Save Yourself Money
New User Hacks – First Timers
Motivational Hacks – Gamification of Training
Habit Hacks – Training Plan
Tech Hacks – Navigating the Tech
Gifting Hacks – For Parents & Grandparents
Save Money Hacks
If you came here from the Money Hacks section of the book looking for the newsletter signup for DribbleUp discounts you can enter your email below:
Soccer Tech Hacks
Here's a video we made to go along with the Tech Hacks section that shows you how to cast your smart ball app to your TV if you have an Apple device:
If you have any questions or suggestions about the guide or the ball please leave them in the comments below, thanks!