The best soccer books for kids are books that help grow their passion for the game or help them develop into better soccer players. You can think of it as inspirational soccer books (Soccer Heart) or soccer tactics books (Soccer Brain).
These aren't soccer coaching books. Although many good books have been written on that topic and there are lots of soccer book reviews and lists for adults and coaches what you want are the best soccer books for players. What we'll look at here are books that will be good for your kid's Soccer Heart and Soccer Brain. As an Amazon Associate we earn from qualifying purchases.
Soccer Heart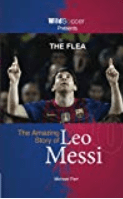 What made Leo Messi who he is today? Everyone starts out as a youth soccer player somewhere and it's fun to read about how they all got started. It's also reassuring to know that it wasn't always easy for them to be their best at the sport. It's nice for kids to read about how even superstars had their ups and downs in soccer. In fact, it's often how they dealt with those lows that helped make them the amazing world class players we cheer for today.
Author Michael Part has done a nice job of digging into the past of players like Messi, Ronaldo, and Neymar in his soccer biographies written for kids.
I first bought "The Flea" for my son when he was 9 years old and we were headed off to summer camp. We went a day early for orientation since I was a counselor. During a whole day of meetings and setup I figured my son would come looking for me and something to do. I was planning on putting him to work but the soccer biography sabotaged my plan. To my surprise he stayed in the cabin all day – lying on his bunk and lost in the Leo Messi biography.
That night at dinner he was full of facts about Messi's life and what it was like for him growing up and trying to make it as a soccer player.
Soccer Books for Boys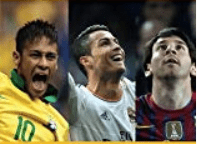 When the campers showed up the next day it turns out that we had a cabin full of soccer players which made it fun for them to hang out and play "megs" during our down time.
The trickiest part was the 1 hour rest time when the kids were supposed to stay in their beds and take a nap, yeah right! Luckily I had the Messi, Neymar, and Ronaldo biographies with me so I passed them out at rest time and the soccer crazed kids ate them right up. Our cabin was nice and quiet during rest time and by the end of the week the kids knew a lot more about their soccer idols.
All these soccer biographies are written for kids grades 3rd through 8th – a good length around 150-160 pages each.
We actually bought these 3 as a set. You can get them individually but you save money if you buy all 3 of them together in the Soccer Stars Series Set.  Part has also written soccer biographies about Harry Kane, Luis Suarez, Mario Balotelli and is working on one about Mohamed Salah.
Soccer Books for Girls
Our daughter doesn't have any interest in reading about Messi or Ronaldo but in 3rd grade for her school project she did a report on Mia Hamm and Alex Morgan so I knew it was time to get some books for her on the two soccer stars.
As I explained to my daughter when she started the report Mia Hamm was the women's soccer player who captured the hearts of soccer fans around the U.S., especially young girls, when she helped start the dynasty of US Women's soccer.
Many of the youth soccer coaches today probably watched Hamm win medals in the World Cup and Olympics in the 90's when they were kids. Mia wrote about her journey from a youth player to an international role model to millions of girls in the book – Go For the Goal: A Champion's Guide To Winning In Soccer And Life
Alex Morgan shares a common record with Mia Hamm. Morgan and Hamm are the only two American women soccer players who had both 20 goals and 20 assists in the same year. When my daughter picked her jersey number as she first started playing competitive soccer there was no hesitation on which number she wanted, #13 same as Alex Morgan.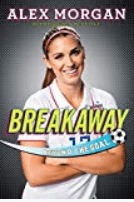 Any young soccer player should read Morgan's book, "Breakaway: Beyond the Goal by Alex Morgan". She shares the story of how she started out and also how she became one of the top soccer players in the world.
It's funny because the "Breakaways" is also the name of the team featured in the movie "Alex and Me", co-starring Morgan, that tells the story of a young soccer player who has to overcome many obstacles to chase her dream of being a top soccer player in her city. My daughters loved the movie enough to watch it 3 times the weekend that we bought it.
Alex Morgan has also put together a whole series of fiction books about a young girl whose family moved from the hotbed of soccer in California to a less soccer enthusiastic school in the East. It's not only about soccer but also has some good lessons about growing up and being a leader for young girls.
My daughter and I read them together at night before bedtime last winter. The series is called "The Kicks" and there are 6 books. You can buy them separately but it's a better deal to buy the Kicks Soccer set. The series does a good job looking at the challenges young girls face and how facing them as part of a team can make a huge difference. The Kicks series includes:
Saving the Team
Sabotage Season
Win or Lose
Hat Trick
Shaken Up
Settle the Score
Carli Loyd & Abby Wambach
Two other women who have helped to create the dynasty of the USWNT are Carli Loyd and Abby Wambach. One of Loyd's most memorable performances was in the Women's World Cup final against China when she scored a hat trick to lead the U.S. to victory. We were gathered with my son's soccer team for a watch party that summer and couldn't believe the game she had, scoring goal after goal. She rounded out her hat trick with an incredible goal from just past half field.
Of course that game was amazing but it's good to read about all the hard work that went into making her the player that she is. Her book is fittingly titled, "When Nobody Was Watching: My Hard-Fought Journey to the Top of the Soccer World". She also put out a young adult version of her story called "All Heart: My Dedication and Determination to Become One of Soccer's Best"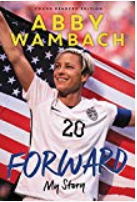 Abby Wambach played alongside Loyd in many of those Olympic and Wold Cup victories. Loyd in the mid-field and Wambach as a striker. Wambach scored an amazing 184 international goals in her career which gives her the world record for international goals for both women and men. Abby definitely knew how to find the back of the net in her time on the USWNT, she is the highest all-time goal scorer for the national team.
Given her scoring prowess it makes sense that her book is titled "Forward: A Memoir". Wambach had her share of struggles in her time becoming a world famous player and on the international stage. It's good for kids to see that nothing comes easy and that there's more to becoming a world class player than the celebrations they see on TV. The kid's edition of her soccer story is called "Forward: My Story Young Readers' Edition"
Everything Your Coach Never Told You Because You're a Girl
Give this book by Dan Blank (Soccer Poet) to your daughter before your next soccer road trip. Our daughter read it last spring on the way to St Louis and she still randomly references it after a game or training. "That reminds me of this part of the book…".
Last week she had her player evaluation and she used a few points from the book in her discussion with her coach. Blank also wrote the book below, Soccer IQ. He coached women's college soccer teams so has a lot of experience coaching and developing (and winning) with womens teams. This book is awesome for Soccer Girls!
Soccer Brain
Soccer is a thinker's sport. There are no timeouts for the coach to interject their influence, once the game begins its largely in the player's hands. Although technical and physical abilities are important for a player's success the mental part of the game is also critical. Understanding the core principles of the game, what gives your team an advantage, and how to make good decisions are some of the things that can help your player.
Soccer IQ
Coach Dan Blank has written a book called Soccer IQ to help give young players a leg up on their soccer brain. We think this is one of the best soccer books for kids because its easy to read and practical to apply. The book has 55 chapters and each one is on a single topic and only about a page or two long. Your kid can pickup the book, read just one chapter, and become a better player by following the tip.
The format is great for learning over the course of a season. My son and I would read it at night sometimes before bed. We'd read the previous 2 or 3 chapters for review to help it sink in and a new chapter or two for new concepts (so maybe 5-10 pages total).
The thing that's great about Soccer IQ is that it puts words to soccer concepts which makes it much easier to talk with your player about situations you see in a game.
For example, here are the names of some of the chapters:
The Holy Grail
Play from a Spot
The Impossible Pass
Three Step Rule
Better Than Square
Two Runs
The Shallow End
Clearing the First Wave
The Pre-Fake
Turning the Corner
Bait and Switch
After reading the book my son and I were watching an English Premier League game and following one attack on goal he pointed out how the player had "Turned the Corner", one of the chapters from the book. Once they understand the concepts you can use those terms to describe things you see in their own games.
The book came about after the author, Coach Dan Blank, watched his players repeatedly making common mistakes in his over 20 years of coaching. Pretty much as soon as he released Soccer IQ Volume 1 he thought of more tips and tricks for soccer players to work on so he came out with Soccer IQ Volume 2 and also has additional books written not for players but for soccer coaches.
We highly recommend Soccer IQ and recently discovered that Blank created an audio version of the books that you can listen to on the drive to/from practice or even on a road trip to a soccer tournament. You wouldn't want to listen to the whole thing at once because it would be tough to absorb but you could listen to a chapter for a few minutes on the way to training and again on the drive home to let it sink in:
Dan Abrahams
I was first introduced to Dan Abrahams in a webinar called "Helping our Children with the Mental Side of the Game" where he was interviewed by Skye Eddy Bruce of SoccerParenting.com. With a background in sports psychology and having been a professional athlete himself Abrahams now works with pro athletes on the mental side of their game.
His book isn't specifically for kids but it does cover techniques that kids can use to build focus and confidence. It could be good for your player if they struggle with negative self talk or confidence. Abrahams also hosts a podcast called the Sport Psych Show that offers good tips that parents and coaches can use to help players with the mental side of soccer.
Abrahams book is called "Soccer Tough: Simple Football Psychology Techniques to Improve Your Game"
Best Soccer Books
You might notice that we didn't include any soccer skills books in this list. There are some good ones out there but it's a lot easier these days for kids to learn soccer moves from other formats like video. Obviously the tactical knowledge for the "Soccer Brain" has to be developed and practiced on the field but it's helpful for kids to come to training with a greater understanding of how the game works. In terms of "Soccer Heart", helping your kid develop a passion for the game is one of the best gifts you can give them as a soccer parent.
Another great way to help develop your kid's "Soccer Heart" is through soccer movies. Next time we'll take a look at the best soccer movies for kids. If you want updates be sure to enter your email address below: