The best soccer gifts really depend on whether you're getting a Christmas gift for a player, an end of the season soccer coach gift, a thank you present for a team manager, a birthday present for your kid, a gift for a soccer party, or something for a soccer mom or dad.
Just like any present the best soccer gifts are personal. A lot of times they solve a problem that your kid, spouse, or coach has been talking about for a while. We've tried to include enough details on each item to help you relate the suggestion to your family to see if it could be a good gift.
Of course you can usually return a gift, especially around the holidays. Most places have looser return policies in case the Christmas gift wasn't the right match but it's a lot easier if you can get it right the first time. Hopefully this soccer gift guide will not only give you some good soccer gift ideas but can also help you choose the best soccer present for the situation.
Some gifts are easy. For example if your daughter is a USWNT fan all you really have to do is find the best deal on an Alex Morgan jersey to make her smile. But what should you get when her closet is already full of them? How many Liverpool, Real Madrid, or Dortmund jerseys does your son really need?
We tried to write this guide for the passionate soccer family whose kids live & breathe soccer. We tried to think about the whole soccer player and also the whole soccer family. You'll find things in this gift guide to not only show off your team spirit but also for developing a soccer player or for helping the parents or coaches who are teaching them or hauling them from game to game.
The longer we worked on this gift guide the more we realized there are many things we recommend for a lot of different reasons. To put them all into one guide would be a long read so we decided to break the guide down into multiple parts – each one focused on a specific area. We'll also try to include different gifts for the players, coaches, managers, and soccer parents in your life as we go.
We're going to start off with Soccer Tech and then cover the areas below:
Technical Development
Soccer Brain
Training Gear
Soccer Books, Movies, Collectibles
Soccer 101
Coach Gifts
Parent/Manager Gifts
Health & Fitness Gifts
Let us know if there's another category of soccer gifts that you'd like to see added. You should know that as an Amazon Associate we may earn from qualifying purchases. We've already written quite a bit about soccer tech on this site so we'll begin there. These digital days kids always seem excited to unwrap some kind of tech present, here are some that we think are worth the money.
Soccer Robot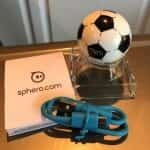 On a recent soccer tournament trip we took along the new Soccer Robot and the kids had a blast with it! They used it in the hotel, perfect for driving up and down hotel hallways, on the elevator, and around the lobby. Definitely kept them out of trouble (or at least out of our hair) in between games. If you bring more than one you can have soccer robot races down the hotel hallway! We took some funny video footage we'll upload here soon.
Brother and sister brought it along to the fields and drove it around on the sideline during the games. One of the things we love about it is that you can program the soccer robot with an app on your phone. We've all seen siblings on the sideline playing games on phones during their big brothers or sisters soccer games. The cool thing about this Sphero mini soccer robot is that they can be on the phone learning how to program the robot instead of just playing mindless games. We're big fans of this little soccer robot and would recommend it to any soccer family
$49 – Soccer Robot
Smart Soccer Balls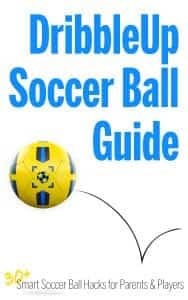 The biggest downside to smart soccer balls are that they cost more than a typical soccer ball and we get asked a lot whether a smart soccer ball is worth the money? Our answer is usually, "it depends", based on the cost and how much your kid enjoys soccer. We just released a DribbleUp Soccer Ball Guide that can help you determine if it would be a good fit for your family and also help you save some money.
For example, last Black Friday there was a great sale on the Adidas Smart ball that made it much more affordable. Unfortunately now the ball is unavailable on the Adidas site so the only place to buy the Adidas MiCoach is on Amazon or eBay for well over retail prices. We're not clear why Adidas isn't selling the smart ball any longer but at those prices it's out of the range of most soccer parents.
Worth the Money?
If your child isn't really into soccer and you're hoping that buying them a smart soccer ball will get them to like the sport more then you'll probably be disappointed. On the other hand if your kid enjoys playing soccer then a smart ball can be the perfect gift.
One good way to check is ask around on your soccer team or club to see if any other players at that age are using a smart ball. If so, what do they like about it and how do they use the smart ball? See if they'll bring it to training one night and let your kid play around with it to see what they think. Most places you can buy a smart ball have a refund policy that lets you return the ball within a certain amount of time if it's not a good fit for your family.
Dribble Up
What many families love about the Dribble Up soccer ball is that the smart ball can really help their soccer player improve their technical skills. Later on in the gift guide we'll talk about other great soccer training apps or programs that can also improve their skill level but parents like Dribble Up as a gift because it's fun to unwrap.
Of course it's no use to open a ball and have it sit there idly afterwards which is why parents like the gamification of training that Dribble Up incorporates, it helps motivate players to train and also makes it easy for them to see and track their improvements.
We've found that kids who get the most out of the Dribble Up soccer ball are about 7 – 14 years old. Not to say that older players don't enjoy the ball it's just that they're typically more popular as soccer gifts for the younger ages. Young players have a lot to gain from building their technical skills but it's not always easy to get 8 year olds to work on their foot skills. Second graders have tons of energy for running around and kicking the ball but their level of focus for concentrated skill drills is lower and that is where the smart ball can really help.
As they get older and are better able to see the impact the technical work has on their game the technology allows them to track their results, watch themselves getting better, and also to compete against each other in contests.
The Dribble Up smart ball features foot work, juggling, and shooting components in the soccer app. Our favorite has been the footwork training, that's the one our kids have used the most. We've seen fantastic results from using the smart ball to train over the summer. Not only is it a good training supplement in the summer or winter off-season but it's also great to have around for days when training is canceled and they can't go to practice.
You can find Dribble Up on Amazon or on this site as well. It's a hot item during the holidays, last year it sold out everywhere so be sure to get yours early if you're thinking about getting a Dribble Up ball – Dribble Up soccer ball.
Soccer Trackers
Professional soccer teams use trackers to measure the amount of stress a player's body is going through and to manage it through training and games. For our players we decided to test out trackers to give the kids a baseline of their activity and to let them see it progress over the season.
When we started looking at these devices about 2 years ago the choices were PlayerTek or Zepp Play Soccer. The PlayerTek system ran around $200 and the Zepp soccer tracker was about half that price. In addition we found it on a Black Friday deal so we bought the soccer tracker from Zepp and have been happy with what it's helped us learn about them as players.
Fast forward to today and the soccer tracker market has changed somewhat. Catapult, the company that makes PlayerTek, has released another tracker called PLAYR that is a higher end version that sells for $249. The price for the PlayerTek Solo Kit has come down to $149 – that includes the device, a vest to wear it in under your shirt, and a charging cord. We reached out to customer service about the difference between PlayerTek vs PLAYR and this is what they told us:
"PlayerTek has been designed specifically for football players who are personally looking to improve their performance. It is simple, easy to use and contains all the important metrics that are necessary to take your game to the next level. It is accessible via the PlayerTek app on an iPhone or android phone and you can find out a bit more by having a look at our user guide.

PLAYR is our more advanced product and tracks all of the same metrics as PlayerTek such as top speed, distance covered etc, as well as all new metrics such as Power Movements (explosive moments like accelerations), Session Load (how much you have worked) and Intensity (how hard you have worked).

However, the main change is the addition of the new AI SmartCoach, which uses your calendar, schedule, statistics and previously recorded data to give you professional sports science tips such as when, how hard and how long to train for as well as giving you tips for improving your game."
So if you're going to buy a soccer tracker for a gift it sounds like PlayerTek is a good option because it's the leader in the market and the price is coming down. However, Zepp Play Soccer has some benefits – it's worn in a leg sleeve on the back of the calf rather than a vest under the shirt. For younger kids they may not mind the leg sleeve as much as having to put on the vest.
One neat thing about wearing it on the leg is that the Zepp tracker measures the number of kicks in a practice or game. We put one on both legs to compare how much they used their strong foot compared to their weak foot. Zepp also has some features in their app for capturing/tagging video which are neat but aren't related at all to actual tracking. You can read our Zepp soccer review for more about how we used it.
We've also been experimenting with the new T-Goal tracker that came out recently but we're still in the process of figuring out how to get the data off the device into the app so we can't give a recommendation on that device yet one way or another. We'll give an update once we've had more time with the T-Goal.
Our biggest challenge with the tracker was making sure that they were charged and the players remembered to put them on. One thing to keep in mind is that these devices are not designed to survive a trip through the wash. We sent a Zepp tracker through a wash/dry cycle and it didn't come out alive. When your player takes off the vest or leg sleeve be sure they don't include it with their laundry or your gift might get zapped. When we contacted Zepp about our situation they did allow us to buy a replacement at a discount but it still stinks having to buy another.
Trackers:
$250 $240 – PLAYR SmartCoach
$149 – PlayerTek
$90 – Zepp Play Soccer
Now that we've gone over smart balls and soccer trackers our next set of tech soccer gift ideas will be for off the field.
FIFA 2019 EA Sports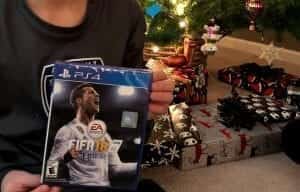 You may regret buying this game for your kid because they'll probably beat you at it but FIFA 2019 is a lot of fun. It's a great way for parents and kids to spend time in some friendly soccer competition together. I've only beaten my kids at FIFA a handful of times but every game I win I make sure to really enjoy the victory!
FIFA 2019 is going for about $60 but you can get FIFA 2018 for around $30. When we first bought the FIFA video game years back we made the mistake of buying the Wii version, which wasn't very good. But now if you get either the PS4 or the XBox version of FIFA depending on your game console of choice your kids will love it.
This game is a great way for your kids to get to know the different leagues and teams around the world. One downside for your daughter is
that there aren't many women's teams represented in the game. However, if she's a fan of the US women's national team FIFA does have the USA and about the top 20 ranked women's national teams in the game (didn't see Korea or China included though).
In addition to playing against their parents and siblings soccer players are having more chances to test their skills in eSports than in the past.  They can play virtually with or against their teammates from home. More and more soccer clubs are having FIFA tournaments as fundraisers and professional teams are hosting FIFA tournaments in person or online that let kids play against professional players and win prizes like tickets, jerseys, or experiences with the team.
Last summer during the Men's World Cup the game had some neat updates for fans of the game, hopefully there will be something similar during the Women's World Cup. So overall FIFA from EA Sports can be a great way to stay involved in soccer and soccer culture off the field.
$40 – FIFA 19 PS4
$60 – FIFA 19 Xbox
Fortnite Blocker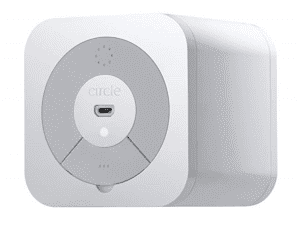 How many times has your kid almost been late to practice or not finished their homework because they were playing Fortnite? Soccer coaches across the country are cursing Fortnite for the level of distraction it causes. I know some that have banned any talk of Fortnite at training or games.
One way that families are putting some automatic rules around Fortnite playing is by using a device called "Circle at Home".  It's not just a Fortnite blocker, you can use it to control the times that your kids are connected. For each family member you can configure how much time they spend in an app like Snapchat, in a game like Fortnite, or on a site like YouTube.
For example, you could disable Internet access for the first hour after they get home so they can get their homework done before practice. Or you could block internet access for 30 minutes before training so you make sure they're getting ready for practice and not playing Fortnite or browsing the Web.
You can also setup what they call an "Internet Bedtime" after which no connection is allowed and won't be available until the "Awake Time" you set the next morning. An interesting thing to do is pull up the report that shows all their time spent online broken out by website, game, or app. Sometimes they don't realize how much time they actually spend over the course of a week. You can give them a visual – point out how spending some of that time playing soccer instead would make them a better player!
We haven't tried this device ourselves but know several soccer families that have used it and have been happy with how it helped them manage their players screen time. We'll be on the lookout for a Black Friday sale to pickup this device for our own kids.
$100 – Circle at Home
Amazon Alexa Show
Another device that can come in handy for soccer parents is the Amazon Alexa show. If you have crazy soccer weekends where you're running 2 or 3 kids to 3 or 4 different games the Alexa show is great for being able to drop in at home while you are out and about.
Let's say you're at one kid's game and you get a Teamsnap update that your middle kid's team is changing jerseys. You might text your spouse to tell them to grab the other jersey before they leave. They don't text back so you call but they also don't answer their phone. Probably because they're racing around trying to get in the car and out the door on time – so they don't see your text until they're on the road heading to the game and of course they don't have the other jersey.
Alexa Show is nice because your family can't ignore you, intentionally or accidentally. When you call them on the Alexa Show, called "dropping in", you can see what's going on and they can hear you when you remind them to bring the other jersey.
You can also make checklists on the Alexa Show, for example a checklist of what to bring to a soccer game. Before each game they could go through their bag and check off each item on the screen – they can't load up in the car until each item is checked off.  You can also easily set reminders. So if you're bringing the snacks for your U-7 soccer team on Saturday and remembered to get them when you were at the grocery store the night before but are afraid you might forget to bring them to the game you can tell Alexa to remind you.
Having the device centrally located is helpful, we keep ours in the kitchen so if we drop-in anyone on the main floor will hear the call. It's also nice for checking the weather before a game to see if player and fans have dressed appropriately – "Alexa, what's the weather right now".
Your kids can also check out soccer info when they're eating breakfast, for example "Alexa, show me the Premier league scores from last weekend". Or they can learn about a different soccer icon or player every day, "Alexa, who is Sir Alex Ferguson". Here's a video of Alexa Show giving a rundown on the Premier League scores over the weekend.

We bought our Alexa Show last Black Friday when they were on a big sale and use it practically every day.  They've since come out with a 2nd generation Alexa show and aren't selling the original any longer. Looks like you can buy a used Show 1 on Amazon for about $90, which is what we have and can recommend, or a new Alexa Show 2 for $230.
$90 – Alexa Show 1
$230 – Alexa Show 2
FitLight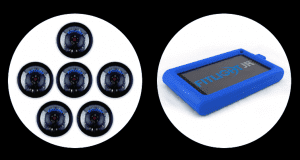 If you've ever seen the FIFA Skills Challenge where players are in the center of a ring of small goals, each with a light on top, and they have to score in the goal when the light goes on then you'll be able to picture how you can use the FitLight training system.
The idea behind FitLight is that it can help improve a player's reaction speed, awareness, and decision making times. There are actually many different ways you can use the FitLight system to help train soccer players. Typically this is something that you'd see used by a soccer trainer or club because it's not cheap and takes a while to learn how to use it effectively.
However, the company that invented them has come out with a FITLIGHT Junior model that's cheaper and simpler to use. It comes with 6 of the FitLights and a 7″ tablet controller you use to setup and control the lights. It's still expensive for a soccer family but if you have several kids that will use it over the years or if you want to split the cost between a few other families the Junior model actually brings it closer to a consumer version.
If you're considering the FitLight you might first check with soccer trainers in your area to see if they already have a set and if your kid can go try it out. Here's a video of how one trainer uses the FitLight system. The Junior model isn't the one featured but the examples of how it can be used are the same:
Around $1500 – FitLight Junior
Soccer Video
Every soccer team seems to have at least one family that loves to capture the action of games on video. If you're that soccer mom or soccer dad then this section is for you. We have three cool suggestions, none of which are cheap but all of which can either make your life doing soccer video easier or give you new shots you couldn't get before.
Soloshot Camera
Too be honest, the Soloshot had some rough beginnings. We signed up for the early release of the "robot cameraman" several years ago and it took them a while to finally get it shipped. But now they're on the SoloShot 3 and it's making some soccer parents really happy.
This isn't the camera to use if you want to capture the whole field to get game footage for review but if you're looking for highlights of your kid then the Soloshot can be perfect. The camera follows the tag, not the ball, so at times it will lag behind the action if your kid isn't near the ball. However, when they do get involved the camera will capture them without accidentally pointing the camera up, down, or wide as soccer parents tend to do when they get excited. SoloShot has also released desktop editing software called SoloshotEdit you can use to edit your videos (still in Beta) to pull out just the exciting parts.
The player wears a digital tag either around their waist under their jersey or in an armband. The camera follows the tag and records the whole time. It will pan and zoom to follow the action, if you want to "set it and forget it" then the SoloShot is pretty cool. There is a learning curve to setting it up but once you learn the ins and outs of the camera it gets easier.
Some kids don't like wearing the tracker but some parents have sewed a pocket into the shorts to make it less intrusive for the kids. The tracking tag isn't as small as say a FitBit but it's not huge. The camera comes with either an Optics25 or Optics65 lens.  The soccer parents we've heard from say the Optics25 lens captures the action just fine so you can save a little money by going with the 25 lens rather than the 65.
$550 – Soloshot 3 Optic25
$750 – Soloshot 3 Optic 65
DJI Spark
If you're used to watching a game from the sidelines of a youth soccer field and then you get to watch one in a stadium with raised seating you get a little peek at the different perspective offered buy watching aerial footage of a soccer game.
You probably don't really need aerial footage when your kid's playing 3v3 on a tiny field but when they get older and they're playing 11 V 11 it's really interesting and useful to be able to see the whole field.
The trouble with good drones is that they're not cheap. A lot of soccer facilities have made rules against flying them so you hate to spend a lot of money on a drone to capture soccer footage only to find that half the fields you play on won't allow them. DJI is a leader in the drone space and some of their models like the Mavic or Phantom can run you well over a thousand dollars.
The Spark on the other hand has a lot of features you find in higher end drones but also has a much lower price point. The drone retails for $500 but you can find it on Amazon for about $315. It still has features like multiple flying modes and an obstacle avoidance system and the camera is a 12-megapixel which shoots video in 1080p at 30 frames per second and has a 2-Axis stabilized gimbal that gives you a smoother shot.
$315 – DJI Spark
Roader "Time Machine" Camera
The Roader "time machine" camera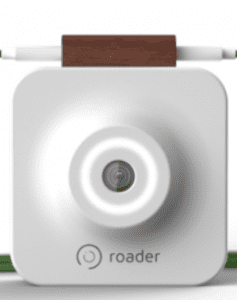 could be what soccer parents everywhere are looking for. Typically to get a highlight you have to record a lot of video – whether you're recording with your iPhone, a video camera, or with a DSLR you're still filling up your phone or a memory card with hours of footage over  the season. Not only do you have to store the video but you have to take the time to go through it and cut out the highlights. It's nice to have but can take up a lot of time and storage space to manage and use it.
The Roader camera might be able to help us out with some of that. The way the camera works is that when it's on the device is always buffering video. When you see something happen that you want to capture you press a button and it saves the last 10 seconds of buffered video for you.
So you can setup the Roader on a tripod and follow the action on the soccer field like you would with a normal camera but it won't be recording the entire game. Instead when you see a nice save by the goalie, a great bit of defending or foot skills, or a goal you can press a button on the camera and the Roader will store the last 10 seconds of footage for you. The recording is stored to the Roader camera with a 1088p resolution and if you have the Roader app installed and Bluetooth on it also sends the clip to your device with 640p resolution so that you can share it right away.
We haven't had a chance to try the Roader out yet because it's still in pre-order and will ship out beginning of next year but the idea is pretty cool. We'll be excited to try it out once the camera ships and see how well it works.
$200 – Roader Camera
What to do with all the video once you record it? We'll do another post where we look at the different options for storing and organizing your game footage and highlights – you can enter your email address at the bottom of this soccer gifts guide – tech edition if you'd like hear about it once it comes out.
Soccer Training Apps
Last but not least are some of the soccer training apps. We'll go into more detail on each of them in our next edition of the soccer gifts guide but we'll mention them here since they are soccer tech related.
Some of them can be free if you use them through your club or team but if you want to use them individually in general they have either a one-time or monthly fee. All of them include a library of drills the player can use to get better by working on their own. Some of the soccer apps focus more on technical skills, some more on speed and agility, some a combination of both.
Most of them incorporate some kind of rewards that players can earn from making progress and some have leaderboards where they can compete with other players. We're also going to include 2 that don't have apps (Renegade Soccer & Beast Mode) but have big online drill libraries that you can access on your phone or tablet.
Which one is best depends on what you're using it for and also the age and ability level of your player. We'll cover those in more detail in a future post.
Soccer Tech
One of the cool things about soccer tech is that it can help you capture the "story" of your soccer players journey. Whether you're tracking minutes trained, distance covered, skills improved, or even just soccer footage all those things add up to tell a story.
Self reflection is an important part of being an athlete and having gadgets and gizmos that help a player look back at their season and learn from it can be helpful. For example you could use Circle Home to see how much time your kid spent online over the season. You could also look back to see how many minutes they spent training on their own with a smart ball or in an app.
Then you could use the soccer tracker data to see how many minutes they played in games or how much distance they covered in games. You never know what you might find. Perhaps the months they spent less time playing Fortnite or watching Youtube and more time training they might see an increase in the amount of time their coach kept them on the field in games.
Or as soccer parents we can use technology to help us do our jobs better or easier. For example, setup a trigger for Alexa Show so that once the soccer practice checklist is completed the Internet Pause for Circle Home is lifted and they can get on their devices.  The more advanced technology becomes the more we'll be able to use it to help our kids and ourselves out in youth soccer.
If you want to keep up to date on ways we can use soccer tech as soccer parents be sure to enter your email address below:
In the next edition of the soccer gifts guide we'll take a look at technical development and a closer look at the great soccer apps available that can help your kid get better at footwork and technique. Some of these recommendations to vendors like Amazon include our soccer stripes id so they know the referral came from us.