We offer Dribble Up soccer ball discounts to a variety of organizations around the country. If you'd like to try out the smart soccer ball and you belong to one of these groups you can click on the Dribble Up coupon link at the end of each section. Unfortunately we are out of the Dribble Up ball over the holidays so we've updated the article so the links take you to other places you can find it online. Recommendations to Amazon include our soccer stripes id so they know the referral came from us.
Armed Forces Discount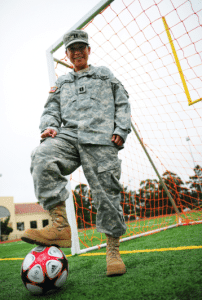 Growing up an Army brat and getting to live in Germany and be a part of the Fußball culture was an experience like no other. Living in Augsburg we could hop a train to Olympiastadion and watch Bayern Munich play – that was way before Allianz Arena.
Stationed in Bavaria we were able to play with the youth teams for both TSV-Kriegshaber and later ASV Rimpar. Even without a shared language, soccer brought together players from different countries and backgrounds.
We traveled around Europe with our Department of Defense high school soccer team to play teams from Bonn, Bremerhaven, Berlin, Bamberg, Brussels, and many other cities in Western Europe. Visiting other countries and cultures helped us realize that we're more alike than we are different.
Thanks to Uncle Sam for the opportunity be an ambassador for the U.S. and to the women and men whose families make sacrifices that many will never understand but we all benefit from. Any member of the Armed Forces can use this discount. Size 4 Ball – Size 5 Ball
United Soccer Coaches Discount

We're fortunate that United Soccer Coaches is headquartered in the Midwest and that we've been able to meet and work with the fantastic home office staff. The training and support they offer soccer coaches and the U.S. soccer community has really helped grow the game in our country. One of the biggest hurdles for youth soccer in the U.S. is a lack of properly trained coaches and United Soccer Coaches has been helping to close that gap for decades.
Locally, the Coaches & Coffee events have helped educate and connect coaches around the metro. All United Soccer Coaches members are eligible for this discount. Size 4 Ball – Size 5 Ball
ECNL Discount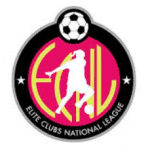 The women's program at University of Missouri Kansas City truly is a "soccer family" for the ladies that play there. Several players from UMKC have come up through ECNL, it helped prepare them to play at a really high level.
As a parents of young soccer players we love that leagues like ECNL give our daughters not only the chance to someday develop at a high level but also a whole group of strong, determined, hard-working, and passionate role models for them to look up to. Any soccer family who plays in the ECNL can take advantage of this discount. Size 4 Ball – Size 5 Ball
Development Academy Discount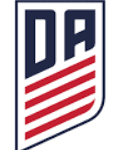 We've seen first hand the training and preparation that programs in the Development Academy offer to young talented soccer players. We've been a part of the soccer journey for several players that now play in the Development Academy through the Sporting Kansas City Academy program.
The development and support they provide and their emphasis on developing the whole player is really fantastic. Any family whose team is a part of the Development Academy can use this discount when they buy a Dribble Up soccer ball. Size 4 Ball – Size 5 Ball
ODP Discount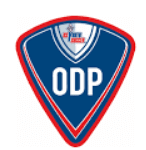 The Olympic Development Program for soccer varies from state to state but our experience with ODP has been a good one. Not only does it give players a chance to play with a different mix of kids and learn from different coaches it also gives them another soccer goal to work towards.
When a kid is part of a team and club they establish a certain "soccer identity" about who they are, where they fit, and what they're capable of. ODP gives them a chance to "rediscover" themselves as a player with a group of kids and coaches who don't have preconceived ideas about who they are on the pitch.
The program we've been involved with does a good job of keeping kids working on developing themselves outside of team practices and gives them another set of soccer goals to achieve. If your family is part of an ODP program in any state in the U.S. you can use this discount. Size 4 Ball – Size 5 Ball
Heartland Soccer Discount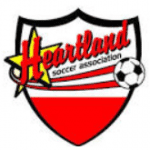 The Heartland Soccer league does a good job of offering players in the Midwest a place to develop based on their level of play. With both rec and competitive leagues and quality facilities that can handle a high volume of games they give a wide range of youth soccer players a good opportunity to match up against kids who are at a similar place in their development.
In addition to league play they also put on a lot of tournaments so teams around the Midwest who can't make regular trips to Kansas City can travel once or twice a season to compete against similar level teams from around the area. The relatively recent addition of a winter futsal league has given our players a chance to stay involved in soccer for a good part of the year. Any team that plays in the Heartland Soccer league is eligible for this discount. Size 4 Ball – Size 5 Ball
Sporting Club Network Discount

Sporting Kansas City established the Sporting Club Network (SCN) to help the professional soccer program connect with youth soccer programs locally and around the Midwest. Our kids have loved participating in the on field clinics and chalk talks where they get to meet players, train with players, ask players questions, and come watch the Rangers and SKC train.
As coaches, we've taken advantage of the coaching education sessions they hold and have learned a lot from the Sporting Kansas City staff. The commitment of Sporting Kansas City as an organization to being involved in youth soccer and helping grow players from the early ages has been very impressive. Any club that's a member of the Sporting Club Network can use this discount – Size 4 Ball – Size 5 Ball
Soccer Parenting Association Discount
Founded by soccer coach and parent, Skye Eddy Bruce, the Soccer Parenting Association offers several different resources to parents whose kids play soccer. They feature articles and interviews from a variety of experts from across youth soccer on their website.
In addition they put together a great team of experts for the Soccer Parenting Summit which covers pretty much any question a soccer parent could have, whether they're brand new or the parent of a graduating senior. In their Soccer Parent Resource Center you can also ask specific questions of youth soccer experts about your situation.
In addition to serving parents directly the Soccer Parenting Association also works with soccer clubs to advocate coaching education, reduce instances of unfit coaches and coach bullying, and help clubs develop programming, parent education/engagement, and overall policies. Although Skye is a former college soccer player and has also coached at all levels of youth sports from from U-5 recreation to the U.S. National Team programs she now focuses mainly on helping parents and clubs learn how to create teams and clubs where young soccer players can thrive. All members of the Soccer Parenting Association are eligble for this discount –  Size 4 Ball – Size 5 Ball
Youth Soccer Programs
Although Soccer Stripes is based in the Midwest many of our earliest families were from California, Texas, Florida, New York, and Ohio. To say thanks we've created a discount for teams that play as part of the following youth soccer organizations:
NorCal Premier
CalNorth
South Texas Youth Soccer Association
Florida Youth Soccer Association
Eastern New York Youth Soccer Association
New York State West Youth Soccer Association
Northern New York Youth Soccer
Ohio South Youth Soccer
Ohio Youth Soccer Association North
Club Discounts
We also offer discounts to soccer clubs. You can check to see if your club is one of them or get information on soccer club discounts on our Dribble Up coupon for clubs page. Being part of a team is a big part of the experience of playing soccer. Being part of one of these organizations can really help a team connect with other like-minded coaches, players, and families to improve the game of soccer and the development of young players across the country. If there's an organization we've missed that you'd like to see added here please let us know.