One of the best soccer gifts you can give your player is to help them develop their skills with soccer training. If you're not a soccer coach yourself then a soccer training program can be a great gift to help your kid improve their foot skills.
Of course, this soccer gift won't have the same instant reaction as a pair of cleats or a new jersey but your son or daughter will thank you for the soccer training by the end of the next season.
When your kid puts on a new pair of cleats it helps them feel excited and more confident for a bit but once they step on the field those new shoes aren't going to help them much. On the other hand, a soccer gift of a training program to help them get better will make everyone in their soccer world happier:
Player – More confident and skilled with the ball means more success at practice and in games.
Coaches – Having a more skilled player makes that kid more versatile which means they can play more positions on the field.
Teammates – Over time will trust your kid more with the ball. They'll get more passes and will feel more a valued part of the team.
Parents – Overall player will be trusted more on the field by coach and teammates and as a result will likely get more playing time in more positions and will be better able to compete and will feel better about themselves as a player. What soccer parent doesn't want that?
So, everyone wins – the player, teammates, coaches, and parent. Granted that's assuming the player puts in the time to use the training program. Probably the only person who won't be totally happy with the development could be the other player who loses their starting spot to your kid :)
Your daughter will see that hard work does pay off. Your son will see the potential of getting even better as long as they keep training hard.
Soccer Gifts
These are all season gifts you can never go wrong with for a soccer player. You can give them as a Christmas present, birthday gift, or end of season reward for a job well done. Summer and winter are typically off season for soccer since the main times of play are fall and spring. The off season is a great time to use these training programs to help your player catch up in areas where they're behind the rest of the team developmentally or to hone their "go-to" skill that they already pretty good at.
At the end of each soccer season typically your kid will get a player evaluation from their coach. If they have technical skills their coach wants them to improve on, then one of these soccer training programs could be a perfect match to help motivate them to get better. They can even be a good alternative to summer soccer camps because they can use the home training program all summer long rather than just for a week or two at camp. Working on their skills over the whole summer can give bigger rewards than only doing technical training for a concentrated week in June or July.
Soccer Training Programs
Each of these soccer skills programs we'll cover has their strengths and drawbacks. We've tried them all and you won't go wrong with any of them. What we've found is that many soccer families have actually tried out multiple programs and like them each for different reasons, particularly if they have multiple kids at different age levels and genders.
Just like finding a good coach is one of the keys to finding a good team to play on it's also important to find a training program that has quality creators/founders. Each of the soccer apps below were created by people who not only feel passionately about helping players develop their technical skills but also pay attention to detail and have an innovative mindset.
The person behind each program brings a different background and perspective on player development that helps to make it unique. We'll take a look at the women and men behind each one.
Renegade Soccer Training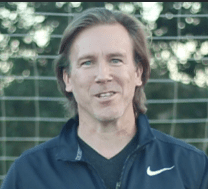 Renegade Soccer or RST as it's sometimes referred to was created by JR Haworth. After running a soccer speed and agility business in Florida he decided to make his training available to soccer players around the country and started Renegade Soccer.
JR's passion for helping youth athletes comes through in the support that he provides families that use Renegade Soccer Training in his RST Facebook group. He's quick to answer questions from parents of players and has a tradition of letting families submit questions and answering them via a live video stream in the group.
Typically, he takes on 5 questions during a session but to give you an idea the video answers can last for 30, 40, or 50 minutes as he goes into really helpful detail about one. It's obvious that the details matter to JR, not only in his answers to soccer questions but also the level of quality that he puts into each of the soccer programs that Renegade Soccer provides. The higher of the level of soccer your kid plays the more you realize how much the focus on details can make a big difference.
One of the things we like about JR is that he approaches development with a bigger view than just soccer skills. He's really interested in developing the mindset and the character of a player as well as their soccer skills and speed and agility. One example of this is the "Renegade Way" program he offers that looks at student athlete goal setting and parenting.
RST does offer a variety of soccer skill programs for players of different level, which is one of the reasons we like Renegade Soccer. It gives kids a progression of training they can work through as they improve. The one downside is figuring out which of the programs your player should start with, but he does a pretty good job explaining them on the Renegade Training program page.
As a summary here's an overview of the training they offer:
Evolution of Touch (Tight ball control, confidence on the ball)
Next Level Dribbling (1V1 and Going to Goal)
Wall Work Warrior (First touch and Speed of Play)
Juggling Mastery – (Juggling and Aerial Control)
Back of the Net – (Shooting, Goal Scoring & Ball Placement)
Mastery of Touch – (Creative Ball Control)
Total Control System – (Ball Control, Fitness, Confidence)
Next Level Dribbling – (Creativity, Getting Behind Defenders, Aggressiveness)
In all the training programs they really put an emphasis on hard work and accountability. JR is a no excuses kind of guy, he'll always tell you what he thinks is best for the player's development as a soccer player and all-around person.
You can checkout the Renegade Soccer Training programs here.
Techne Futbol
Yael Averbuch brings an interesting perspective to soccer training because she's a professional soccer player. Yael is a very technical player and she captures her love for good soccer technique in the soccer training app called Techne Futbol.
The great thing about good technique is that it doesn't matter if your player is the biggest or smallest, or the slowest or fastest player on the field – if they work on improving their technical skills it'll make them a better player.
Here are some of Yael's core beliefs about technical development that she shared in an email to current Techne subscribers:
You can improve drastically with very little space and no equipment!
No one ever gets beyond needing to work on the basics.
Challenging the mind and body to continually learn new skills is vital.
Through focused, intentional repetition, anyone can become a master of the ball.
Yael's approach is a fun one. Her soccer training app gives players a new workout each week that includes wall work, dribbling, and juggling. We've been using Techne Futbol since it first came out and have enjoyed watching the program continue to improve. The sessions are always great, if your kid does them each week they'll definitely get better, but she continues to keep the training interesting by featuring sessions from other professional players and coaches and even featuring workouts done by top players using the app.
Yael understands firsthand the importance of the mental side of the game so in addition to the weekly training session she also provides audio versions of mental training for different aspects of a player's game.
Having been a part of the USWNT and several professional women's soccer team Averbuch knows how important the concept of a community can be for a player and she provides that as well. She's created a supportive group of players on Instagram with her #TechneSOD where kids can submit a video of them doing a skill. In fact, they even took 10 dribbling footwork patterns from the winners of a recent Instagram contest and featured them in the weekly session of the soccer app.
We've demonstrated Techne at some of our Soccer Tech Expo events so we'd worked with Yael a few times and she's always gone out of her way to be very helpful. We were surprised when we submitted a help ticket that she answered it directly and we recently discovered that her mom is also working as part of the support team for Techne. It's obvious that Yael is not only deeply vested in the success of the app but also the players that use Techne and cares about the impact it has on the players that use it.
You can download the app and get a 1 week free trial of the program at Techne Futbol.
Beast Mode Soccer
David Copeland-Smith has been training players with his Beast Mode Soccer program since 2010. This is the first soccer training program that we signed up for as a family. If you want to see some examples of the footwork training that Copeland-Smith has done you can look at his hundreds of videos that he's shared on YouTube and Instagram.
David brings an interesting perspective because he has a lot of experience training professional players. One of the things he's well known for is training women's players like Alex Morgan, Ali Riley, Rachel Daly, and Kristie Mewis. This doesn't mean you have to be a high-level player to use his training programs. We used to setup Beast Mode drills in the garage in the winter time when our son was about 8. None of the other training programs were around back then and we'd pull up Youtube and go through some of the cone drills in the off season to get him touches.
We also used a lot of the Beast Mode drills as warmups for our youth teams at their practices when they were younger. We haven't had any direct interaction with David Copeland-Smith like we have the other program founders. He still does quite a bit of 1 one 1 training so he's busy with that but does stop into the Beast Mode private Facebook group occasionally to make announcements and shares a lot of recent training footage with descriptions on YouTube or Instagram. He does share a lot of player stories through email and it's obvious from the time that he invests training players and sharing his methods that he's deeply invested in player development. He also did a fantastic interview with Skye Eddy Bruce on SoccerParenting.com about player development.
David offers a few different programs through Beast Mode:
Soccer Vortex
Mastering the Inner Game
The Challenge – 5K Touches a Day
Better Soccer Blueprint
The SWAG Mindset
We haven't tried them all the but ones that we've gone through have been thorough and good for development, you can learn more about the programs at Beast Mode Soccer.
RISE Futbol
Scott Moody has been a big believer in combining soccer specific speed/agility/strength work with technical training and the result is the RISE Futbol app.
Over the last 15 years Scott has trained thousands of youth athletes with his GameSpeed approach that combines Skill, Speed, and Strength to focus on soccer specific agility & strength that gives players dynamic change of direction and explosive speed for an advantage on the soccer field.
Moody runs a sports performance center called AthleteFIT in Kansas City where his team has trained youth, high school, college, and professional soccer players. We first met Scott when his Director of Sports Performance, Shon Jones, demonstrated RISE Futbol at our Soccer Tech Expo.
Shortly after we invited Scott to speak on a panel for United Soccer Coaches on Off Season Training and were really impressed with his knowledge and experience training the technical and physical aspects of the game. As a result, we enrolled our kids in his GameSpeed program and got our hands on the RISE Futbol app.
We've used it as a supplement to the in-person training and have been really impressed with the soccer app. We really like how it integrates the skill, speed, and strength aspects and also how it progresses the player into more complex training as they improve. The aspects that it focuses on are:
Strength to control their body
Explosiveness to change directions
Confident first touch
Ball Control in tight spaces
A high level of fitness
The end goal of Scott, and the app, is to improve a combination of skills, speed, and strength to help players increase their overall speed of play. After using it for a few months I'd say that Scott and his team really do accomplish that with the Rise Futbol app.
As I mentioned, we use it as a supplement to in person training, but the soccer app is designed to be used on its own so a player who's not enrolled in an in-person GameSpeed program can use it for soccer training at home on their own. One cool thing is the built-in messaging function so if a player has questions about some of the exercises and drills they can get in touch with Scott or his team to make sure they understand how to do the drills and training.
You can learn more about the app and how to try it out at Rise Futbol.
Dribble Up Soccer
The Dribble Up soccer app was created by brothers Marc and Eric Forkosh. We've been early users of the Dribble Up smart ball and have written quite a bit about the smart soccer ball on this site. Their background is a little different than the creators of the other soccer training apps. While the other folks have been professional coaches or athletes, the Forkosh brothers are inventors who played sports when they were younger.
They felt like there hadn't been a lot of innovation for youth athletes to help in their training. There has been a lot of technology created that's helped with coaching and team management but not a ton that was made specifically for young athletes. Eric and Marc have captured the attention of today's generation of youth soccer players with their smart ball app that gives them a virtual coach and "gamifies" their skills training to help motivate players to get in lots of touches.
They partnered with a former professional soccer player who's become a soccer trainer to create the library of soccer drills in the Dribble Up app. You don't actually need a smart ball to try out the soccer moves in the app because it's free to download in the app store. What the smart ball does is track how a player is using the soccer ball as they go through the drills and give them feedback on how they're doing.
We ordered the smart ball as soon as it was released and haven't been disappointed. We really like it for getting in touches when practice is cancelled or during the off season. Our favorite time with it so far was last summer during the World Cup when we held a soccer skills contest and our kids got in tens of thousands of touches. You can read a lot more about the Dribble Up soccer ball and how we use it.
Soccer Training
As I mentioned early each of these soccer training programs has its strengths and drawbacks. In the future we'll probably do another write up where we compare different aspects of them all and make suggestions based on the age, skill level, and soccer training needs of your kid but you won't be unhappy with any of them.
What we've noticed in talking to soccer families that use one of these programs is that many of them have actually tried out multiple programs and like them each for different reasons, especially if they have more than one kid. Different age levels, skill levels, and even genders respond better to different programs. For example, we've noticed that younger kids tend to prefer Dribble Up more than high school players and we've also seen that high school girls really tend to like the Techne app.
We'll go into more detail on comparing soccer training programs in the future but if you're looking for the best soccer gifts for your player one of these programs that can help them develop their skills is definitely the way to go.
If you want updates and comparisons on soccer training programs for your player be sure to enter your email address below: