The best soccer training programs really make a mark on the players that use them. We had technical training last night and it was pretty obvious which players had consistently worked on their skills outside of practice and which ones hadn't.
Many coaches encourage their players to go home and work on their foot skills but how many of them actually go into the backyard on their days off from training and work on their first touch or skill moves? We've found that players are more likely to train outside of practice if they have a plan or soccer training program to guide them along.
Soccer Training Benefits
What parents and players don't always realize is that improving your soccer skills at home can help in multiple ways. The most obvious is that the player gains confidence and ball skills which leads to more success in games and practices.
However, it also benefits the coach because having a more skilled player means the kid is more versatile so they can play more spots on the field – which can mean more playing time. Better soccer skills also helps players with their teammates because once they realize they can be trusted with the ball they're more likely to pass it to them. That player becomes more involved in the game and feels like a valued part of the team.
So the benefits of better soccer skills are more than just improved technical skill. Those benefits aren't obvious right away but after a season of training extra away from practice most players see a pretty significant impact in their soccer game and their overall outlook on the sport. When teammates and coaches start noticing the difference it's a big boost to the player and it usually makes them want to train even more so it gets to be a real positive cycle of train, improve, see the benefits.
Best Soccer Training Programs
Thanks to the benefits they offer you don't want difficulty choosing a soccer training program to stop you from picking one and getting started. What we've found is that each one has pros and cons. We've tried many of them and you won't go wrong with any of the ones that we can recommend. Interestingly what we've noticed is that many soccer families try out multiple programs and like them each for different reasons – especially if they have several kids at different age levels.
What we've found is that the best soccer training systems are typically created by a person or group of people who are passionate not just about the game of soccer but also about helping teach others what they've learned in their time in the game.
There's a difference between being a good soccer player and a good soccer coach or teacher. The best youth coaches, in our opinion, are not just knowledgeable about the intricacies of the game but are also good at teaching the fundamental techniques so critical to develop good players. In addition, they're good at helping players understand WHY what they're learning is important – this is vital because soccer is a thinking game.
Since the teacher is such a critical aspect of a good training program we'll be sure to include details not just on the program itself but also about the people who created the training program. We hope this is a useful resource for you when you're looking for the best soccer training apps or systems. We plan on covering all the home soccer programs that we've used and had success with. We'll start with just one and add to the list of soccer training program reviews as we go.
Renegade Soccer Training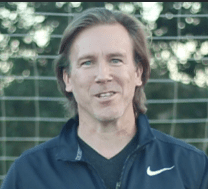 Renegade Soccer or RST as it's sometimes referred to was created by JR Haworth. After running a soccer speed and agility business in Florida he decided to make his training available to soccer players around the country and started Renegade Soccer.
JR's passion for helping youth athletes comes through in the support that he provides families that use Renegade Soccer Training in his RST Facebook group. He's quick to answer questions from parents of players and has a tradition of letting families submit questions and answering them via a live video stream in the group.
Typically, he takes on 5 questions during a session but to give you an idea the video answers can last for 30, 40, or 50 minutes as he goes into really helpful detail about one. It's obvious that the details matter to JR, not only in his answers to soccer questions but also the level of quality that he puts into each of the soccer programs that Renegade Soccer provides. The higher of the level of soccer your kid plays the more you realize how much the focus on details can make a big difference.
One of the things we like about JR is that he approaches development with a bigger view than just soccer skills. He's really interested in developing the mindset and the character of a player as well as their soccer skills and speed and agility. One example of this is the "Renegade Way" program he offers that looks at student athlete goal setting and parenting.
RST does offer a variety of soccer skill programs for players of different level, which is one of the reasons we like Renegade Soccer. It gives kids a progression of training they can work through as they improve. The one downside is figuring out which of the programs your player should start with, but he does a pretty good job explaining them on the Renegade Training program page.
As a summary here's an overview of the training they offer:
Evolution of Touch (Tight ball control, confidence on the ball)
Next Level Dribbling (1V1 and Going to Goal)
Wall Work Warrior (First touch and Speed of Play)
Juggling Mastery – (Juggling and Aerial Control)
Back of the Net – (Shooting, Goal Scoring & Ball Placement)
Mastery of Touch – (Creative Ball Control)
Total Control System – (Ball Control, Fitness, Confidence)
Next Level Dribbling – (Creativity, Getting Behind Defenders, Aggressiveness)
In all the training programs they really put an emphasis on hard work and accountability. JR is a no excuses kind of guy, he'll always tell you what he thinks is best for the player's development as a soccer player and all-around person.
You can checkout the Renegade Soccer Training programs here.
Stay tuned for the next update to the list of soccer training systems that we recommend.