When we saw the Veo camera at the United Soccer Coaches convention I knew that it would be great for our team and our club. The question I needed to answer at that point, was it worth the money?
Veo Camera Cost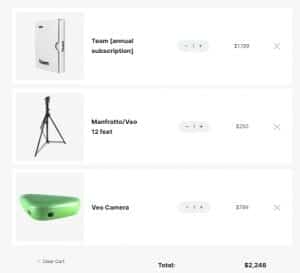 There are 3 costs involved in using the Veo camera:
Camera Cost
Tripod
Annual Subscription Fee
The price varies depending on which tripod you choose and which subscription plan you pick. The cost of the camera is the same for everyone unless you apply for the Veo camera discount, which I'll cover a little later (you can email us at veo@easysoccervideo.com for more info). If you scroll to the bottom of this page we'll ask some questions to help you decide which plan is best for you.
Here's a screenshot of the Veo camera in the cart on their website with the 12 foot stand and the Team Plan. We ordered the 12 foot stand but after testing out the 23 ft Manfrotto that another team let us borrow we'll probably get the taller tripod when we buy our next Veo camera. (We're working on a comparison video of the same clips from both the 12 and 23 ft tripod.
You can see the plan cost, the stand cost, and the camera cost listed in the screenshot. The plan costs also varies depending on whether you get a one month, 6 month, or 12 month plan. Veo gives you a bit of a discount on the plan the longer the term you use. So annual is cheaper per month than the 6 month plan and the 6 month plan is cheaper per month than doing a 1 month plan.  One question we get a lot. If you sign up for the 6 month plan and use the camera for the fall and winter season, then don't renew the subscription until a year later, are your videos still in your account? The answer is yes, when the plan ends the videos don't go away, you just can't add new ones.
Veo Camera Club Decision
After seeing the Veo camera I shared info on it with our club and suggested it could be a good tool for our higher level teams to have for game analysis and for college recruiting videos. The trouble I ran into was that the camera was new enough I didn't know anyone who had used it. From what I'd seen it was a great soccer video solution but it was hard for me to really press the point with the club not knowing the pros and cons of the camera. The club leadership was really interested but along the same lines they couldn't commit club funds to a purchase that big without knowing what we'd be getting.
I decided it was worth the risk to buy the camera myself and be a guinea pig for the club. It made sense because we run this soccer website that tests out new soccer tech so it was right down our alley. We were early testers of Dribble Up right from their Kickstarter days and we jumped on PLAYR SmartCoach right when it was released. Of course the Veo camera was a significantly larger investment than others we'd made in the name of youth soccer development and innovation.
Soccer Video Green Light
Thanks to my lovely wife who gritted her teeth and nodded patiently when I explained how cool the camera could be… if we could just test it out. We were going through an expensive home project at the time and I know many other things she'd rather spend the money on flashed through her mind as I was talking.
Thanks to her for allowing us to be a guinea pig for you! After recording soccer games with the camera for about 2 months we wrote a detailed Veo camera review of how we use it and can wholeheartedly recommend that you buy one for your team or club. Lucky for me because if it would have stunk I'd probably be sleeping on the couch!
Is the Veo Camera in Your Budget?
Unless you've been planning for a big technology purchase it might take a few months to save and rearrange funds to cover the soccer camera. We lucked out because American Express is launching a new feature called Plan It, Pay It and was offering a promotion right when we bought the camera. Basically they offer a payment plan for big purchases where you pay a monthly fee rather than interest, which definitely saves money. However, thanks to the feature launch promotion they were waiving the fees so we were able to spread out payments over 18 months for no cost, not sure how long that promotion lasts for.
Ways to Share the Camera Cost
The best way to bring down the cost of good soccer video for you is to share the expense of the camera with other soccer families. The families on the teams that we record love the videos. I've gotten text messages and emails from several folks thanking us for making the game footage and highlights available to the team. Figure out an appropriate amount per season and have each family chip in to help cover some of the cost.
Even better than sharing the cost across the team is to spread it across several teams. If you belong to a soccer club send them a link to our Veo camera review. Perhaps the club itself can invest in a camera and save you the money. Even if they're not ready to buy one you can always make it available for any team to use for a certain cost per game.
If you live in a soccer city like we do you can also make it available to any of the teams in your town for a fee per game. We actually setup the camera and record it for them and provide them the footage so we have to charge a little more to make it worth our time. One thing that's worked well is to record games in tournaments or leagues where we're already out at the field for the day. In fact for one tournament we were able to setup the camera, hit start, go have lunch, and come back later since games were on the same field back to back.
Veo Camera Discount
Since we were early adopters of the camera in the US and have worked with the team to give lots of feedback on the product, in some cases we're able to help teams with a discount. If your club or team is interested in buying a camera email us and we'll see if you qualify, veo@EasySoccerVideo.com
Rent a Soccer Camera
This option is still in the works. We're figuring out the details because we know that some teams will want to film games but not invest in owning the camera themselves. As I mentioned we're currently recording games for local teams and at tournaments but we're also working on an option for teams to be able to rent a camera for a weekend for a tournament, for a few weeks to catch some big games, or even for a whole season. If you have questions about this option you can shoot us an email, veo@EasySoccerVideo.com
Is Veo Worth the Cost?
So to get back to the questions, is the Veo camera worth it? From a features perspective we've been really happy with the camera for all the 46 84 matches we've recorded with it so far. If you're a soccer family with multiple kids like us then you'll definitely get your money's worth out of the camera over the years.
Not only your family but all the kids on the team they play for will love it AND the parents/kids on the teams you play against will love it if you share the video with them. With so many people that benefit from you owning the camera it should be pretty easy for you to spread the cost of it out over all the parents, players, and coaches that will be happy to have the video. Even better, if you can have your soccer club get the Veo camera it'll be worth it for them to share across multiple teams.
Veo Camera Pricing
After talking with lots of teams over the last year we've come up with some common questions that can help you decide which is the best plan for you. Answer the questions below about your player, teams, coaches and it can help give you an idea about which Veo camera plan might be the best match you for.