Update: Team leaderboards are no longer part of the DribbleUp soccer app.  We still have access to our coaches dashboard but it doesn't do us a lot of good as a coach since the app isn't pulling in the playlists that we assign to our team. We've requested a return of this feature to the Dribble Up app but for the time being it's not an option for a coach.
We apologize for the change, we know it's not as convenient for coaches. You can still have players use the ball individually, you can refer them to DribbleUp Parent & Player Guide.
What's the best way to use the Dribble Up smart soccer ball as a coach? It depends on factors such as the age of your players, what you hope the smart ball can help them achieve in terms of development, and how many Dribble Up balls you think you'll have as a team.
At a high level some of the main benefits of the smart soccer ball to a coach are:
Motivation to Train
Confidence Booster
Technical Training Supplement
Accountability Tool
We'll go into more detail for how each of these benefits can help your players and team but here's a quick Dribble Up review of how we've seen the ball influence youth players.
Motivation to Train
The gamification of training through the Dribble Up app can really give more players that drive to train more on their own. They can unlock levels and compete against their friends and teammates via the leaderboards. This has really seemed to make a difference with the younger ages who tend to have shorter attention spans and less intrinsic motivation to work on foot skills or juggling.
Confidence Booster
One of the great things about the smart ball is that it lets players measure their success based on their own improvement rather than comparing themselves to the current development level of their teammates. For players who want to get better the ability to spend time with "directed training" in their own environment gives them a chance to get more comfortable on the ball without judging themselves against more developed teammates as they tend to do at team training.
Technical Supplemental
Using the smart ball to get additional touches during the week in addition to team training and also the chance to get in footwork when practice is canceled due to bad weather.
Accountability
You can assign homework through the coaches dashboard to give your players specific areas to work on and then see who's been putting in the work.
Members of your team can benefit from the first three of those even if just a few players on the team buy a smart ball or if you as a coach can set the team up with one or two. The Accountability aspect is trickier to accomplish across the whole team if you don't have a larger set of the Dribble Up balls to work with.
Let's look at a few different approaches you can explore as a coach.
Shared Team Dribble Up Ball
There are several ways you can use one or two smart soccer balls for your team. One way to approach is to use the Dribble Up ball as a reward for players that work hard in training or games. My kid's baseball team used to give out a game ball for each game but obviously soccer coaches can't afford the cost of handing out game balls after each match.
You could however pick a kid who played hard or who used the skills you've been teaching in a practice or a game and let them take home the smart ball as recognition. Depending on their age either them or their parents would have to download the app on their Android or Apple device. They can use this Dribble Up user guide for setting up the smart ball app.
If you only have 1 ball something like this might be your best option. If you don't want to use it as a reward you could simply rotate the ball through the players and have a contest between them. Competing based on score gives an edge to the more developed players so one good way to do it is have the winner be based on most improved. Prior to a tool like Dribble Up this would have been a lot more work to keep track of but it's certainly easier with the app.
Another option is to bring one or two Dribble Up balls to team training and setup a station where players can measure their scores on footwork or juggling by going through some of the playlists. To vary it you could change the station up, one time do footwork, the next time do juggling, and when it's ready add in shooting.
This is the way that most coaches are starting off incorporating the smart ball into the team. It gives both the coach and players some exposure to how the ball works, lets you see if it's something that fits into your coaching plans, and is a good test for how your players will react to incorporating some technology into training.
You don't even need access to the coaches dashboard for this approach – just a ball and the Dribble Up app. If you're sending the ball home with players then having them install the smart ball app on their phones is fine but if you're going to have a station at practice it is nice to have the app on a tablet for a bigger viewing area.
We all know players can sometimes forget their own soccer ball so chances are one will eventually forget to bring the Dribble Up ball back from home. For cases like those it might be nice to have at least one backup ball so you can keep the rotation going until they return it.
Needed
1-2 Smart Balls
1-2 Devices & Stands
App on Each Player's Phone if sending home
Benefits
From the four main benefits I mentioned earlier this method helps increase the motivation to do extra training. The player response to using the ball has been really positive – the younger generation loves using technology and the features such as beating your score, the leaderboard, and unlocking levels keep them wanting to use it.
Dribble Up Team Set
As I mentioned earlier, using the smart soccer ball and the app as an accountability tool is a really enticing option as a coach. It would be really nice to be able to assign players homework and then see who was actually doing it and being able to see them improve over time.
You don't need a smart ball to be able to tell who the players are that put in the work outside of practice. It's obvious at training and in games who's making gains and progressing in their technical ability. But it would be nice to have a team set of smart balls to help motivate and direct the players on your team who aren't as motivated or determined to get better on their own.
The obvious issue is the cost of equipping your whole team with the smart ball. Many coaches know that parents already spend money on uniforms, coaching fees, field rental, league fees, tournament costs, pairs of cleats, etc and don't want to add another cost on top of all that. Particularly if they don't know how the ball will turn out, they hate to ask parents to pony up more money for something they're not even sure will help.
That's why starting out with getting just one or two balls and giving it a test is a great way to see if the tool is a good fit for the team. If it does make sense, the Dribble Up coaches dashboard is a great way to assign homework to help get in those additional touches each week.
Needed
1 Smart Ball/Stand Per Player
App Installed on Each Player's Phone
Coaches Dashboard Access
Benefits
The biggest benefit to having a team set is the ability to assign homework to everyone on your squad through the coaches dashboard. Not only is it a benefit from an accountability perspective so you can ask them to get in touches on the ball during the week but it's also nice to give them something to do when no training is scheduled. For example, if practice is canceled due to bad weather or if you're on a training break you can still push them drills to work on.
Suggestions
We'll go over how to use the coaches dashboard below but I have two suggestions to make the Dribble Up app better. The first is the ability to mark some drills as required and other drills as optional when assigning homework to account for players who want an additional challenge. The other suggestion is to be able to indicate the player's strong and weak foot in their player profile so the app can automatically adjust the drill you assign based on the player.
Dribble Up Trainer
Funny story, one of the families that we worked with used a trainer for their son to get some extra touches on the ball. Turns out that his trainer is also the virtual trainer that you see in the smart ball app. Some of his son's friends had the ball but no one believed him that his coach was the one they heard every day saying "Needs to be better" and "Not good enough". They tried a Dribble Up soccer amazon search but came up empty so ended up calling us and we got his son a ball. So now he has a picture of him holding the ball standing next to the trainer to show all his doubting friends.
I bring this up because many coaches have parents coming to them and asking what their player could do to get better. In fact, Tom Mura of Soccer Coaching Weekly shared on his podcast that he's had hundreds of players over his coaching career ask him how they could improve and get more playing time. He can count on one hand the number of players that actually implemented his suggestions. How cool would it be as a player or parent to be able to come back at the end of the summer and show a coach in the app the progress they made on their weak foot after hearing they needed to improve? How cool would it be as a coach to give that feedback and then have a player do the work and then show you the results?
Needed
Simply suggest the player's family look into buying a ball and point them to the Dribble Up Users Manual for how to use it. Obviously another option is to refer them to individual or group training but this is a cheaper option that doesn't require the travel and scheduling.
Benefits
For players that need to work on their technical skills the smart ball is one way coaches can suggest to improve them. Since the app scores the player on performance and keeps track of their progress over time it's pretty easy to see if the kid is actually putting in the time and that will eventually show up on the field. Being challenged to work outside of practice and get more comfortable on the ball can be a confidence booster that gives them more time on the ball to make better decisions.
How to Use the Coaches Dashboard
The Dribble Up team has been very quick to fix issues we've found in the dashboard and fast to respond to feedback we've given in terms of improvements so the coaches site has already changed quite a bit since it first launched.  Since they're so responsive some of the images you see here could be a little out of date as they continue to make improvements to the site.
The coaches dashboard is broken down into a few main areas and we'll go over each of them:
Teams
Players
Playlists
Homework
You don't actually need to have any players added in order to create your playlists and assign homework so you could jump into these right off the bat. The reason we cover the Teams and Players first is that it can take a while to get everyone to join so it makes sense to setup the team and invite players to start.  Then while you're waiting to get everyone on board you can work on the Playlists and Homework
Dribble Up Teams
Everything you do in the dashboard is in the context of a certain team. When you first start you won't have any teams and you'll need to create one. Creating a team is really simple you just click the "Create New Team" button and give your team a name.
If you're going to have more than one team make sure the name you give it it is descriptive enough. There are no real rules around what constitutes a team. If you wanted to setup something for just a few players you could create a team and only invite 4 players and they'd have their own leaderboard.
For example, we have the "Dribble Off" team that we use for contests and it has a few users like DribbleOff_RealMadrid and DribbleOff_Barcelona that we use for team events. But then we also have another team where we've added all the players from our boys team that have a smart ball.
So you can have different teams for different purposes depending on how you're using the ball. One thing to keep in mind is that teams don't share playlists so when you create a playlist for a team, it won't be available for other teams. At least not now, that may be something that could change in the future.
Update: Looks like now you can also create a team from within the Dribble Up soccer app itself and invite other users to your team.
Dribble Up Players
Adding players to your team is pretty simple. On the "My Players" page your enter their Dribble Up handle and click the "Add Player to a Team" button. If the player is added successfully they show up on the Weekly Leaderboard for the team, if the Player id that you enter isn't found it'll give you an error message. One thing to note is that you can add a player to multiple teams. So they could be part of their primary soccer team but also be on a "team" with their friends from their school or their neighborhood that also had a smart ball.
Update: Dribble Up has added an Invitation link on the Players page which makes it easier to add kids to a team. Instead of having to add them each individually you can share that link in your team management app like TeamSnap, SportsEngine, SIPlay, Blue Sombrero, or whatever you use. You may still have to add a few manually but this way most can join on their own.
Once a player is added, if you click on their User Name in the leaderboard it takes you to a screen that shows 2 things:
1) Assignment Completion for the Week
This shows you which drills they have and haven't completed over the current week.
2) Drill History
This shows you all the drills they've done over the last 2 weeks and their score for each. It's not just a list of the drills, it currently organizes them into 6 different categories of types of drills:
Left Foot
Right Foot
Alternating
Juggling
Consistency
Endurance
Suggestions
One thing that would be helpful for Dribble Up to add would be a Homework report. Now to see who's working on their footskills a coach has to click into each player's history. A summary of all the players on one page would be nice. Even better would be a weekly email summary that highlighted which players were using it most and which ones were using it not at all or very little.
Dribble Up Playlists
These next two sections, Playlists and Homework, are where the coach gets to "work their magic".
On the Coaches dashboard the link in the left navigation calls these "Custom Workouts" but what it allows you to do is to create your own Playlists. This is probably the most requested feature that I've heard from coaches and parents.
It is a great feature for coaches because it allows you to build workouts based on what you'd like your team to work on. Although if you want to get started with your team right away you can actually assign homework without creating any custom playlists, we'll cover that more in the Homework section.
When you first come to the Custom Workout page you won't see any listed and you'll see a button that says "Create Workout". After you click that button you'll be asked to name your workout and then taken to a page where you can start to build your custom playlist from the library of drills that Dribble Up has provided.
Dribble Up Drills
The screenshot below shows you what it looks like after you click "Add Drill" and select one from the Drill Name dropdown menu
You can configure the duration of the drill and then click "Add Drill" again to continue selecting additional drills. Of course a common question here is, "what drills are available"? I know it was the first thing I asked before we bought our first smart ball. As of this writing there are 44 drills in the library. As I mentioned earlier, the team at Dribble Up has been very responsive to feedback so if you have a drill that's not in the library that you'd like to add you can let them know. Those 44 drills can be combined together in any combination so that gives a good list of options for building a custom playlist.
We won't list all the drills here because I'm sure over time they'll change and have new ones added but if you'd like to know the current list of full drills just enter your email address below and I can send it to you.
Playlist Tips
One of the first things we did when we got the first smart ball was to go through the drills library and try out the drills. That's what I'd recommend for any coach because as we know the same move can be referred to by multiple names. For example, what you might call Toe Taps is named "Ball Steps" in the Dribble Up library.
We went through the drills in the app itself but the Custom Playlist page makes this much easier because as you change drills it shows the video description and preview of each one.
The main things you set when creating a playlist are which drills to include, what order to put them in, and what duration to have each drill last for. The drills now autosave as you add them to the playlist which is an improvement over the initial design where you had to save each drill after adding it. You can also now easily change the order of the drills which used to be a chore. We put together a list of Dribble Up drill playlist tips that share some of the things we learned when putting together our first playlists.
Suggestions
One thing we'd love to see and have already shared with Dribble Up is the ability to copy an existing playlist and save it under a different name. That would make it a lot easier to create different variations on a playlist, to create a progression of simple to more difficult playlists.
Something else that would be helpful for coaches would be the ability to filter the drills based on certain criteria. For example, show me only the drills that work on Turns or only drills that use the Sole of the Foot.
Sample Playlists
Here's an idea of some of the playlists that we've created so far.
Futsal King
After moderating a panel on Futsal during the Youth National Championships some of the discussion made me realize we could use a playlist that focused only on using the sole of the foot.  So I created a playlist called "Futsal King", the video below shows you a preview of all the different drills in the playlist as shown in the Dribble Up app.
Turns
After reading an interesting analysis on the importance of teaching turns in soccer a while back I had my son's trainer working with him on turning under pressure. Over time the results in training and games were pretty significant so I also created a Turns playlist in Dribble Up. Obviously that's not teaching a player to turn under pressure but it helps players on the mechanics of the turns.
Dribble Up Homework
Once you've created a custom playlist you can make it available to your players by assigning it to them as Homework. In the coaches dashboard this page is actually called Assignments in the left navigation.
As you can see in the image below the homework page let you assign playlists to certain days of the week. Over the winter I assigned the "Left Foot Advanced" for every day of the week because the off season is a perfect time for a player to work on their weak foot. We actually started with the "Left Foot" playlist, moved to "Left Foot Advanced", and then ended the winter with the "Left Foot Expert".
These seems a perfect way to use a tool like this smart ball, as supplemental training on something that almost every player needs to work on.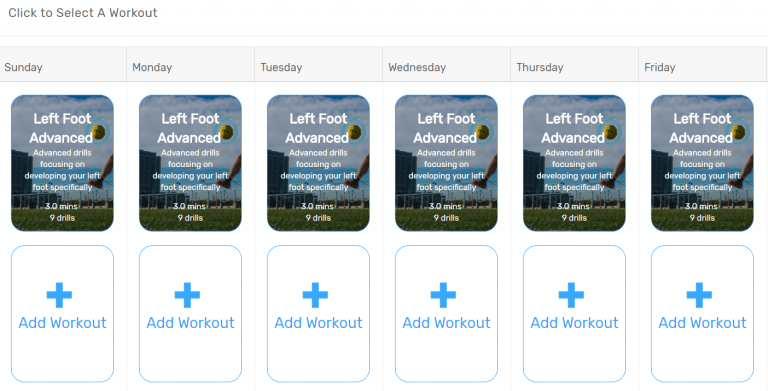 Assigning Homework
For each day there's an "Add Workout" button you can use to assign as many workouts to that day as you need. When you click the button you get a "Select a Workout" dialog (shown here) that lists existing playlists that are available to assign.  Scroll down to the bottom of the dialog to find any custom playlists that you created, in the picture you can see the Turns and "Lucky Left Foot" playlists that we built for that team.
Any homework you add to a day is assigned to every player on the team and will show up in the players Dribble Up app in the Homework tile. Right now there's no way to assign certain playlists to certain players, they all get the same assignment.
The homework in not based on Calendar days but rather on a recurring week so once you assign a playlist on Monday – that workout will show up every Monday in their homework until it's removed from the coaches dashboard.
Suggestions
Even if you could assign homework per player in the dashboard it would definitely be time consuming for a coach to assign specific homework per player, not sure how many would. However, it might be nice to be able to assign homework based on player attributes. For example assign certain playlist to offensive vs defensive players or something of that nature.
How to Get Started With Dribble Up
Hopefully this has been a good introduction into one way your team can use technology to help develop players. Last year we hosted a coaching education session and the Director of Youth Soccer for our local MLS team came and presented to the coaches. His topic "Best Practices for Player Development" covered 4 areas – Player Development, Coaching Education, Player ID & Team Formation, and Parent Engagement. In two of those areas he touched on keeping up with technology that can help coaches and players on their development path.
It just so happened that it was around the holidays and we had brought him a Dribble Up ball as a gift to say thanks for taking time to share his expertise so it fit nicely into the technology topic. Player development is why we use the smart ball and why we write about it here for other coaches to learn from.
It might not be the right fit or timing for your team or club but at least now you know more about the ball and how it helps some players. If you're interested in trying it out you have a few options:
1) Run your team through a Dribble Off Challenge. We bring the smart balls, iPads, and other equipment to you and run a session so you can see how they work in person and how your team reacts.
2) Test out a single ball for  – Dribble Up Smart Ball
3) Inquire about a team set. Send us an email to clubs@soccerstripes.com with what your team needs are. Team orders also include copies of the book "Soccer IQ: Things That Smart Players Do" by Dan Blank.
Update: Team leaderboards are no longer part of the DribbleUp soccer app.  We still have access to our coaches dashboard but it doesn't do us a lot of good as a coach since the app isn't pulling in the playlists that we assign to our team. We've requested a return of this feature to the Dribble Up app but for the time being it's not an option for a coach.