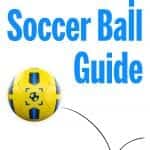 DribbleUp Soccer Ball Book just released with over 30 tips on how you can use the smart soccer ball and what gadgets & extras you might need!
All you need to use the Dribble Up ball is the app on your phone or tablet and the smart ball but after using it for six months 2 years we've come up with a list of a few accessories that might be nice to have depending on how you're using the smart ball.
As a player, coach, or parent it's interesting to see the role that technology is playing in sports during games, at practices, and also off the field in planning, training, and analysis. The founders of Dribble Up felt like there were a lot of technology options being created for coaches but not many for players. We think they've created something exciting for youth players but like any "main course" it can always be made better with the right "side dishes". Here are 9 things that we've used along with the smart ball, some as a player and some as a coach, that we can recommend.
We've updated this list since we first wrote it, dropping a few items and adding a few as well. Here's a summary of the extras that we describe below. The first 4 are for showing the DribbleUp app on your TV whether you have an iPhone or Android device. As an Amazon Associate I earn from qualifying purchases:
Tablet Stand
Padded Bag
Portable Projector
Cloud Storage
1) HDMI Mirroring Cable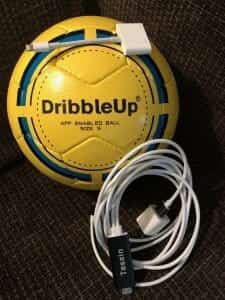 We actually ordered our HDMI mirroring cable the same day we ordered our first Dribble Up ball because we were excited to use it on the big screen. Unfortunately, the first cable that came in didn't work for us so we had to order a different one.
On newer smart TVs you don't even need a cord but our TV is older so we needed a cable to show the app on the television. This is a definite must have Dribble Up accessory because putting it on the big screen makes it a more interactive experience. When we do Dribble Up in our living room all the kids get involved and sometimes tag team the playlists. It's perfect for a rainy or snowy day when training is cancelled and you can easily spend an hour with the family going through playlists.
This is the HDMI Mirroring Cable that works for us.
You can see in the photo we also bought a lightning to HDMI adapter which is what our #2 item is. That does the trick as well but if you use the Apple one like we recommend below it can cost more. One consideration we ran into for our basement TV was that we ran an HDMI cable from the back of the TV through the wall and down into our cupboard. The HDMI adapter lets us use that cord for multiple things, if it was the HDMI mirroring cable then we could only us it for that one purpose.
2) Lightning to HDMI Adapter
Here's a video that shows how we connect the DribbleUp ball to our TV using a Lightning to HDMI Adapter. We tried both a generic adapter and also the one made by Apple. We went generic at first because it was cheaper but one generic never worked at all and the other only worked for a few weeks so it's probably worth the money just to go with Apple adapter.
3) Google Chromecast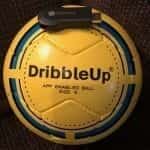 We're into gadgets so we bought the very first Chromecast that came out 5 years ago. The one pictured is pretty old and doesn't work as well as the newer generation ones but we've gotten some good use out it. A new Chromecast isn't super expensive, about $35, and it's worth the money.
If you have an Android device you can cast the app onto your TV with Chromecast. Google also supports using Chromecast with an iOS device. Some of the newer Android TVs actually have Chromecast built in but if yours is older like ours then you can display the Dribble Up app with a Chromecast dongle .
4) Roku Premiere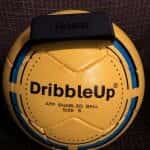 If you have an Android device a Roku can let you mirror your phone to your TV. The one pictured here is the Roku Premiere, we got a deal on it over Black Friday but even at retail it doesn't break the bank at around $30. We've never tried it with the Roku Express but that one runs about $5 – 10 dollars cheaper.
In the settings menu of the device you specify whether you want to auto approve requests to mirror. You can also choose to ask to be prompted for mirroring and also add your device to an "approved" list. One caveat is that you need to have an Android phone that's on version 4.2 or above in order to mirror with Roku.
5) Portable Power Bank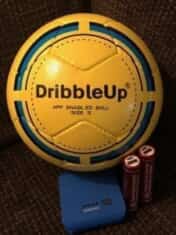 If you're a soccer family that spends days or weekends out at the soccer complex then chances are you might already have a power bank for extra juice.
If you don't then it's not a bad idea to pick up a power bank or two to keep in the soccer bag or the car. As I mentioned earlier the app is processor intensive so it will eat into your phone power if you use it a lot in one day. That being said we were out at Scheels Soccer Complex last weekend having a juggle battle with the smart ball and we got in quite a few rounds with our iPhone battery on its last legs. Here's a story about how after one crazy soccer Saturday we ended up ordering a portable charger.
If you're running team training with an iPad then we'd definitely recommend bringing along a backup or two power banks. We have several free portable power banks we picked up from various United Soccer Coaches events but you can get one on Amazon for between $20 – 25 like this portable power supply.
6) Tablet Stand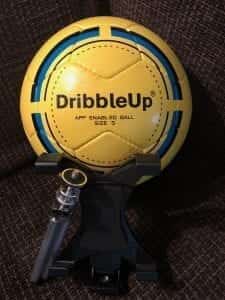 Since we first wrote this DribbleUp has started offering the ability to purchase the upgraded stand which also supports tablets. By default the ball ships with a stand for your phone that has a detachable base. You can take off the phone stand and screw in a tablet stand for your iPad or Android tablet.
If you're connecting your smart ball app to your television you don't really need an iPad stand. But if you're going to be using Dribble Up away from home and you have a tablet it would be nice to have a stand. Players that have used Dribble Up before are fine using it on a smaller screen on a phone but the first time you use the app it's nice to see it on a bigger screen.
So, if you're a coach and introducing the app and drills to players for the first time it's nice to have a tablet stand to let them use it on a bigger screen when they're getting used to it. One thing to keep in mind is that the better the camera and the faster the processor on your tablet the better the app will work. So, if you have an older tablet and a newer phone you'd probably have a better experience using it on your phone. You can always connect your phone to your TV when you first start using the app while you get used to it.
If you're looking for a good replacement phone stand we've had good luck with this phone tripod. You can also find the iPad attachments on Amazon as well.
7) Padded Bag
This is a non-tech accessory but meant to protect your tech. We're all used to carrying a soccer bag with all our gear but once you add technology into a bag full of soccer stuff you worry about potential damage.
If you're a coach and carrying around an iPad or two and iPad stands it's not a bad idea to have a separate protective case or sleeve to store them. There's a pretty wide range of iPad bags based on your preference of cost/features but it's not a bad idea to pick up one of them.
If you already have a laptop bag they work pretty well for sliding in power bank, iPads, stands and all the other accessories but of course then you have to carry that bag and your coaching gear as well.
8) Portable Projector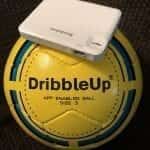 Projecting the app onto a screen or a wall is a neat thing to do if you have a big group at an event. Using an iPad is fun for an individual player but if you want a group to be able to see the drill as they're going through it that doesn't work as well. We tried this at an away soccer tournament, projecting the app onto the wall of the conference room in the team hotel.
Obviously, the downside of a projector compared to putting it on a TV screen is that you have to worry about the lighting in the room and being able to see the projection.
The projector that we use is a Brookstone HDMI Pocket Projector that was originally $200 but we found on sale for $100 since they were ending that line. This mini projector is portable and works really well but it's also pretty pricey – Miror Mini Projector.
This is an alternative portable projector that doesn't give the same quality in terms of the picture or sound but it is much cheaper –COOQI Mini Portable Pocket Projector
9) Cloud Storage
This isn't a physical accessory but it is nice to have a place to store the videos you make while doing Dribble Up drills. The Dribble Up app keeps a history of your drills so you can keep track of how you've scored over time.
It's also neat to store videos of your dribble up sessions that you can go back and look at. For example, you could capture the video of a playlist at the start of a season and also at the end of the season and see the difference, we give more specifics on how to do this in the Technical Tips section of our DribbleUp Smart Ball guide.
We have a variety of ways that we store the videos from Dribble Up. You can store videos for free in Google Drive, we also use Google Drive to store game videos so we've uploaded some of our juggle off videos from the smart ball app into Google Drive as well. We use enough storage space with our game videos that we have to pay for the service but it's been the cheapest option we've found. Dropbox is another option since it makes it easy to move the videos from your phone into the cloud for storage.
If you're interested in sharing your videos the free way to do it is to upload them to YouTube. If you want a little more control over who can see them you can also use Vimeo, it gives you more control but it's not a free service.
Hopefully some of these suggestions will work out for you. If we had to suggest one we'd say go for the tech that lets you hook the smart ball app up to your television, whether that's an HDMI Mirroring Cable, Lightning Adapter, Chromecast, or Roku. We've had a lot of fun putting Dribble Up on the TV and getting everyone involved.
Happy Dribbling!