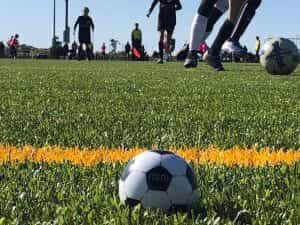 This Sphero mini soccer review comes after we took the robot on a road trip with us to my middle daughter's soccer tournament. Our kids had a blast driving the Sphero mini soccer robot up and down the hotel hallways in between games and her siblings had fun driving it around on the sideline during her tournament games.
The soccer robot is a really interesting gadget because it merges our love of soccer and technology. We've introduced our young soccer players to things like the LittleBits Inventor Kit and a trip to Code Ninjas to spark an interest in technology and coding but so far the Sphero mini robot has been the most effective. For our family it's been an interesting mix of entertainment, being active, and tech education. We definitely recommend trying one out for your next soccer road trip. As an Amazon Associate we earn from qualifying purchases.
Sphero Mini Soccer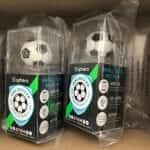 We bought our soccer robot on Amazon and it came within just a few days since we use Prime. The folks at Sphero had actually sent us one to test out during the tournament but we weren't sure if it would arrive in time so we also ordered one from Amazon to be sure. The Sphero mini price was the same on both the Sphero website and on Amazon. Sphero was offering free shipping on orders over a minimum amount but we needed it quickly so we went with prime. We noticed that over Black Friday and Cyber Monday there was a Sphero sale that made the robot about $10 cheaper on both sites. As an Amazon Associate we earn from qualifying purchases via this site.
Sphero Setup
You don't have to do a whole lot to get started with the soccer robot. When you first open it up you need to charge the Sphero mini soccer for a few hours, the blue light in the robot blinks while it's charging and turns a solid blue once it's done.
While the robot is charging you should download the Sphero Play app and create a login, that's what you use to control the robot. You should also also download the Sphero Edu app if you're interested in writing programs to control the robot.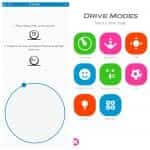 Once the robot is charged open up the app, choose Sphero mini from the menu, and it will connect with your soccer robot. In the app you drag your finger around a circle until the blue light is facing you, they call this "aiming" the robot.
After that you can choose a "Drive Mode" (our favorites are Joystick and Tilt) and you're off and driving. You can see the connecting, aiming, and then driving of the robot about 1:30 in the video in the next section.
Soccertainment
The ability to be able to drive and control a robot with your finger is pretty cool. As you can see in this video our kids had a lot of fun with it.
Soccer Tournaments & Games
As the video shows it's great for taking to soccer tournaments and driving around in the hotel between games. We also took it to the games so my kids who were watching from the sidelines could play with it during the match. As soccer parents know, siblings can get bored trekking out to the field and back 3 or 4 times during a tournament game weekend so having the mini soccer robot to drive around was fun for them.
One thing to note, the mini doesn't drive on thick turf, the motor isn't strong enough. Sphero does make more powerful robots called the SPRK+ and Bolt that would handle turf better but our kids drove it around on sidewalks and walkways next to the field rather than on the turn itself.
Soccer Practices
The Sphero Mini Soccer is also good for brothers and sisters at their siblings soccer practice. How many times has your kid asked for your phone on the sideline of their big sister or brother's practice? Especially in the winter months when you're indoors and they can't run around and play outside.
I always hate just having them sit there and play games on the phone so I try to make sure they bring a book to read or homework to work on. Of course that doesn't always happen or maybe they'll spent half an hour reading and want to play. The soccer robot gets them up and moving around while they drive it up and down the sidelines.
It's funny when you give the kids a robot and time on their hands to see the kinds of games they come up with using the robot. The other cool thing is that they're able to program the robot.
So now they're not just playing games but actually using their brain and learning how to program a robot. There's a simple block program they can use in the Sphero Play app that even little kids can figure out. The Sphero Edu app lets them control a lot more about the robot with either block programming (kind of like Scratch if you're familiar with that) or Javascript. If it's a regular weekly practice they come to then could even build on the program over time and make the robot do more and more each week.
Tech Education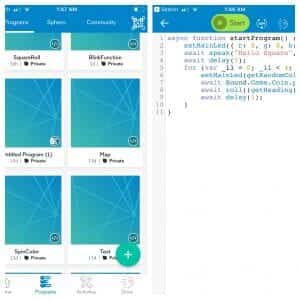 As I said at the beginning of the review we like the robot for it's mix of entertainment and education. For example, one day our middle daughter was home sick from school. I was working from home and she was downstairs watching a movie on the couch. The next thing I knew she was asking if she could borrow my phone to drive the robot.
She started messing around with all the different features and before I knew it she was programming the robot.
As I mentioned earlier we tried taking the kids to Code Ninjas and getting them interested in programming with Scratch but this was better because I wasn't trying to talk her into it. She wanted to learn how to program so she could control the robot. I was particularly excited for my daughters because I've spent time in the tech world and the majority of places I've worked have had a really skewed male/female ratio.
So I'm always happy to run across anything that will keep my daughter's interest in technology and problem-solving.
App Games
Another interesting thing the Sphero mini app does is teach kids different ways of using robots. For example you can control the robot with your phone but there are also 3 games in the app that let you use the robot as an input to control the games on the phone. If you're familiar with the game Pong where you move the paddles up and down with your joystick to keep the ball going this is somewhat similar. Except the robot itself is the controller and it's a 2-D version of the game. When you rotate the robot in your hand it moves the paddles inside the game and you have to use a 2-D box to keep the ball going as long as you can. It's a cool way to teach kids about interface design and interactions with devices.
Sphero Mini Soccer Considerations
If you're thinking of getting a Sphero Mini Soccer robot there are a few things you should know:
No kicking – Make sure your kids are old enough to know not to kick it. It does look like a little soccer ball and when you have several kids chasing after it while another drives it you want to make sure the chasing kids are old enough to know not to step on it or kick the robot. They recommend the robot for ages 8 and up.
Not thick turf friendly – One downside is that the robot is not strong enough to drive on turf. Works great any smooth surface like tile, carpet, wood, concrete or flat turf.
Needs juice – This one is pretty obvious. We haven't run out of power while driving it but the guide says you can expect about 60 minutes of drive time. It comes with a charger for when you're at home but if you're at the field for a game or practice might be nice to have a portable power brick and a micro-USB cord to charge it with.
Sphero Mini Soccer Summary
One thing you get used to as a soccer parent is waiting. You arrive 30 minutes before the game for them to warm up. Then the game before yours is running 15 minutes late so you wait longer. Then you wait for 5 minutes after the game while the coach debriefs them. You wait all practice long while they train and then an extra 10 minutes when coach keeps them longer to work on "one more thing". You wait around after the last pool play game to see if they made the final. You hang out in the hotel lobby or pool area for 2 hours in between or after tournament games.
Waiting is part of being a soccer parent and if you have more than one kid you won't be sorry you bought a Sphero mini soccer robot. It'll entertain your kids while they wait and they might just learn something in the process.
Hands down, the best use we've gotten out of the Sphero mini was at an away soccer tournament. It can help turn those minutes of waiting on the field or hours in the hotel into a funny and entertaining time for you and the kids. We recommend getting two so you can race the robots. Before you head out on your next soccer road trip get the Sphero mini soccer robot here.
We've included links in this review to Amazon where you can check out other customer reviews. If you decide it's right for your family and you order one through our link then Amazon sends us a referral fee which helps to support this site.