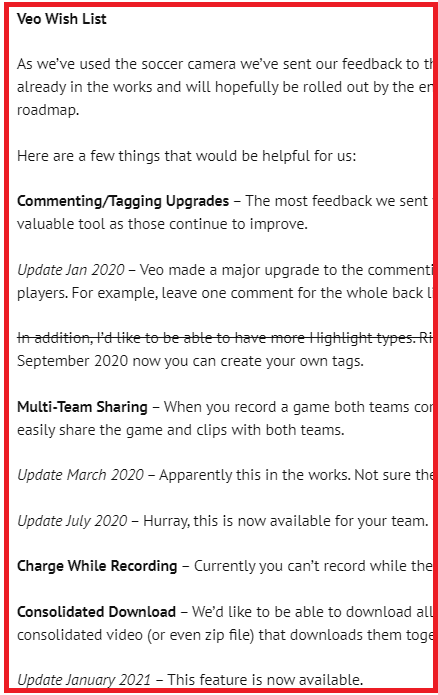 Veo camera is coming out with new features and is holding a Veo livestream in 2 weeks to announce how these soccer camera improvements can help your team or club. As you can tell from our title, we're hoping that Veo has some news regarding camera battery life and also the ability to store more games on a camera. The Veo team has been pretty tight lipped about what the new features will be so we don't really know what to expect. You can request to be notified of the new features here.
Camera Storage
One of the biggest challenges for us with the Veo can be taking it on the road to tournaments. If you're staying in a place with fast internet you can upload the games every night so they're available to watch and to free up space on the camera. If you're not that lucky there are ways you can upload on the road that we've figured out and also learned from other teams that travel with Veo. We put all those in our Veo Rookie Guide to help other teams dealing with recording on the road but it would be nice to improve camera storage space to make that less of an issue. I don't know if that's adding the ability to use SD cards for storage, bigger camera hard drives, or some other solution but I'm eager to hear what Veo comes up with.
Camera Battery
Recording lots of games all in one day can also be a challenge when you're managing battery life. For example, we took several cameras to State Cup this year to record games for the club. We're working on a re-cap of what we learned about recording a tournament but when you have lots of fields and lots of games camera battery is always a challenge to consider.
So those are two of the features that we're hoping are addressed in the next Veo feature announcement.
Feature Wishlist
Our teams have been using Veo to record soccer games for over two years and we've given them a lot of feedback about what we'd like to see in the soccer recording system. As you can see in the screenshot of our Veo review they have been knocking off things that were on our Veo wishlist.
I've been pretty happy with their willingness to listen to coaches, parents, and clubs and fix things we didn't like or add features that we've wanted so I'm hopeful that this latest feature announcement will be pretty exciting for teams looking to record their soccer matches.
Feature Announcement
Veo has asked us to get the word out about the Veo livestream announcing the new features but we don't really know what to expect so it's hard to suggest you drop what you're doing in two weeks and join to see the demo.
So we decided to make it interesting and let you guess what you hope the feature announcements will include, that way you'll have a reason to join the event – to see if you guessed right!
We'll give away 10 copies of our Veo guide to people that correctly guess one of the features that Veo will announce. If you win you can choose between our Veo Camera Rookie Guide or the Veo Freelance Guide.
Just add your guess to the form below, and your email so we know who to contact if you win.
Then tune-in to see Veo talk about the new features on 8/5 and see if you guessed correctly!
Don't forget to request to be notified of the new features here so you can see if you win. As always, if you questions about soccer video or Veo please give us a call 816-398-8846 or send us an email ben@soccerstripes.com