Sporting KC tickets can add up when you're taking a family of 5 to a game but there are ways you can enjoy the soccer game at Children's Mercy park for less if you're flexible and patient.
We typically don't buy Sporting KC tickets far in advance for the family because chances are one of our kids will have a soccer game come up. We love to watch the team play in person but when we do it's usually more of a last minute decision. In addition to the kids game schedule you never know what the weather will be like and if you have little ones they might not all be willing to sit through the heat or snow, depending on what part of the season it is.
Take this post season for example. Sporting Kansas City is in the playoffs at home against Portland but the high is supposed to be pretty low so I know it's not worth bringing the younger kids – my wife and I will draw straws to see who will stay home with the young'uns. What we often do is wait for seats in the South Stand to open up and then we buy them the day before the game.
So for 3 GA tickets in the South Stand on SeatGeek it would be around $177 after fees. In this case we actually got a discount through the Sporting Club Network that my daughter is a part of which brought it down quite a bit and we actually got assigned seats in section 124. However typically we'll use a text messaging system for sporting kc ticket discounts where we text in the number of tickets we want, sometimes SRO and sometimes GA, and get them for less.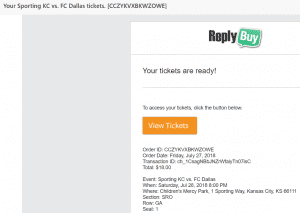 So if you want to get your tickets far ahead of time this method won't work but if you want to try it out you can use the link below to actually get $10 off your tickets.  It's through a system called ReplyBuy.
After you register you're able to text in the number of tickets that you want and it charges the card you have on file and sends you the ticket info.  Here's what the email looks like after you order through ReplyBuy.
This was a game I went to last summer and just needed one ticket. My son's team had a ticket from playing in the King of the Court futsal tournament and making it into the "playoffs" at Children's Mercy. After watching them play I just texted in that I wanted 1 ticket and that's all it took.
We actually saved a few families money on tickets because if we refer new users they get a $10 credit on their first ticket purchase. If you want to try it out and get $10 off your ticket you can sign up with this refferral link to ReplyBuy.
SKC Playoff Tickets
Looks like you can get tickets in the South Stand for the Sporting KC vs Portland playoff game for only $45, pretty good deal! Below is the text message we got to go support the boys in blue as they "Claim the Cup". If you sign up through our referral you can get $10 off so playoff tickets for only $35 – sounds like pretty cheap tickets to me!