The best portable chargers will keep you from having to explain to your daughter that you missed getting her goal on video because your phone died right before the big play. Having a portable phone charger is a must if you're a busy soccer family like us.
With 3 kids playing multiple sports our weekends are full of games and before we bought a power bank for our family our iPhone was always dying in the middle of soccer tournament or basketball game.
Not only did we miss a lot of highlights but my wife was at one game and I was at another so we could never get in touch with each other. You may know the feeling, you text your spouse that your battery is almost dead and you're turning off your phone till after the game.
Nothing irritates my wife more than not being able to get in touch with me. Particularly when she's driving to a new soccer field with my daughter and she's running late and she's lost. With a dead phone battery I'm asking for trouble on soccer weekends so I decided to get a portable battery for my car. I started off with several free external battery chargers from United Soccer Coaches which came in handy on more than one occasion.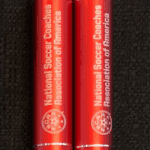 The trouble I ran into with those portable chargers was that they just didn't hold enough juice for a weekend if I didn't remember to charge them up during the week. I could use them on a Saturday but by Sunday my charge would run out and sure enough my phone would die and I'd miss my daughter scoring a goal or my son pulling off a sweet turn at mid-field.
Dead Cell Phone Blues
The turning point was one Sunday afternoon as my son and I left one activity to race to a futsal game at the New Century Fieldhouse which is an awesome facility but out in the middle of nowhere in the plains of Kansas.
I opened up TeamSnap to make sure we were heading to the right place and to check which court he was playing on and I realized my iPhone battery was struggling. I went to text his coach that we were running late but mid-text my phone died. The saga continued as we headed to the game and I realized I was also running on fumes.
I had a decision to make, pull over for gas and be late to the game or push through to get there in time and risk running out of gas. The whole situation was compounded by my dead cellphone.
Luckily the story had a happy ending but it made me realize we needed to get the best portable charger we could to avoid stressful "no phone" situations like that in future. So that night I went out to Amazon and ordered an external battery. I went with the one labeled "Amazon's Choise", it had a 4.6 rating out of over 9,000 reviews.
Best Portable Charger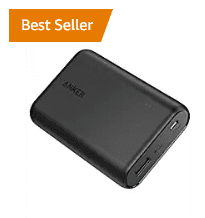 This power bank is really small and light, fits right in my pocket. We ended up with the Anker PowerCore 10000. Anker had a smaller version (Anker PowerCore 5000) that was cheaper but it was a similar size/design to the free ones we'd been using and we needed something bigger.
Unlike the old ones you can check how much of a charge is left with a button that shows via LED lights how much juice you have. For my iPhone I've gotten about 4 charges out of the power bank before running it dry and it charges pretty fast. So we can use it in the car driving between games or if we're at a game I just slip it into my pocket and can charge the phone while recording.
Now I just need to stop running out of space on my iPhone for videos but that's a whole different story. I have actually been eyeing a portable car battery charger as well since having a dead car battery at night at an away tournament isn't a lot of fun but I haven't done enough research on those yet to buy one.  I'll update this once we figure out which battery charger to buy but for now my advice to sports parents is to pickup a powerbank when you can find one on sale. Maybe even one for each car.
Update: Amazon has the Anker PowerCore 10000 as their Deal of the Day today. Normally $32 it's only $19 just for today – here's the – portable phone charger deal.