The Veo camera is really easy to use but finding a way to pay for the soccer video camera isn't always easy. Why pay the Veo camera price when you can buy a video camera and tripod for less? In our experience the ease of use for recording and sharing game videos plus the ability to use the footage for individual player feedback and highlights makes the Veo camera cost worth the money. If you research the camera and decide the same you still have to figure out how to afford the AI camera.
I've talked to many soccer parents or coaches around the U.S. who are interested in what the camera can do for their team but are trying to figure out how to handle the costs. I'll share what I've told them and other ideas that we've had or tried that could help with the Veo camera costs. Here we'll look at a few different options like sharing the cost, using a payment plan, and getting sponsors.
Sharing the Veo Camera Cost
One of the best ways to help with the cost of the camera is to share it with other teams. Ideally your soccer club could purchase the Veo camera and share it across teams in the club. Or if it's for a school you could use it for both men's and women's teams. One of the first teams to rent a Veo camera from us used it to record multiple freshmen, JV, and Varsity games on the same field on the same night.
Club Camera

The Veo camera is setup really well to share games across teams in the same club if you use the Elite plan. The camera is still pretty new so the setup could change over time but right now you can create as many teams as you need for a club and you can invite as many coaches/players as you need to each team.
Veo has different levels of users, like Admin/Editor/Viewer, that make it possible to setup and organize multiple teams with different coaches and team admins for each team.
The nice thing about sharing the camera across multiple teams from a financial perspective is that you can share the cost burden of the videos across more players, making it more affordable for everyone. There are a few challenges to sharing the camera that you'll have to figure out.
Camera Funding
The main challenge we've seen to this approach is demonstrating the value of the camera to club leadership. Since it's a new technology and it's not cheap soccer clubs can be hesitant to invest when they have many other demands on their budget. That's why we started renting our Veo camera out to teams or clubs that want to evaluate the technology to see how it would fit into their program.
What sometimes happens is a coach who's in charge of multiple teams will buy one on their own and build part of the camera cost into the annual fees for their team.
Camera Scheduling
Another challenge to spreading the cost out across teams is coordinating the use of the camera. It's probably a good idea to go into the camera sharing option with an agreement on how you'll split time between the teams. The more teams that share the camera the lower the cost but the fewer number of games they'll likely be able to record per team due to inevitable conflicts.
Designated Team Video
One approach is to get a camera for 4-5 teams and have each player contribute a certain amount. The club owns the camera but those teams each get to use it a certain number of games each season. When schedules come out each season the coach of each team can block off certain times they want to use it.
Club Wide Video
Another option is for the club to purchase the camera and create a club signup sheet with a tool like SimplyBook where any team in the club can check out the camera for a fixed amount per game or per day if they're travelling to games. That's the approach we take with our Veo camera rental but we don't limit it to a specific club.
For teams that want to utilize it more heavily for multiple games and training sessions you can offer a lower rate for renting it multiple times throughout a season. SimplyBook does have a free option teams can use to manage bookings in the club. The free plan doesn't handle accepting payments but you could use PayPal for that or go with the $5 a month plan that does include payments.
It would be helpful if someone in your school or club could take on the role of game video coordinator to keep an eye on the reservations and answer questions about the camera.
Citywide Camera Sharing
If a team purchases a camera on their own or there's not enough demand in a club to keep the camera rented out you can always open it up to teams around your area to reserve to help cover the costs. We've had a lot of people express interest in this approach so we're actually creating a registry of teams/clubs/schools that are willing to rent out their camera.  If you're interested in listing your camera for rent or finding someone in your area who rents their camera out just submit your info here.
Camera Payment Plan / Financing
In all my conversations with teams and parents around the U.S. about the camera one person made the point that if you can't afford to spend the money on the camera, ie pay cash, then you probably shouldn't be buying one. This can be a challenge for soccer families since the costs of field rental, club fees, tournaments, uniforms, equipment, etc can really add up over the year.
It was actually an easier decision for us since we have 3 kids that play so we knew we'd get our money's worth over the course of a few years. It was an even easier decision since we happened across a payment plan that let us pay for the camera over time.
Payment Plan Example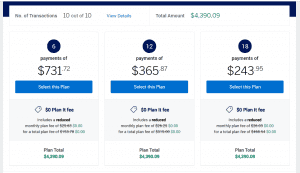 Veo doesn't offer financing on the camera but our American Express card started offering a new payment plan called Plan It, Pay It that let us spread the payments out over 24 months. It was a new feature at the time so we took advantage of the credit card promotion that let us sign up for the payment plan for no fees or finance charges.
After you've charged the camera on your credit card you login to their website before your payment is due and choose a term of 6, 12, 18 months to spread out the payments. As you can see in the screenshot it shows you the fixed monthly fee you'd pay depending on which term you choose, the shorter the period the higher the monthly payment but the lower the monthly fee that's added.
For example, if your total amount due including the camera was $3500 but you added the camera purchase of $2500 into their Plan It program your bill would look like this. They include the monthly fee in your Minimum Payment:
Total Balance – $3500
Plan Balance – $2500
Non-Plan Balance = $1000
Minimum Payment Due $xxx.xx
Financing Considerations
This approach from American Express is just one example of a way to finance a camera. If you do finance it you want to find the lowest cost option. Some credit cards offer 12 months no interest when you first open a card. You don't want to open a new credit card just to buy a camera because that impacts your credit score and your finances. However, if you were going to open one anyways it's better to open a card with no interest than do a balance transfer for 12 months no interest since balance transfers still charge an initial fee.
The complications/costs of financing are one reason we started renting out cameras, so teams that just want to record a tournament or a few games don't have to deal with finance charges.
Monthly Subscription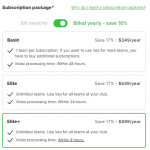 One new development is that Veo now allows you to pay for their subscription on a monthly basis. The first few cameras we bought we had to sign up for an annual plan, which meant more up front costs.
As you can see in the screenshot now they allow you to spread it out a month at a time. When you checkout you can toggle back and forth between a monthly and annual subscription. The subscription is cheaper if you pay annually so you save money if you pay for 12 months up front but the monthly payment option does help if you're trying to figure out how to afford the camera.
Camera Sponsorship
Typically when you think of a sponsor you think of a business contributing money in exchange for your player/team/club showcasing their name or logo. You can also be sponsored by a community or group of people that support your team.
The common element between these two is that you need a community of supporters to make it possible. For example, if you have a big club with lots of families or a town supporting a high school team you can ask them all to chip in a small amount to help afford the Veo camera.
Community Sponsors
Tools like 99 Pledges let you raise money for bigger ticket team costs. One thing we've learned from talking to people with successful crowdfunding campaigns is that you can't simply list a fund raiser and expect the online platform to send donors your way. In order to be successful you have to send your community to the site to raise money. One thing to consider is that every contribution helps so it makes sense to use crowdfunding tools that allow you to raise and keep a portion of the funds for your goal. Some places require you to hit your funding goal in order to receive any money so keep that in mind when researching crowdfunding sites.
Business Sponsors
You also need a healthy and engaged community in order to make it worthwhile for a business to be a Veo camera sponsor. One benefit of soccer games or soccer highlight videos is that you can add a sponsor logo onto the video and offer exposure to sponsors. If you're sharing your games or highlights publicly and have a big audience then it could be a good chance for sponsors to reach your community. Whether it's a big email list or large social media following on Facebook/Instagram/Twitter any potential sponsor will be interested to know how many people you'll reach when you share game video.
After you download your soccer game film from the Veo site adding a logo or name of a business to your footage is easy using software like WeVideo. Future versions of the Veo platform will allow you to add a logo onto each game but for now you can add your own. Here's an example of goal highlights that have a logo added:
When you contact a potential sponsor be ready with information like the age ranges and # of teams that would be sharing the videos. They'll want to get a feel for the demographics of the families being reached and potentially sharing the game videos. You should provide club history, location, # of teams, leagues they play in, and any interesting story about the teams and what makes them unique. You'll also want to detail how many game videos their brand/message will be added to each month and how those videos will be shared with your community.
If you're interested in being matched with a sponsor you can submit a request here and we'll let you know if we can find a sponsor that's a good fit for your teams.
Veo Camera Cost Summary
Hopefully one of the different options of sharing the cost, using a payment plan, or getting sponsors will be helpful to your team. If you're not sure if the camera is worth the money you can always reserve a camera for a weekend or a week to try it out first. We've also recently added the Veo Camera for Sale section so if you end up buying a camera and decide it's not a good fit for your team you can list your camera for sale for other teams around the country that might be looking for one. Lastly, once you're ready to buy a Veo Camera contact us to see if you're eligible for our discount – veo@soccerstripes.com