Summary – Veo Camera Review
The Veo 2 camera is made for parents or coaches like us who need to record lots of soccer games every weekend, at home or on the road. After recording over 2,200 games with the first generation Veo camera in the last two years we've noticed some great improvements and a few challenges with the Veo 2 after using it to record and stream about 60 games the first few months.
While the new Veo camera has more advanced technology to improve some of the shortcomings of the Veo 1, we appreciate you can still start/stop recording with a simple tap on your phone. The Veo Editor where you watch, clip, share games is the same for the Veo camera 1 and 2 (video tutorial farther down) but the hardware for Veo 2 is definitely an upgrade. The Veo Editor has some draw on screen updates and a game journal added that we'll go over below.
The ability to livestream and store more games (and charge while recording) along with the shorter upload times, better zoom resolution, improved audio, and ability to cast to your TV outweigh the challenges of the new tech.
When you're at the field recording games the biggest tech challenge you'll have will be related to streaming soccer games. There may be some moments of frustration when you're first learning to use the camera, if you get stuck you can always send us an email (veo@easysportsvideo.com) or give us a call (816-398-8846). We've helped hundreds of teams get started with the Veo camera so we've experienced most of the issues you might run into.
After we wrote our first review of Veo we kept adding to it over time as we learned more about the camera. It ended up as a pretty comprehensive soccer camera review but then you asked for a summary and a table of contents. To help you find the details you're looking for more quickly this Veo camera review is broken down into sections.
If you have questions about anything we cover you can always email me, ben@easysportsvideo.com, or give me a call – 816-398-8846
Streaming Summary
One of the biggest additions to the new camera is the ability to livestream. We've only streamed with two providers so far, T-Mobile and Google Fi. If you have other carriers for your data plan you'll need to stream off your hotspot, rather than putting the SIM card in your camera, until companies like Verizon and AT&T are compatible. After learning the ropes with the new Veo we put together two videos to share what you should know before using the Veo 2 to livestream for the first time. The first video shows you how to: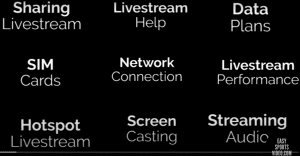 The second video is longer and goes over more questions you might have about the camera. We've heard from lots of teams with many of the same questions so we put this video together to help answer them. This is based on what we learned from streaming our first 20 games across 4 states in the Mid-west. We recorded & streamed 7v7, 9v9, and 11v11 formats.
The video covers sharing your livestream with your fans, how to offer livestream help to fans, data plan considerations, SIM card options, network connections for your camera, livestream performance, streaming off a hotspot, casting your game to your TV or device, and streaming audio considerations.
It's about 10 minutes long but I highly recommend watching it before you use your Veo 2 camera for the first time. As I mentioned, I tried to pack all the lessons learned from a month of recording/streaming with the camera. Chances are you'll learn from our mistakes and hopefully will help your first game recording or livestream go more smoothly.
[Sept 2022] – If you're having trouble with your livestream you should try using your 5G hotspot to livestream with Veo. We've had a lot of luck with this the last few weeks and put out this video as a Veo hotspot livestream tutorial
[Jan 2023] – A nice new feature for livestreaming is the livestream scoreboard that lets you set a clock on the game. So when fans are watching the livestream they know what point in the game they're watching. You can also set the score for the game you're streaming so you can keep the fans updated on the score. I actually tried it for a basketball game as well as a soccer game, its lot more work to keep the score updated for a basketball game! One thing I wish the livestream scoreboard would let you do is set the game time. Right now you can start a timer but if you're not able to start it right when the game begins then the time for the fans is off. It would be nice if when you started the timer you could set the current elapsed if the game had already been going for a while. Here's a video that shows you how to run the livestream scoreboard – Veo livestream scoreboard

Veo 2 Camera Tutorial
When you first get your Veo camera you'll probably have a lot of questions on how to set it up and how to use it. We created a video for you to help get started but you don't have to watch this whole 20 minute video below on how to use your Veo camera. It's organized into sections like how to register your Veo camera and how to setup your tripod and Veo camera. Also how to add your camera into your Veo app and connect Veo camera to Wi-Fi. It also covers recording games with your camera and how to upload and manage your recordings.
The video looks at securing your tripod and camera so they don't get knocked over by a player or ball. Also how to make sure your tripod doesn't blow over in strong winds. If you're wondering about recording into the sun and where to record on the sideline we go over that as well. We offer some tripod tips and also show you how you can livestream with your hotspot and charge your camera while it's recording.
In addition, we took some of the most frequently asked questions about Veo and answered them for you in another video:
-Do you need a subscription for the Veo camera?
-Does the Veo camera follow the ball?
-How can I watch videos on Veo?
-How do you make highlights with Veo?
-Can you download clips from Veo?
-Can I zoom in on Veo?
-Can you use Veo in the rain?
-Can you live stream from a Veo camera?
-Is there an app for Veo camera?
-Does the Veo record sound?
-How many games can a Veo camera hold?
-Can Veo upload over Wi-Fi?
You can check them out here Veo frequently asked questions
Veo Camera 2 – New Features
Here we'll go over some of the new features of the Veo 2 camera that might make it worthwhile for your team. Some of these features will be extremely helpful to certain teams with specific recording needs.
I'm going to highlight those types of teams after each feature with a section called "Veo 2 Team". If you're a parent or coach who's been recording games and agree with our "Veo 2 Team" take on a feature then the Veo 2 camera could be a good fit for you. If none of them would make your life easier then a Veo 1 camera might do the trick.
Livestreaming Games
When I first ordered the Veo 2 it wasn't because of the livestream feature, it was for some of the other improvements that I'll cover soon. However, now that we are able to livestream it's really been an enormous benefit to our team. There are some downsides that I'll cover in the Streaming Challenges section. You don't have to use the livestream functionality if you don't need it but the ability to broadcast the game to fans that can't make it has been really fantastic.
There is an additional monthly fee for livestreaming your games. You can choose this option when you first order your Veo 2 but you don't have to. You can always opt to go without livestream and then add it on later if your team needs it.
Veo 2 Team
If you have teams that travel quite a bit this will be great for families that can't make the games. Families that have multiple kids in sports or activities requiring travel during the soccer season often have one parent in one city and another parent in a different city on the same weekend.
If you're relying on your spouse to text you game updates on the road then you'll know what I mean and will appreciate being able to watch the games you miss.
Even in the same city, here we are leaving a game early at Swope Soccer Village to get to the next game of the day and have the game up on the way to the next kid's match. Obviously you don't want to watch while you drive, this was a passenger in the car who was watching the livestream and opened Google maps. You can have the Veo Live app docked on the screen while you do other things in the background.
Another unfortunate scenario are injured players who miss part of the season due to their injuries. Even though they're not traveling with the team they still want to be able to watch the games and follow the progress of their teammates. Being able to cheer them on from home while their team is on the road helps them stay connected as they recover.
Lastly, parents who want to cheer on the team but can't travel due to work, health, budget, or other reasons can tune in to root for their favorite players. It's obviously nothing like being there in the moment but the ability to watch their kid play when they wouldn't be able to otherwise is pretty special.
A lot of these families are so happy to have this option that they're more than happy to chip in to cover the additional costs of streaming. There is a livestream fee for the plan and you'll need to sign up for a data plan (hotspot 5G or SIM 4G ) but families will likely be happy to share those expenses with you if it means they're able to watch their kid play when they can't be there.
For example, in the screen grabs in this photo you can see just a few of the messages I've gotten from families who weren't able to make it to games but watched the livestream.
*Be ready because the opposing team will also ask you how to access the livestream. I always share the link but just know that can lead to tech support questions while you're trying to watch.
Camera Stores More Games
The first generation Veo had 60 GB in the camera, the Veo 2 has 120 GB hard drive. With the Veo 1 if you're playing more than 4 games in a weekend you need either the ability to upload or have two cameras. If you're used to recording games on a camcorder this is frustrating because you're used to just bringing along extra memory cards. Since the veo camera storage is an internal hard drive you can't do that. For parents or coaches who have used camcorders this kind of feels like asking you to bring along an extra video camera rather than more SD cards.
With the Veo 2 the storage is still internal to the camera and can't be swapped out but the hard drive is much bigger. The Veo 1 has 60 GB and the Veo 2 has about 120, so it doubled the number of games you can store. (As readers have pointed out, the settings in the app show 114.16, some of the 120 is used internally by the camera)
We traveled for tournaments this summer where we made the semi-final & final and were able to store all 5 of our games on the camera.
One word of advice about keeping games on your camera. Until they're uploaded into the Veo system there is no backup of the game. So if you have the ability to upload them on the road it's not a bad idea. This helps prevent you losing footage in the event you accidentally delete a game or lose your camera. Typically teams want to see the games as soon as possible so most people upload right away. Just wanted to point out that until you upload the footage there is no backup of the game.
Veo 2 Team
If you travel to away tournaments this is great because you don't need to worry about running out of space if you can't upload on the road. We had a team at SuperCopa who couldn't upload and they made it all the way to the semi-finals. At one point they thought they were going to have to delete the first games to make room for the last games. Luckily we found a solution but it was stressful for them that weekend. With the added space in the Veo 2 you won't have to deal with this issue.
Also, if you're recording a club that has multiple teams playing in a tournament or event. For example our U-13 and U-14 ECNL teams often traveled to the same events. If you have 2 or 3 teams each playing multiple games in a weekend the Veo 2 is nice for the additional storage.
Easier Camera Charging
You can now charge the camera while it's recording, unlike the Veo 1. The back of the camera also has a 3 light indicator that shows you the battery level so you have a better idea of when you need to charge. You can check battery life in the app but it's also nice being able to glance at the back of the camera to see if you're down to the last level of charge.
The charging port is more universal now, the Veo 2 charges with a USB-C plug so you have more options for powering up your camera. Charging while the camera is at the top of a tripod is possible as you can see in the photo, in the Veo accessories section later on we'll share what we've used to make it possible.
** Charing while recording isn't something we've tried when it's raining. Charging during a game probably isn't a good idea if it's pouring rain. If you have tips for this please email them to us veo@easysportsvideo.com
Veo 2 Team
If you record lots of games in one day being able to hook an external battery to your camera to get you more games is a great new feature. It was always the 3rd or 4th game of the day when you started to worry whether the charge would make it through the rest of the game.
In the past we would stop the recording at half and charge the camera if we knew the battery was really low but that meant the game was stored as 2 separate recordings and recording during half wasn't enough time to give you juice for the whole 2nd half. Sometimes we'd even let it charge part way into the start of the 2nd half to get it enough power to try and make it the rest of the game but of course then you're missing part of the game.
Now you can plug your camera in while the game is going on and not have to miss any action. In the Veo accessories section we'll show you how we charge at the top of the tripod.
Cast Your Game
If you livestream your game you're able to cast it to a TV during the match or also after it's over. When you stream the footage is stored somewhere on the cloud (the recorded footage is still on your camera) and you access it through the Veo Live app.
Inside the app there's an icon you can tap for either AirPlay or Cast so you can watch the game on your TV, see the image.
You can do this while the game is going on or also after it's over and you want to watch it back. Note, this feature is only possible if you livestream your game
Tech note. If you can't get the Airplay or Cast to work, another option is Screen mirroring. You can use a HDMI screen mirroring cable to mirror your phone to your TV. This might actually be the best option if you're on the road if you run into issues getting your Chromecast to work on the Wi-Fi. We'll cover the cable to use in the Veo Accessories section.
Veo 2 Team
If you have fans that can't make your game then being able to cast the stream to a TV is a great way for them to watch it together remotely. We had an injured player who couldn't travel to regionals but the player and his family watched all the games together in their living room by using the cast feature. When the team won to advance to Nationals the first thing they did was walk to mid-field in front of the camera and give a hat-tip to the missing player. Technology is pretty slick! When it works of course, we'll talk about some of the challenges of streaming later on.
A fun thing to do after a big win on the road is to cast the game back to the hotel lobby TV and watch it back together as a team. We did this after a regional game and all the players/parents gathered in the lobby and ate dinner and watched the exciting comeback win.
Lastly, if your team needs to view the game back soon after it's over the casting is a good feature for you. The most common case is doing a team film review the afternoon or evening after a game to prepare for the next upcoming game. You can cast/Airplay the game to a TV in your hotel if you're on the road. You're not able to create markers and clips like you can for the recorded footage. In this case you use the slider and the jump forward/back icons to navigate the game. So to prepare for this you'd want to watch the stream and write down the times in the stream you want to cover.
Better Game Audio

You'll pick up a lot more of the audio from the field and sideline with the Veo 2 camera. The mics are on the front, rather than the bottom, and it seems they might be better quality due to how much more they pickup. The benefit is that you hear more of the action on the field. The downside is that you also hear more of the unwanted noise, like sideline heckling and wind noise.
We had a stretch from March – May this season where every single game we played was in high winds. In those cases all you could hear on the Veo 2 recording was the wind. We were also recording with a Veo 1 (since the Veo 2 was new and we wanted a backup) and both cameras basically just picked up only the wind noise.
Come June we ditched the windy weather and could really hear a lot more of the players and coaches which was great but we also heard more of the sideline heckling from fans. There's not much you can do about that since you set the camera up at mid-field, right in the middle of the the fans from both teams.
It did actually come in handy one game where an opposing coach was so upset he was cursing at our players and going after them verbally. We were able to submit that footage to the league as proof of the incident.
Obviously this is more of a fan/coach situation than a technology situation but the main takeaway is that whatever you're yelling from the sideline will be picked up more clearly with the Veo 2 so keep that in mind. It's actually a good idea to remind the people sitting right around the camera that what they're saying is being captured, especially if you're livestreaming.
At our first game of Regionals in Chicago I setup the camera and was hanging out right underneath the tripod and chatting with another dad as we watched the game. His wife was watching the stream back home in KC. She texted him to let us know she could hear our conversation on the stream. We weren't saying anything negative, just visiting about the recording and the team, but if we had been saying anything we thought was private it would have been broadcast for the fans to hear, so keep that in mind.
Better Highlight Zoom
When you zoom in to create directed highlights in the Veo editor you get better resolution with the Veo 2. The digital zoom makes for a grainer video when you clip action on the far side of the field with the Veo 1.
The Veo 2 gives you better resolution on those zoom clips. It's still not as good as you'd get from an optical zoom on a manually operated high quality video camera but it's an improvement over the Veo 1.
We had a goal from the top of the box on the far side of the field in our last tournament and created a directed highlight where we zoomed in on the shot. The play started on the near side of the field and then progressed to the far side of the field and ended in a shot and goal. So the directed highlight has footage from the near side and far side of the field. The resolution is still better closer to the camera due to the digital zoom but the footage of the shot and goal from the far side are clearer than they would have been with the Veo 1 camera.
Faster Game Processing
Since the Veo 2 does more processing on the camera the final processing is now faster than it was with the Veo 1. We recorded the same game with the Veo 1 and Veo 2 back in May. We plugged them into the network at about the same time and the upload step took about the same for both (we have Google Fiber so the upload was pretty fast for both).
I didn't actually time it since I plugged it in overnight but I had the email notifications below that Veo sends when the game is uploaded and also when it's finished processing and I checked the timing on those.
The Veo 2 game had the processing complete, highlights created, and ready to watch about 2 hours after it uploaded and the Veo 1 game took about 6 hours.
Rain Adapted Lenses
We haven't been able to test the lenses in rain. Since we got the Veo 2 we haven't had a single game in the rain, which is kind of crazy. We just got back from Denver (which I thought would be a cooler place to play) and it was 100 degrees at game time! There was an afternoon storm but it came with lightning so we cleared the fields.
I know the new lenses are engineered to help keep less water on the lens when it rains but we haven't tested out how they compare yet. I'll update this section once we have a rainy game. I'm hopeful they'll make a difference because we've missed seeing a goal or two because a water droplet was rolling down the lens at just the wrong place at the wrong time.
Back to Veo Camera Review Summary
---
Veo Camera 2 Challenges
Here are some of the things we've run into as we've used our Veo 2 cameras over the last few months.
Camera Connection
The biggest frustration for me so far with the Veo 2 has been the difference in connecting to the camera. With the Veo 1 you could connect via your browser using cam.veo.co or you could use the app.
With the Veo 2 you only connect with the app, which isn't a big deal if your app is working but I did like being able to fallback on cam.veo.co. We have a little different perspective since we send our cameras to teams all across the country to use. If they had an issue with the app we could just direct them to cam.veo.co so I miss having that alternative.
Once you're able to connect to your camera in the app you should be good but I have experienced some frustration with the number of tries it takes to connect. The guidance, for the Veo 1 and 2, is to turn on the camera and give it a few minutes to boot up before you connect. With the Veo 2 I've done that but often times the first time or two I try and connect to the camera in the Veo app it isn't able to connect. It doesn't seem to matter if the camera has been on for 2 minutes or 10 minutes, I often run into this scenario.
I'm finally able to connect to the camera but it often takes several tries, which is frustrating. What I've told Veo is that I don't want to be able to even try and connect until it's ready. Rather than try and fail a few times, I'd rather just wait until it was ready and then try to connect.
It's not a show stopper because I'm always able to connect but it does mean you need to give yourself extra time before the game to get started.
Update: Since writing this Veo has added messaging to let you know a little more about the connection to the camera.
New Case Needed
The new design of the Veo means that your Veo 1 case won't hold the new camera. The Veo 2 comes in a different zipper case that isn't as protective as the one that comes with the Veo 1. You are able to order the Pelican type case for the Veo 2 when you place your order but I didn't do that at first because it was an extra cost.
I regretted it after hauling our Veo 2 cameras around a tournament the first weekend we had them. I've since separately ordered the Veo 2 protective case for our cameras. So it's an extra cost but worth it in my opinion.
Sensitive Power Switch
The power button on the Veo 2 is more easily bumped on than on the Veo 1. If you have the Veo 2 in the protective case this won't be an issue but if you don't then it can get bumped during travel and turn on.
One of our first weekends we drove from Omaha back to Kansas City to catch the last game of Sunday. Since I didn't have the protective case yet I had the cameras in a laptop bag. While loading the bag into the car the power button got bumped so when I got to KC 3 hours later the camera had run down the battery.
It wasn't dead and since I could charge while recording I was still able to record since I had an external battery with me. Just be aware that if the camera isn't in the case the power can get bumped on.
Last weekend we were at a tournament that was recorded by Veo and some folks also had question about exactly how long to hold in the button to power the camera on and off. Just remember it only takes a gentle push, you don't want to really mash it in and break the button.
Serial Number Obscured
This one isn't a big deal but it is a difference I noticed out on the field. As you can see in the photo, you can see the camera serial number when it's on the quick release plate for the Veo 1.
With the Veo 2, once you snap it into the quick release plate you can't see the serial number of your camera. If you have multiple cameras like we do then you're probably used to looking at the bottom of the camera to see which one it is you're wanting to connect to.
So if you have more than one Veo you could put a label on the back/bottom so you can tell which camera it is that's snapped onto the tripod.
Preview Screen Discoloration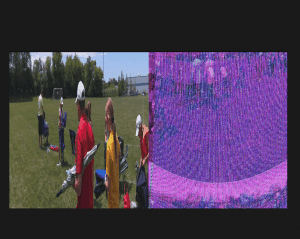 I'm not sure what causes it and I've only seen it once but I know another team that experienced it as well. I had the camera on and the SIM card in to be ready to start the livestream early.
The previous game went over so finally I turned the camera off to save battery. Not long afterwards the game ended and I turned the camera back. At that point one of the lenses had that pink shade you see in the screenshot.
I turned the camera off and headed back to the car to get another camera assuming something was wrong. When I returned I turned it back on and that lens was fine, the game was about to start so I ended up recording with it and everything was fine.
The Record and Record + Livestream buttons had been enabled so I could have started it but I didn't want to record it to find the video a mess. I wasn't sure if it was an issue with the lens itself or just the preview.  It hasn't happened since but I know another team that had a similar experience. I don't know what caused it but if you see it I would recommend restarting before you record.
Streaming Challenges
The biggest challenge that you'll likely face when you start streaming is one that I did not expect. I'll give a little background before I go into it. The 3 things that make streaming a challenge are:
New Technology
Network Dependence
Fan Intensity
The new hardware, software, streaming systems, and app all combine for a lot of new technology to roll out at once. Then you are dependent on the provider you're using on having a strong and consistent enough connection to stream the game. Finally, if your team is spending the money for this equipment then chances are your team is pretty serious about its efforts. All the parents, players, and coaches have dedicated many hours into the training and support of your players. They are True Fans and are very eager to watch every minute of the game. A delayed stream or glitchy picture raises their blood pressure and yours as a result.
When you layer together new technology, unpredictable networks, and the intensity of fans what comes out is a stress sandwich. No joke, the first time I cursed in front of my 10 year old was this summer at Regionals when her U-13 sister was playing and families back home were waiting to watch and I missed streaming a PK that the keeper saved.
I did not expect the level of stress that comes with streaming a game for your team. This magnifies the tech difficulties and network issues, here are some things you can do to prepare.
Streaming Prep Tips
Set up Early
Give yourself time to navigate tech challenges and network issues. Setup the camera and start streaming before the game starts. DO NOT wait until the opening whistle to start the stream.
Have Options
I brought along both T-Mobile and Google Fi SIM cards to regionals. I also brought along adapters so I could hook our hotspot right into the ethernet port if the SIM connection was acting up. What worked at one complex didn't work at another so I streamed 8 different games with multiple variations of SIM cards in the camera and wired ethernet connection from my hotspot to the camera. I would start with the SIM in the camera and if that didn't work I would try a SIM for another carrier and if that didn't work I'd try a wired connection from my hotspot. This is why you need to do #1 and setup early.
Record & Stream Separately
If you are able it's good to record with both a Veo 1 and a Veo 2 if you're trying to stream. This is because the stream and recording are tied together. If you have a Veo 1 recording the game then you don't have to worry about missing the actual footage for later or starting stopping the camera. You can rely on the Veo 1 for the recording and the Veo 2 for the stream.
Typically with Veo 1 once you start the recording you don't need to stop. However, if you are streaming with the Veo 2 your recording starts and stop every time you start and stop the stream. So if you have a Veo 1 and just got a Veo 2, it might be a good idea to hold onto the one for a bit if you're streaming with the Veo 2 until they get that sorted out.
Watch Your Data
I ran out of T-Mobile data towards the end of Regionals, which was when the semi and the final game were played. Luckily I had the Google Fi SIM to rely on so I was able to stream those big games back home. My problem was that I had streamed games in the weeks leading up to regionals as well so I had already eaten into my data.
Google Fi had the option of "overage" data so once you run out they would bill you $10 for each extra GB you used. That can get expensive but if it's the final of a big tournament its nice to have that option if you need it.
One thing I was surprised by was that Google Fi used up about 3 times as much data to stream a game than T-Mobile. I don't understand why that is but you can see from the usage graph that each game used a lot more than the 2.5 – 3 GB T-Mobile was using.
Streaming Issues
Here are some issues we noticed when streaming over the last month.
Battery Intensive
When you're streaming games it really takes a toll on the battery. If you're only recording games you can get a lot more on one charge than you can if you're streaming. So if you plan on streaming multiple games in one day it's a good idea to start with a fully charged camera and to bring along an external battery in case you run short of juice. We'll cover those in Veo Accessories below.
Network Inconsistency
We streamed two games from the same field with different results with our T-Mobile SIM. It was the same camera, same SIM card, same field – just a different day.
On Saturday the game had some lag while streaming. On Sunday it worked just fine, the only difference was it was about 24 hours later. Not to single out T-Mobile. That's who we were using but I've heard similar stories from other teams where it worked fine one day then differently the next on a different network. You can always try two different carriers to see which has the best service in that location on that day but that does add to your costs.
Overheating
We didn't run into this in Chicago when we'd stream two games in one day, sometimes in the hottest part of the day. But after we finished with the camera we went on vacation and shipped the camera to Texas for an MLS Next tournament.
In the hotter weather the camera would make it most of the game but then in the last 10 or 20 minutes it would hit the heat governor and shut down to protect the equipment. I'm glad that Veo has added the functionality to recognize heat that could damage components but it is frustrating to the fans watching the stream who miss the last 15 minutes of the game.
They tried lowering the tripod at half and putting cold packs on top of the camera and also fashioning a small shade to keep the sun off the Veo but all the on camera processing for the stream really heats it up and in the hotter climate it wasn't able to stream the entire game before it needed to cool down.
Wi-Fi Streaming
During our Chicago event we weren't able to stream off the hotspot but right afterwards Veo pushed an update to the camera so the team using our Veo 2 in the MLS Next tournament was able to try. The upside was that they connected to a 5G hotspot and it did improve the quality of the stream over the 4G SIM card we had sent them.
However, they did run into trouble with the hotspot streaming feature where after 10-20 minutes sometimes it would drop the stream. So once Veo gets that figured out you could just stream off your 5G hotspot but until then the most consistent stream is from your SIM card or your hotspot with a wired connection to the back of the camera.
Update: We were able to stream via our T-Mobile hotspot in our last game at Nationals. We tried the T-Mobile SIM card in the camera first, then Google Fi SIM in the camera, then plugging the T-Mobile hotspot into the back of the camera and none of those worked due to bad signal in the area. Finally we connected to the T-Mobile hotspot through the Veo camera app and streamed the whole game. This screen shot is of the same camera using the Wi-Fi in the hotel to upload but it's the same view where you'd see your hotspot at the field.
Back to Veo Camera Review Summary
---
Veo Camera Accessories
We get a lot of questions about what gadgets to use alongside the camera so for this review thought we'd add a section on camera accessories. I've organized these items into the categories of Charging, Streaming, Uploading, Casting, Replacements, and Protection. If you have other gadgets that you use please email me, ben@easysportsvideo.com . Some of the ones on this list are items that I've heard about from other readers, parents, or coaches. If you see one you like that's not listed here let me know and I'm happy to add it in.
Camera Charging
One key to charging while your camera is recording or streaming is to get a slimmer portable battery and also a good way to connect it to your tripod. Now that Veo 2 has a USB-C charging port you can power it up with a lighter weight power bank/cable and use Velcro ties in a few places to attach it to your tripod. We've been using this portable camera battery called the Baseus Blade.
It comes with a USB-c to USB-c cable but as you can see from the photo it has two USB-c ports so you can actually charge two cameras at once if you need to. So you may want to order an extra USB-c to USB-c cable.
If you're charging on top of the tripod the power bank will hang down and put pressure on the USB-c port on the back of the camera. To avoid this you can secure the plug coming out of the back of the camera to the wind kit plate on the tripod with a velcro zip so the weight of the power bank doesn't damage the camera charging port. We also put a Velcro zip around the cable right above the battery to keep it from moving in the wind.
We heard about this portable battery from one of our friends at Veo and have been happy with it so far. I do like the digital panel that shows power left in the battery and also approximately how long it will take to charge attached devices.
We haven't tried charging while recording in rain/precipitation and wouldn't recommend it.
Wired Livestreaming
These accessories will help you livestream using a wired ethernet connection. As you can see from the photo you plug a USB-C to Ethernet + Charge Adapter into the back of the camera (this is the dongle that comes with the Veo 2).
You run an ethernet cable out of the adapter and use a USB-C to Ethernet Adapter to plug into your hotspot. The one pictured here is our Inseego 5G MiFi M2000 with service through T-Mobile.
If you have a 5G hotspot this will give you a pretty fast wired connection for your camera for streaming.
Wireless Streaming
We're able to take our SIM card out of the hotspot and put it into our camera. That SIM card is through T-Mobile, if you're not a current T-Mobile customer you can get a Simple Mobile SIM card. We also signed up for Google Fi to have another streaming option. It only took about 15 minutes to sign up online and they mailed the SIM cards to our house. The one catch with Google Fi is you have to activate the SIM putting it into a phone, we used an old iPhone, before you can use the data SIM.
The livestream SIM video clip talks more about the Google Fi cards. One thing to keep in mind is that even if you have an "unlimited" data plan some services (like Google Fi) will throttle your speed after you use up a certain amount of data for the month. If they reduce the speed slower than 4G then it won't be fast enough to stream.
Game Uploading
If you have a SIM card in your Veo 2 camera you can upload games wirelessly but the downside is that you are using up your data. If you're on the road you can try and plug into a hotel ethernet port using an ethernet cable and the USB-C to Ethernet + Charge Adapter that comes with the camera.
However, if firewall/sign-in/network issues won't let you upload you can use a camera travel router to use the wi-fi connection in the hotel or from your phone hotspot to upload. This demo of Wi-Fi game upload uses a Veo 1 camera but the only difference between the one and two is you plug into the adapter instead of the bottom of the camera.
Game Casting
After you stream a game you can replay the stream via the Veo Live app. The simplest way to do this on the road is by using an HDMI mirroring cable. The one we've used with our iPhone is this Lightning to HDMI Mirroring Cable. You plug one end into your iPhone and the other into an HDMI port on the TV and your phone is mirrored onto the TV. Simply open Veo Live and play the game.
The majority of the games we've cast to a TV have been with our Google Chromecast. We've done this both at home and also on the road. You use the Google Home app to to setup the Chromecast on your Wi-Fi first, which is sometimes tricky at a hotel, and then there's an icon inside of Veo Live that lets you cast to your Chromecast.
Replacement Parts
We had a team rent our Veo 2 for a tournament and were using the Impact tripod we'll talk about in the tripod section. The knob for the spigot came undone and both the spigot and the quick release plate fell out and were lost. Luckily he noticed it after getting back to the hotel and was able to order a replacement on Amazon.
Between our camera rental teams and our own cameras we've had to order a lot of replacement parts. Here are the ones we've ordered regularly on Amazon. We're an Amazon affiliate so if you order through our links then we get a commission on your order.
Camera Protection
Smart cameras aren't cheap so here are a few things you can use to help keep tabs on your camera and also keep it safe.
We put an AirTag into each camera case to help us keep track of the camera in case it's misplaced or taken. In the heat of a soccer Saturday when you're racing from field to field or complex to complex it's possible to leave the camera case behind. When that happens, you'll be glad you have a Veo camera tracker!
When we first ordered a Veo 2 we didn't add the travel case to the cart but that was a big mistake. We've since ordered the pelican case for our Veo 2 cameras and would recommend you do the same.
One of the most costly mistakes teams make when recording games is not using sandbags on their tripod. We've seen and heard of so many cameras blowing over in high winds. We purchased several of these sets of sandbags for our cameras. The zipper has started to give on a few after two years of use but for the price they've worked pretty well.
If you're looking for something not described here you can also check out our Veo Camera gear shop.
Back to Veo Camera Review Summary
---
Veo Camera Tripods
You MUST use a sandbag on your tripod. You're investing a lot into your camera, don't let it blow over. We rent quite a few cameras to teams who didn't use a sandbag, the wind took down their tripod, and now they're scrambling for something to record with. Sorry to be repetitive but use a sandbag!
If you play on grass fields you can also put stakes through the holes of the feet of the Manfrotto tripods to help secure the camera. All the fields we play on are turf but one team played in Nationals this year at Dicks Sporting Goods park and all those fields are grass.
They are definitely lighter to carry than sandbags, just make sure you bring heavy duty stakes that will hold it down if a big gust comes through.
You use the same tripods for the Veo 2 that you use for the Veo 1. We made a video that shows the same game recorded by a Veo on the 12 ft tripod and one on the 23 ft tripod. We'll eventually update it using two Veo 2 cameras at both heights but this gives you an idea  – Veo Camera Tripod – 23 ft vs 12 ft View
The Manfrotto tripods are sturdy but they are also heavy and bulky. There are alternatives for more portable stands on Amazon. Teams that rent our cameras use this Impact stand because it's lighter to ship, folds down smaller and fits in the trunk of your car. It's lighter to carry… but you should definitely use sandbags. Here's a photo of the 13 ft Impact next to the 12 ft Manfrotto with them both collapsed . You can see why it's easier to transport but also why it's lighter and blows over more easily.
Tripod Travel
We hear from a lot of teams that travel with their tripod about the best way to fly with the stand. We use these travel cases for the 12 and 23 ft Manfrotto tripods.
These cases are nice because they have handles and wheels so you can roll it around the airport. Here's a video that shows a quick demo of the veo travel case. They are TSA approved but call ahead with your airline on the cost of checking these cases. We've had teams run into pretty hefty fees due to the weight and dimension of the tripod and case. It's better to know in advance than finding out when you get to the airport and it's too late to make other arrangements. In some cases the airline fees were so high it just made more sense to buy a tripod and have it shipped to the destination and just leave it there rather than flying it there and back.
If you're looking for a cheaper option this travel bag is one that several teams have recommended to us. We haven't used it before but teams like it because it can be cheaper when flying. It doesn't protect the tripod as much as the cases above but since it's a soft bag it doesn't add to the dimensions of the tripod so it can save you some money on some airlines.
[Jan 2023] We get a lot of emails about Veo camera tripods so as I was setting up to record a local event I put together a video on Veo tripods. It covers:
-Tripod Transport Sizes
-Carrying Tripods to the Field
-Tripod Carrying Cases
-Attaching Quick Release Plate
-Quick Release Plate Adaptors
-Quick Release Plate Replacements
-Tip for Noise Reduction
Back to Veo Camera Review Summary
---
Veo Camera Game Footage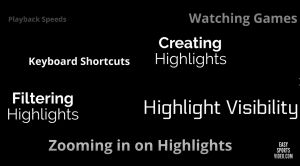 The difference between the Veo 2 and the Veo 1 is the hardware and streaming component. The Veo Editor where you watch and clip your games is the same regardless of which camera you're using. You access it in your browser, via app.veo.co, so you can pull it up on your phone, tablet, or laptop.
When we rent our cameras to teams, a big question after the games are recorded is how can players and parents get access and use the footage.  We created a video we call "Veo Camera Kickoff" for parents and coaches on how to access and use the games you record.
It's 15 minutes long and covers topics like watching & navigating games, playback speeds, video quality, keyboard shortcuts, creating highlights, filtering highlights, highlight errors, commenting on highlights, setting highlight permissions, zooming in on highlights, marking up highlights, keeper highlights, downloading highlights, downloading games, using interactive view to see anywhere on the field, analytics, sharing games, and editing game details.
In our last camera review we included screenshots and descriptions of the Veo editor but this time we decided to give you a video version so you can see it in action when you're evaluating the camera. If you end up buying a Veo camera you can then use the video for your team to help show them how to use the games once they're recorded. Here are links to the different sections of the video:
Veo Editor Updates
There have been some enhancements made to the Veo editor since our Veo 1 review. Since Veo Analytics went live there's the potential to have many more automated highlights created. To help organize those clips Veo has add more filtering options. Now you can filter your clips by:
Event Type (ex: show all goals)
Team (ex: only show my teams goals)
Player (ex: all highlights tagged to my center back)
Created By (ex: all clips created by coach)
With Comments (ex: highlights with comments)
They've created a quick filters feature where the clips are organized by some of the filters above, all you have to do click on the filter name and it will show you those clips.
If you have Veo Analytics then you're also able to specify which half your team played on in the first period and it will add quick filters for Attacking and Defending. It assumes you play on the other half in the second period but you can override it if you didn't switch halves.
Confirming the match period is also helpful if you'd like to show a score banner on the game video. Once the system knows which side your team played on it can put a scoreboard overlay at the top of your video.
[Sept 2022] – The Veo Editor update has added some new tools for team game review and also gives you a bigger default screen to watch back your game. Another new feature is that you can set the type of footage you recorded. So you can specify categories like League, Cup, Tournament, Friendly, Training, and Test. You can't filter on them right now but I imagine that will be coming eventually. So if you have lots of games recorded it will be nice to be able to filter by type. Example, I want to see all our Tournament games from last season. We made a demo video to show you the latest Veo Editor updates.
[Jan 2023] – We are launching a game highlight service that makes it easy for you to put your game clips from a tournament or season into a highlight video. However, some people would prefer to do it on their own so we made a video to show you how to download your player highlights. It shows you how to filter all your clips for the game by player. You're probably just looking for highlights for specific players but can select more than one player if you'd like when you're filtering. Then you can use the menu to download the clips. Unfortunately there's no way right now to download all of the filtered clips, hopefully that will be add in future releases of the Veo Editor.

Back to Veo Camera Review Summary
---
Veo Camera Apps
Now there are two different apps put out by Veo. One is the Veo Camera app, that's still the same as the original app, just enhanced to support some Veo 2 features. The second app is Veo Live, you only need that one if you're livestreaming games.
Veo Camera App
On the left side of this app screenshot is the Veo Camera app where you see your Veo cameras listed. If there is no camera in the list there's a plus (+) icon in the top right where you can add your camera.
Once you tap on your camera (and your camera is on) then the app finds your camera. Once you click the green preview button the app connects to your camera (which can take up to a minute or two). From there you can look at your recordings, see your settings (battery, temperature, disk available space), and also start recording/streaming.
Under the settings menu there are two new settings added. One is called "Internet Service" and the other "Camera Info". The Camera Info setting was added so you can lookup the IMEI number of your Veo 2 Camera. You might need this when setting up your SIM card and data plan for streaming with your Veo 2.
The "Internet Service" setting displays how the camera is connected to the internet, if it is. If you have a hard wired ethernet connection it will show up here.  There's also a Network Wifi section that has a plus icon where you can look for nearby Wi-Fi networks. If you see one that you want to join you can add it from here (if you know the Wi-Fi password).
At our last tournament I didn't have to put in the password for the Hilton Wi-Fi because I was already connected to it on my phone. I had put my Last Name and Room Number into the hotel internet challenge page to access the Wi-Fi from my phone. Then when I saw the hotel Wi-Fi show up in the network list in the Veo camera app I selected IHG Connect and it connected me without asking for a password. I'm not sure if it was necessary but I left my phone powered on and plugged in overnight while the games uploaded. The camera already had the Wi-Fi connection but since the authentication was through my phone I left it on in case the hotel Wi-Fi was checking again.
Veo Live App
On the right side of app screenshot above is the Veo Live app where your fans can watch the games you're streaming live, or can go back and cast them after they're over.
You're able to search for your Club, or Club that you want to watch, and you can follow the club. If there's more than one match streaming for those clubs you can swipe left/right at the top to move between the games. If you're following a club and a game begins you'll get a notification that it just started. Once you tap on a match that's live you can get a link to the game that you can share with others or you can watch the game inside the app.
Back to Veo Camera Review Summary
---
Veo Camera Plans
Before I go into the plan details I'll give a brief overview of how the camera works. It records the left and right half of the field and splices those two recordings together and stores the footage on the hard drive. The AI chip in the camera analyzes the footage and once you upload the game into the Veo system it finishes analyzing the game to do the zooming, panning, and mark the goals and highlights. From there you can watch, clip, download, and share the game with your family or team. Those are all the steps that are covered by the camera subscription. Basically capturing, processing, analyzing, hosting, and sharing the videos of the game.
I always go over that first because most parents or coaches want to know why a plan is necessary to use the camera. The different plans offered by Veo are Family, Team, Club, and Enterprise and you can sign up for terms of 1, 6, 12, or 24 months. If you have questions about which plan is right for your team you can give us a call, 816-398-8846, or you can also just answer the questions below to get a quick idea:
If you're looking for a Veo camera discount you won't find any deals on the plans but if you do end up ordering a Veo we can help you save $200 on the camera. Go to our Veo discount page to enter your name and email address and click Submit. You'll get a Veo discount code via email that you can use at checkout. Here is a video demo of how you choose your camera equipment/plan and use your code at checkout.
Back to Veo Camera Review Summary
---
Veo Camera Support & Returns
Veo has improved the process of reporting issues since we first started recording with camera. Now they have a help request page where you can report your issue and request assistance.
For most items you'll need  to include:
camera version (1 vs 2)
camera serial number
email address for Veo account
You begin by selecting the category of the help you need under "How can we help you?" Right now the categories are damaged camera, camera issues, recording, subscriptions, accessory, shipping and orders. Once you select a category the form will populate. If they need more info there's usually a "Tell us more" dropdown on the form that will give you a few other options for narrowing down the topic that you need help with.
If you're not sure what category your request falls under what I've done is just start selecting categories to see what data the form is asking for. For example, I get a lot of questions about changing your subscription. You'd select "Subscriptions" from the first dropdown. Then under "Tell Us More" dropdown there's an option called "Make changes to my subscription". Once you select that another dropdown populates with options like renew, upgrade, downgrade, cancel, pause, and move subscription between cameras.
There's an Attachments section at the bottom of the form so you can include a photo or video to describe/support the description of your problem. I recommend giving as much info as possible when you submit the ticket to help speed up the resolution. I typically provide a short video of the problem when I submit a ticket.
Camera Repairs
The return process is pretty simple, the biggest hassle is being without a camera while it's being repaired. We actually work with a lot of teams that need to rent a camera while theirs is being fixed. If you need a camera visit the "How Can We Help" section below and enter your info and we'll help you out. If you need one ASAP just give us a call, 816-398-8846.
I've found the trick to getting your camera repaired as fast as you can is to provide as much info in the help request as you can up front. The sooner the technicians can determine you need a repair, the faster you'll get the shipping label, and the quicker you get the camera on the way.
Once they email you the shipping forms you print out two copies of each and fill them out, sign them. Last time we did it there was a:
-Transport Label
– Waybill
– Customs Invoice
You package your camera in the return box, but don't tape it up, and set a pickup window with DHL. Once the driver arrives they check your paperwork to make sure it's in order and take the box. They want to look in there to verify the contents, that's why you don't package it up.
Once Veo gets the camera and checks it out they'll let you know what the next steps are. They can usually tell if you did something to the camera that killed it, ex if you tripod blew over. In that case, they will send you a new camera for a replacement fee. If there's something wrong with the camera that's a problem with the technology, which is the more common case, they'll repair it and ship it back to you.
Camera Returns
Veo does have a return policy for new teams that buy a camera and change their mind. So if you purchase a camera and decide it's not working out within the return window the return process is the same as the repair. They send you the labels, you schedule a pickup, and DHL takes the camera back to Veo.
If you're outside of the return window you can always sell your Veo to another team who's looking for a camera.
Back to Veo Camera Review Summary
---
Veo Camera Wishlist
There are a few things on my Veo camera wishlist. Some of them were around before the Veo 2, some are new based on the new camera
Audio Mute
Currently there is no way to mute the audio of the recording. Whether it's to block out constant wind, cursing parents, screaming coaches, or sideline comments that were intended to be private (but made right underneath the camera)
The only way I've been able to salvage footage was to download it, upload into a video editor, drop the sound down to zero for the whole game, then upload the re-rendered version without audio to somewhere like YouTube or Vimeo.
A mute option would have saved me many hours of time. If you don't have the patience or tools to do that then you might have a recording you can't really share with others due to something in the audio.
Extend Team Invite Expiration
When you share an invite link with your team families to join the team it's only valid fo 7 days. After that it expires and the families have to come back to you for an updated link.
I understand the reason for expiring the invite but if it could be extended out to 30 days, or better yet customizable with some max that would save a lot of team managers a lot of emails.
Sports parents are busy, they may not open a team invite you send them within 7 days. Bump it to two weeks, or even better four weeks and you'll get the majority of parents. Or make the timeframe customizable. This is even more helpful for events and camps where you send out many invites.
Low Battery Alert
It would be sweet if I got a text or email once the Veo camera battery dropped below a certain percentage. To start it could be a set percentage and then maybe in the future let teams customize what battery percentage the alert is sent. At minimum an alert 5 minutes before the camera is about to die.
This way we wouldn't have to sit on the sideline worrying about how many minutes we had left until we need to charge the camera back up.
Scheduled Recordings
The ability to set a specific time when the Veo camera would begin and end recording would be helpful. This is useful for recording multiple fields at once with multiple cameras, for example in a camp or tournament.
Running from camera to camera to start/stop them in between games can be tricky. If the distance between fields is pretty far, you have a lot of cameras, the time between matches is short, or combinations of those factors then catching the start of each game can be a challenge.
Delete/Hide Streams
Once you stream a game it's available to watch back in the Veo Live app and there's currently no way to hide or delete that stream. There are multiple scenarios where you might want to not have the stream available. For example, if you were just testing streaming at a training but don't want it to show up in your list of team streams. Or if a stream contains audio that you don't want broadcast. In some cases I might want to just hide stream so only I can see it, or in some cases I might want to just delete it.
Control Access to Streams
This is similar to the delete/hide streams request above but it's probably more complicated for Veo to setup. Rather than just making a stream available to everyone or no one, it could be helpful to some teams if they could make a stream available to certain sets of people.
Publish Stream Link in Advance
If remote fans are wanting to watch a live stream it would be helpful if the link to a game was available in advance to share with fans. Currently, the link is available once you start a stream and then you share it out. For example, Grandma Mary might want to watch her grand kid's game. If she has the link ahead of time she (or her tech helpers) can install Veo Live, click on the link, get connected and see a message that the game hasn't yet begun. The main goal is that once the game starts the recorder at the game can be watching it, rather than helping the remote fans try and get the game live and miss the game.
Live Tagging
The one challenge I still have with our recordings is capturing highlights for defensive players.  Most of the clips that Veo Analytics captures automatically lean offensive – corner kicks, free kicks, shots on goal, goals. The shots on goal clips help for capturing keeper saves but there's still a gap for defensive plays. If there was a way to create a live marker in the app when a defensive player made a big play it would be a lot easier to create highlight clips for defensive players.

Back to Veo Camera Review Summary
---
Veo Camera Alternatives
We do get a lot of questions about the alternatives to Veo and we decided to try them out so we can give you good answers. We've purchased all the alternatives to the Veo that are available so we can test them out:
Pixellot Air
We've actually had one of these for over a year but haven't used it much because we rented it to some high school teams that wanted to record for a season. When we first got it in the Spring of 2021 the tracking struggled to catch goals but it seems to have improved over time. Pixellot has been in fixed cameras for years and has now rolled out the mobile camera. They have a tool called VidSwap that could be useful for high school teams for analysis. When we tried it out in 2021 the integration between VidSwap and the Air wasn't great but it was an acquired company so they were still working on it. Once we get the camera back and use it this Fall we'll give an update.
Pix4Team
We pre-ordered one over a year ago and it just recently shipped. Unfortunately we haven't been able to use it yet. For a month after we received it there was a bug with charging the battery on the camera. They did push some firmware to fix it but it was right after spring season ended and right before we left on a trip so we haven't seen it in action. We'll let you know how it turns out.
Trace
Trace came to a tournament and recorded one of our games so we could see how it worked but we never got the footage. A lot of readers ask about Trace so it was frustrating not being able to give people an answer. They don't offer trials and we didn't want to spend the money for the team plan just to try it out. Until now Trace only offered team packages. However, just this month Trace created a family option and had a promotion so we ordered one to test it out. We'll give it a shot and let you know what we think.
Reeplayer
We pre-ordered one of these back in 2021 but it hasn't shipped yet. It's a smaller company than all the others but they do seem pretty committed to coming out with a quality product. They give updates on their progress of developing the camera and they've pushed back delivery several times in the interest of improving limitations in the technology. Sounds like it will ship around early Fall 2022 so we'll see how it turns out.
Hudl Flex Focus
We joined a webinar at the end of 2021 to learn more about the Flex Focus but so far from what we understand it's in beta and only available to special partners. We rented cameras to a Nebraska team (where Hudl is based) who traveled to Kansas City for a tournament. Since they're in Nebraska and had a connection to Hudl they had a chance to try one out. Sounds like they're working through bugs but it could be pretty cool tech once it launches – we just haven't been able to get our hands on one.
All of these sports recording cameras are new technology so hiccups and frustrations are to be expected. They've all experienced delays and setbacks due to supply chain, figuring out technical challenges, and honestly just trying to cover all the scenarios of weather, lighting, conditions, different size fields/courts, different sports, etc.
It's actually pretty amazing what Veo has been able to come out with for the Veo 1 and the Veo 2. Now having other cameras entering the market is good for teams and families because competition increases innovation – giving coaches, parents, and players more options. We entered the AI camera world back in 2019 expecting technical challenges and frustrations and we've helped hundreds of teams and thousands of players navigate those challenges.
As the smart camera companies continue to innovate on capturing and analyzing and streaming sports the glitches will still pop up. If you're buying a camera from Veo or any of these other companies I'd say that technical challenges are to be expected but in our experience navigating the technical frustrations are worth capturing the video.
Back to Veo Camera Review Summary
---
Veo Camera 1 vs Veo Camera 2
The first week after getting our Veo 2 camera I put together this video comparing the Veo one and two – Veo 1 vs Veo 2.
Unfortunately the format I used in the side by side comparison wasn't very helpful. To get them both on the screen at the same time and in landscape format I had to shrink them down and put them catty corner so I got a lot of questions about the video difference between the 1 and 2.
As a result I made a follow up from the games the next weekend where I showed a 20 second clip of the Veo 1 from the game and then the same 20 second clip of the game shot by the Veo 2. Then I followed it up by comparison clips out of the directed highlight for the first and second generation Veo. Here's the Veo camera comparison video.
If you questions about the Veo 1 vs Veo 2 that the video links above don't answer you can send me an email. Veo no longer sells the first generation camera but if you'd like to buy one there are many used Veo cameras for sale. You can find used cameras to buy or list your Veo camera for sale.
[Sept 2022] – We've been getting questions about shutting off the Veo 2 from teams that used to have a Veo 1. It can be confusing so we made this Veo shutoff video.

Back to Veo Camera Review Summary
---
Veo Camera Recording & Streaming Tips
Here are some of the quick tips that we've picked up as we used our Veo 2 over the first few months:
If you already had a Veo 1 uninstall and reinstall the Veo camera app once you get your Veo 2
You can use your hotspot with a wired adapter if the SIM in the camera isn't working to stream (Update: Now you can also use Hotspot streaming on iOS)
When streaming and the app asks you to select the corners of the field start at the far end of the goal and then drag right from there (if there are players warming up on sideline can make it tricky to find far corner)
You may have to try a few times to start the stream successfully. If the stream doesn't show up after 5 or so minutes in Veo Live we would stop the stream and start it again
If you are recording with a Veo 1 and Veo 2, make sure your phone isn't connected to the 1, otherwise your team list won't show up when you setup the stream
To commentate the games you can get a Bluetooth speaker and strap it to tripod so the Veo mic picks up your voice (hat tip to Aaron Rodriguez )
If you are attaching a battery or hotspot to the Veo 2 at the top of your tripod put a Velcro strip right at the top so the weight of the hotspot/battery doesn't pull down on the USB-c port. Put another velcro strip at the bottom right above the hotspot/battery so it doesn't bang in the wind
Get SIM cards from two carriers (We needed backup when we hit the T-Mobile max for the month and and it slowed down. The stream would start but not actually go live )
If you're able, record with a Veo 1 and stream with a Veo 2 until the streaming has less starting/stopping
Order the protective travel Pelican case
Start the stream 10 minutes before kickoff, don't wait until the opening whistle in case you run into issues
Have a person back home verify the stream about 5-10 minutes after you start (and again at half) to make sure its up and running
When transporting the camera outside the protective case use a laptop bag and watch for accidentally bumping the power on
If you're not currently a T-Mobile customer you can't get a data plan in the T-Mobile store without signing up for a phone number and going through all the customer setup steps. If you just want the data plan you can order a Simple Mobile SIM card.
Give yourself extra setup time at the field
Give yourself extra setup time at the field
Give yourself extra setup time at the field
* Some teams have told us the prepaid SIM might not be as good as the data plan with the carrier. For example if using a Simple Mobile SIM card vs using a T-Mobile data plan and SIM the quality may be lower with Simple Mobile. We haven't confirmed this but the premise was that the carrier gives preference to the data plan customer over the pre-paid customer when there's competing traffic on the same network.
Back to Veo Camera Review Summary
---
How Can We Help You?
In the past month here's a taste of the teams we worked with and how we helped them:
WhatsApp video call to a hotel lobby in Nigera to help upload games
helped a team at ECNL regionals while hiking the rim of the Grand Canyon
coordinated sending cameras to Israel from our cabin at youth camp
took a Facetime call to help get a camera recording at State Cup
shipped a Veo 2 camera to Texas in 3 hour turn around for MLS Next
had a conference call from Bryce Canyon to help with a camera in ECNL playoffs
sent a Veo 1 to a lacrosse team for demo during tournaments
overnighted two Veo cameras for a USYS event
helped a parent in between flight connections order a tripod to Denver for Club Soccer Nationals
streamed games from Club Soccer Nationals to fans back home
To put it another way – we're used to parents, coaches, teams calling us when they need help in a hurry. We've answered many calls with a panicked voice on the other end. We understand what it's like when the tech isn't working and the game is about to start. We know how it feels when you need to upload on the road and it's failing. We've unfortunately had the sinking feeling as we watch the tripod topple and the camera hit the ground. When the camera you were counting on is suddenly snatched by another team, we've got your back. When the first whistle blows and the livestream is failing, we've felt your pain.
One thing we've learned with recording sports video is that the more prep, planning, and testing you do ahead of time the better your chances of getting good video. We also know that soccer coaches and parents have many things to do rather than prep/plan/test for video and that technology can be confusing, frustrating, and stressful.
So if we can save you some confusion, frustration, or stress let us know. We can call, text, FaceTime, or email with you about recording, uploading, team access, livestreaming, or pretty much anything with Veo. Here's a summary of the ways we can help. Here are some scenarios we can help with.
Want to Sell Your Camera?
If you buy a camera and end needing to sell your camera – list your Veo camera for sale
Have a New Camera
If you want to avoid mistakes & learn best practices for your new camera – buy a Veo owner's field guide
Try a Camera
If you'd rather we ship you a camera to try before you buy – rent a camera
Highlight Video
If you want highlight videos from your game – order a video highlight package
Ask Questions
If you want to just ask questions about camera fit – call us up
Save Money
If you want to save money on your camera purchase – use our Ambassador discount
Veo Camera Discounts
If you end up getting a camera we can save you $200. Go to our Veo discount page to enter your name and email address and click Submit. You'll be emailed a discount code that you can use at checkout.
Here's a demo of how you choose your camera equipment/plan and use your code at checkout – Veo Discount Order Demo