Watching professionals at work is a fabulous way to learn the intricacies of the beautiful game called soccer or football.
As with any team sport there is a LOT you can teach a young mind about the game but most coaches only have a few hours a week to train their players. To make sure their players fully grasp a concept coaches plan their practices to train their kids on one main concept per training session.
So if your daughter or son practices twice a week their coach only has time to teach or reinforce one or two key concepts that week. Coaches have many more things they'd like to teach your kid than they're able to squeeze into their small weekly allotted window of time.
And that is why, if you want your kid to be a better player, you should let them watch more TV. Of course not just any TV, they should watch soccer!
Can Watching Help My Player Get Better?
It makes sense if you think about all the things your kids learn just from watching you or older siblings. They may not understand why it is that what you're doing works but they see your actions and they see results.
There are many different ways to watch a soccer game. As my son will tell you I like to watch a game with the remote close by so I can rewind and slow-mo key moments during a game to make some coaching points. I actually like to rewind 30 seconds before a key a point and show them the build up and how certain player actions contributed to an outcome in the game. At first he'd groan and pretend to listen as I pointed those things out but as he got older he really did start listening and hopefully connecting some dots in his brain.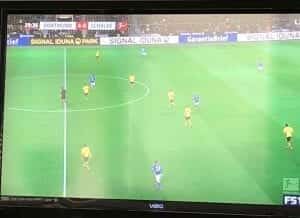 Of course you don't need to pause and analyze a soccer match to learn from it. After you watch enough games you can see patterns where players do similar things in certain situations. Your kid may not know tactically why that overlapping run works but they see the pros do it with success and try it in a game or practice.
You don't have to sit down and analyze a game with your daughter. Soccer may not be your thing and you feel like you have nothing to offer them. That's just fine but they can still learn by just watching the professional game.
Of course another benefit is that seeing the game played well can be really exciting and help them grow their love of the game.  For example, this picture is of Borussia Dortmund playing Schalke and they went up 4-0 in the first 29 minutes, pretty impressive.  Then eventually Schalke came back and scored 4 unanswered goals to tie it up, quite an exciting match!
Soccer on TV
Finding good soccer to watch is a lot easier to be than it used to. Back in the dark ages you couldn't get any soccer on TV but now you can watch English Premier League on NBC Sports and Bundesliga on Fox Sports. If your cable package doesn't offer those you can always find highlights on YouTube. Of course highlights aren't as instructional as a whole game but they can be a good way to get your player interested in watching soccer.
If you can't get your daughter to sit through a whole game a good alternative are shows like Premier League Goal Zone that feature highlights of the games from the league.  One benefit is that they feature the goals which are an exciting part of the game. Fans who watch the game regularly appreciate many other parts – such as great tackles, skillful buildup play, 1v1 attacking & defending, but even someone who's just started watching soccer will appreciate a fantastic goal. Another benefit of highlight shows such as these is that they offer discussions on certain parts of the game and the impact the players actions have. For example, in the video below the commentators provide analysis of the buildup to a goal.
Another interesting option is that the NCAA puts videos of it's college soccer games online.  We have enough professional options to watch that I don't usually checkout those games till it gets down to the Final 4 and you have the best teams playing. However if you can't get any professional games these would be another option:
This can also be fun if any of these college teams are in your area because then you might get to know some of the players and be able to go watch a few in person.
How Do I get My Kid to Watch Soccer?
I remember the first time I took my son to watch a professional soccer game, it wasn't long after the Kansas City Wizards re branded to Sporting KC and it turned out to be waaaay too early. My friend and I enjoyed the game but the only thing our sons enjoyed was running up and down the steps in the stadium and getting snacks.
This is something that's easier to do if you're already a fan of the soccer because you'll probably be watching games yourself and your kid might eventually show some interest. I'm sure the age where they show interest varies, just try not to make watching the game a "chore". The whole point of the sport is for it to be fun but if you start lecturing about key points of the game too early you could turn them off watching it.
Give it a try and if they don't seem interested then try it again when they get a little older.
If you're not a soccer fan and your kid just picked up the game this will be harder for you. If they really like soccer and want to get better it's worth putting in a little effort to having them watch professional games.
Here's a few ways to get your kid watching more soccer:
Watch a Certain Player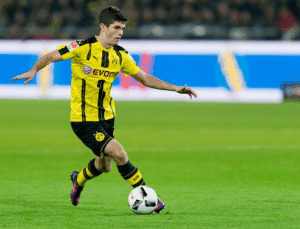 If they already have a favorite team they'll probably have a few favorite players so just tune in to have them watch. One great way to help them find a favorite player if they don't have one, or even learn about other exciting players, is to get them some soccer cards or soccer stickers.
Topps and Donruss, who you might know from baseball cards, now have some good soccer card sets. An Italian company named Panini has some pretty neat soccer albums and sticker collections and they role out new ones for tournaments like the Euro Cup, Copa America, or the World Cup.
It's been a little harder to find good soccer cards for my daughter but I've managed to get her some from the US Women's National Team. One player that's really grabbed the attention of kids around the U.S. is the young and talented Christian Pulisic – you can watch him play for Borussia Dortmund in the Bundesliga and for the U.S. Men's National Team.
Fantasy Soccer

My son has always loved watching Premier League games early Saturday or Sunday morning but this is the first year we entered the Premier League fantasy league and it's been a lot of fun. Our teams aren't great but earning points for players performance has really gotten him into the games.
I know Fantasy sports can take up a lot of time but we're not playing to win our league but rather not be in the bottom 3 (kind of like the actual teams in the EPL). We don't invest a lot of time into it. Sadly there have been days where we've started an injured player who didn't even see the field and we earned no points. But every weekend my son logs in with great anticipation to see how many points he's earned. We definitely follow it even more closely than before we picked a fantasy team.
It's also fun to give each other a hard time when your picks do poorly. For example, the very first game of the season two of my best players got red cards which plummeted me to the bottom of the league quickly and my son got a real kick out of it.
Despite all of that we did manage to climb into the top 20 of our league (briefly) and reach the top 1.5 millions players out of a total of 5.5 million.
Interactive Viewing
We created some Soccer Bingo cards that have been fun for our youngest kids and have gotten them watching a few games with us. The premise is simple – every person gets a card that has a soccer specific technique, tactic, or play in each space. All my kids watched a premier leage game together, which had never happened before. The youngest were asking about what each of the spaces meant and I helped them recognize events in the game.
One thing we found that was fun was to give each player more than one soccer bingo card to fill out. This meant more action for each kid which kept them engaged. We also made the rule that you could only put on one marker per event. So if you had the space named "give and go" on two boards you could only mark it off on one at a time
Playing is Better than Watching
Of course any time your daughter or son has the chance to play soccer rather than just watching it I'd always opt for playing. We've had many times where practices or games conflicted with a game time and we pretty much always chose to get the touches rather than watch the pros. A DVR or Youtube makes this a lot easier. In fact sometimes we turn on recorded Premier leage games while our kids put on all their soccer gear in the morning to get their "soccer brains" going.
How Do You Know it's Working?
That's a tricky question to answer because it's not like your kid will watch a few professional soccer games and then suddenly own the soccer field.  Learning from watching players and building a love of the game is a gradual process. A first good sign will be if your kid starts asking to watch games or jumping on Youtube to watch highlights in their free time.  The important thing is to get them excited about watching a team or a player and eventually some of that soccer they watch will soak in.
That's one of the many reasons I was so disappointed the U.S. didn't qualify for the World Cup this summer. The excitement it generates for the sport around the country is contagious. Going to giant watch parties with hundreds of other fans is such a neat experience and I'm sad all the youth players in the U.S. will miss out this time round.  However, we are going to adopt a team or two in the tournament and cheer for them this summer.