To some Sporting Kansas City fans Benny Feilhaber felt like the soul of the team. Not only did he connect the offense and defense on the field but he also helped connect the fans with the team off the pitch through his haircuts & mustache personality. His many interviews and the Benny Fielhaber show showed us a side of him and many other players that we didn't have access to on game day.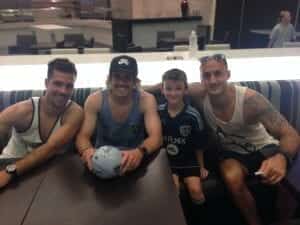 I couldn't bear to tell my son the news when I heard that Feilhaber wouldn't be wearing Sporting blue next season. I finally told him on the way home from practice the other night and he took it pretty hard – overreacted of course – "I don't even want to watch next year". Of course we'll still watch every game but it won't be the same without Benny out there in the middle of the pitch.
Mr. Check Your Shoulder
Feilhaber was really fun to watch, it was great seeing him pull off a picture perfect turn in the middle of the field. In our house his nickname could have been Mr "Check Your Shoulder" for the number of times I paused a game to show my kids how he knew where his teammates and opponents were on the field before the ball even got to his foot.
Not only was he great at assisting his brothers in blue he also scored some amazing goals and was like money in the bank from the penalty spot. Benny had a passion for the game, he played with heart and it was great as a fan seeing him get fired up on the pitch when his team really needed it.
His soccer story is a fun one if you get a chance to listen to the tale of how he walked onto UCLA and then ended up spending time in the Bundesliga and English Premier League before coming to the MLS.
Benny Will Be Missed
We had several chances to meet Benny over the years at various events, he was always a pleasant guy and really nice to the kids – who of course wanted pictures and autographs.
We got a chance to attend a SKC practice last summer and watch Benny and the rest of the team in action in training. As you can see from the pic, he's such a nice guy he "gave us the shirt off his back" :)
I guess his leaving offers a few good lessons for youth players & their families:
1) Appreciate the Moment
You never know how long you'll get to be on a team. If you're with a coach and group of teammates you enjoy then cherish every game because you won't get to play with them forever.
2) Don't Burn Bridges
You never know whose team you might end up on next. You don't know who you'll end up playing for and with so always be a good sport.
3) Soccer is a Journey
Just because you're no longer the best fit in a certain team or club it doesn't mean you're a bad player. Do your thing and you'll find a place where you're needed.
4) Always Work Your Hardest
If you listen to the story of how Benny ended up in Kansas City you'll hear how Vermes was his assistant coach on the USMNT U-20 squad.  Years later when Benny wasn't having a lot of luck on the field and other clubs weren't excited about his playing form Vermes remembered what Feilhaber was cable of and "took a chance" that he could help bring back his mojo. You never know what impression you might make on a team mate, coach, or someone else in the soccer community that could come back to help you someday.
Farewell Gift for Feilhaber
It makes us sad that we're now a line item between New England and LAFC in Feilhaber's soccer career but we wish him the best as he travels back to where he grew up in California.
We're fortunate that we have a lot of veterans like Besler, Zusi, Opara, Melia, Espinoza, and Medranda to take care of the "soul of soccer" in KC – and we're excited about the new players that a have chance to make Kansas City "their team" the way that Feilhaber did after he arrived.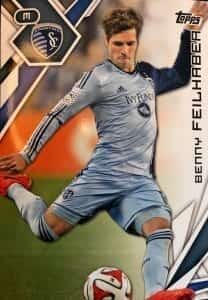 Benny will always have a special place in our soccer family and to say "Farewell to Fielhaber" we're giving away commemorative Benny Fielhaber jumbo soccer cards. Here's a picture of the card, it's 5×7.
We're sending them out for free. You can sign up for one in our store and we'll mail it to you free of charge in memory of Benny! Limited supply so get yours before they're gone – Request Card Here.
Update: Feilhaber is back baby! So now we're giving away Benny Fielhaber soccer cards to celebrate his return.