Once upon a time there was a kid who didn't like going to bed….
I'm sure you've never been a part of that story before right? As if my kids needed another excuse not to go to bed, our DribbleUp smart ball came in the mail today.
Our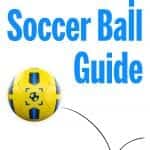 DribbleUp Soccer Ball Book just released with over 30 tips on how you can use the smart soccer ball! You can also try out the DribbleUp Soccer ball for a season or off season to see how it works for your player.
Sleep or Soccer?
Finishing up our nightly pre-bedtime reading ritual my son asked "Can we tryout that new ball, just real quick"?  Normally, "wait till tomorrow" would have been the answer but we'd been waiting to get the smart ball for a while and I was just as curious as him to see how it worked. It was just sitting there in the box, waiting to be tested. A tantalizing mix of soccer and technology, the siren song couldn't be ignored.
Earlier in the evening, I'd gotten the TestFlight invite from the team at DribbleUp. The smart ball app was still in development and wasn't in the App Store yet so we needed a special invite to access the drills.
  As you can see in the pic the camera on my old and busted iPhone 5 was in no shape for any augmented reality app so I'd installed DribbleUp on my wife's phone.
While I snuck downstairs to grab her phone as she graded papers my son unboxed the DribbleUp ball and we met back upstairs to login to the app and get the phone setup in the stand.
Soccer Drills
I guess being a studious kid, he picked the "Homework" tile first after opening the app and went to work on the "Right Foot Circuit" playlist. That playlist consisted of 5 different footwork drills, each 20 seconds long:
Right Foot Side to Side Rolls
Right Foot Outside Inside
Right Foot Roll Tap
Right Foot Front Back Rolls
Foot Stalls Right Foot
Each one had a text description but more importantly a video that described the drill and also demonstrated it. I was taking mental notes as we used the smart ball for the first time and sent off an email later on with some of my suggestions. One of them was that the preview video have the ability to "loop" so the user can watch the skill and practice it until they get it.
Now it shows the video once and you have to tap it to watch it again. While you're learning the skill it would be nice if it repeated the video demonstration until the player got it down. Not a big deal for the basic footwork but would be helpful for the more advanced ones.
Smart Ball Tracking
When we tapped the Start button for a playlist we were prompted to scan in the smart ball. I talked a little bit about that step in other posts but basically the ball tracking is done with augmented reality tracking of the surface of the ball rather than other smart balls that have a sensor inside the ball.
So you hold the ball up in front of the camera and position it into the circle you see on the screen and the app reads the ball, kind of like a QR code for a soccer ball it seems. Once the scan is successful it gives you some time to get ready and then starts the timing/tracking of the skill.
Virtual Trainer
Once we chose the playlist and scanned the ball the first skill drill in the playlist begins. The video showed the trainer doing the skill and then the timer starts. Right away some up tempo music kicked off, which at first surprised me as being odd but as we continued through the night it grew on me.  Almost like a mental cue that you're in training mode.
Kind of funny to imagine our U12 boys doing the 1000 touches warmup at practice to music and switching to a different foot skill every time the song changed.  But in the context of the app, I like the music.
As you can see in the picture, the app superimposes two cones on the screen that you need to stay between as you do the footwork.  The cones start off green but turn red if the ball "hits" or passes the virtual markers. (Apologies for the fuzzy image, a product of my damaged iPhone camera. After cracking the glass, it slipped into a cup of orange juice on the way to soccer practice and the camera has never been the same since.)
The trainer gives you audio cues as you go based on your performance. I figured they were random sound bites but as the night went on it seemed they were tied to my son's actions. I posed that to the DribbleUp team in my later email and was glad to hear that the app is giving real time feedback to how the drill is being performed:
"Not good enough"
"Needs to be better"
"Stay focused"
"Pick up the pace"
The app moves from skill to skill in the playlist with a short pause between each one. You don't have to scan the ball between each of the skills, only at the start of your playlist.
Soccer Skill Rating
After he finished the playlist the app gave my son a rating of how he had performed for each skill.  As you can see in the screenshot it scores player skill based on 4 factors:
Speed
Cone Control
Consistency
Pattern
One thing I didn't like is that you couldn't drill down into each of those factors to learn more detail about how each was being measured. That's another piece of feedback I gave – allow us to tap on each factor to learn more about it.
He moved on to the "Left Foot Circuit" followed by the "Basic Playlist" without any prompting from me. I was sitting there thinking, who is this kid – working on his left foot?
You know how your kid always seems to listen better for other adults than they do for you? Well if I tell my son to work on his left foot he kind of groans and says sure Dad.  But the Virtual Trainer in the DribbleUp app tells him to "work harder" on his "Left Foot Roll Tap" and he grits his teeth and pushes on. Wicked! I wonder if it works for Math homework too…
The "Basic Playlist" was longer:
Side Taps
Ball Steps
Alternate Sole Flicks (I think that's the one they showed in the Kickstarter video)
Left Foot Side to Side Rolls
Right Foot Side to Side Rolls
Right Foot Outside Inside
Left Foot Outside Inside
Right Foot Roll Tap
Left Foot Roll Tap
Each for 20 seconds.  By the end of that he was a little winded and needed a break so I jumped in and tried out a Triangle Playlist.  I didn't do so hot, scoring a D overall. My son laughed at the old man's score until he tried it and actually did worse than I did. As we got into Playlists other than the first few listed in Homework it seemed the tracking was a little off.
That was another piece of feedback that I shared with the team. For some playlists the tracking was fine but for others it was a bit frustrating.  We shouldn't have been getting perfect but we were definitely getting lower scores than we should have.  For example, on the "Roll Sole Sole" he was scored with -33% Speed, 89% cone control, 10% consistency, and 0% pattern even after doing it several times and improving as he went. I let them know which playlists were buggy so hopefully those will get fixed.
Bedtime
There are a lot of drills and playlists and we might have been up all night if my wife hadn't finally come looking for her iPhone. I should have known "real quick" would turn into "much later". She wasn't happy he was up so late – and "what was he doing playing soccer inside"? Of course he said it was my idea and I blamed it on him for being so eager to try it and that ended our first night of DribbleUp.
DribbleUp Pros
Gets him in the habit of keeping his head up. Instead of looking down at the ball, he's looking at the screen while doing the footwork. Of course you won't have a screen on the field but I like the habit of not looking at the ball.
Virtual cones force him to work in a tight space.  Like the cone setups for Beast Mode soccer – not as in depth but enforcing constraints that help improve precision in touch.
Big library of drills and playlists to keep it fresh and challenging.
Interested in the ability to have homework drills
DribbleUp Cons
Buggy tracking for some playlists. I'm sending the buggy ones off so hopefully those will get fixed.
Fixed duration. It would be nice if we could adjust how long the playlists and drills ran for.
Scanning between drills. Seems like Playlists are the way to go, you only have to scan the ball at the start and not between each drill b/c that could get old.
No juggling. The Kickstarter talked about the ability to track juggles but that's not in the app. Hopefully that's an upcoming feature.
Overall I really like how excited the app gets my son to train.  We'll see if his enthusiasm continues over time. We haven't looked at the "gamification" of the app yet, how you move up levels and leaderboards. I imagine my kids will be really into that if it's well done.
Something else I noticed on the Kickstarter project was a video of a player hooking the app up and seeing it on their TV. While I was waiting for the ball to arrive I inquired with the team about how that works and they pointed me to what cables to use to make that work.  So I ordered a HDMI iPhone cable that will let me mirror the app to our TV. Excited to test out that experience when it arrives.  Overall I'd say our first test of a smart soccer ball was a success!
To help make sense of the app and get the most out of your smart ball we just released the DribbleUp Soccer Ball Book with over 30 tips on how you can use the smart soccer ball! You can also try out the DribbleUp Soccer ball for a season or off season to see how it works for your family or team.