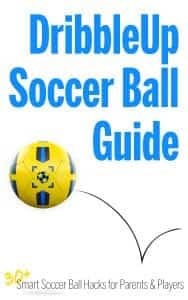 DribbleUp Soccer Ball Book just released with over 30 tips on how you can use the smart soccer ball! You can also try out the DribbleUp Soccer ball for a season or off season to see how it works for your family or team.
When we first bought the DribbleUp smart ball the team told us we didn't need any instructions or a manual, installing and using the app was simple – but if we had questions to let them know.
The DribbleUp app was simple to use and we started training with it the afternoon we opened the box. However, many of you who purchased a smart ball from our store have asked for installation and setup instructions so here is the DribbleUp users guide.
If you don't yet have a smart ball and would like to try one out we have both size 4 and size 5 that we can ship out right away, you can return it if the ball doesn't meet your training needs – click here to Dribble Up.
For new developments on the smart ball, tips on using it for training, and Dribble Up coupons enter your email below:
1) Download the Free DribbleUp App
iPhone / iPad App
You can download the DribbleUp app on newer generations of an iPad or an iPhone.  I tested it on my wife's iPhone 5 and it ran great, anything older than that and you could start running into a laggy experience when doing the drills.  It's a sophisticated tracking application that requires a lot of processing and optical tracking so your experience won't be as good on older phones. That goes for both iPhone and Android devices.
Obviously the benefit of running the app on your iPad is that you have a bigger viewing area when you're training but then it's not quite as portable as your phone. Luckily you don't have to choose, you can install the app on both your iPhone and your iPad and use it on the device that suits your situation. You'll need an additional stand for a tablet that doesn't come with the DribbleUp ball but you can find them on Amazon.
If you do a search in the Apple App store you'll see two listings, one for basketball and one for soccer.  Here's a link to the soccer version in the App Store – Dribble Up App iOS
Here's the link to the Android version in the Google play store. You can run the app on both Android phones and Android tablets (although the Amazon Fire is based on Android the processor isn't strong enough to run the tracking app) – DribbleUp App Android
2) Create Your DribbleUp User Account
The next step is to create your DribbleUp user account. It used to be that you would create your account from inside the app but now you actually go to app.dribbleup.com to create your user.  They don't require much information – just Username and Password.
Name – Your Name isn't shown in the app, I assume it's used for customer service purposes or perhaps will show in later versions.
Username – Your Username is what will display on the leaderboard so choose it carefully.
If you're signing up as part of a team your coach may have a certain format that they want you to use. It's not possible right now but I can see in the future DribbleUp giving you the option to publish your profile online for other players or coaches to see. So imagine yourself someday sending a link to your DribbleUp profile to a college coach and what they might think of the username you chose.
If you have multiple people using the DribbleUp ball you can create a different account with a different user name for each of them. We have a different account for each of our kids and once you setup the accounts you can switch between them in the app.
Email – Your email isn't used in the app, only if DribbleUp needs to contact you. They suggest you use the same email you used when you purchased the ball so they can find your account.
Password – Once you create your password you probably won't need it again for a while since the app remembers you. If you do forget it there's a Forgot Password option.
*You may be able to skip this step if you went with the upgraded stand. We recommend the upgraded stand for a few reasons. One is that it's more stable, if the ball hits it then it's less likely to tip over. Obviously if you kick the ball hard it will fall over regardless of which stand you're using. Another reason is that it can hold tablets and not just phones. Lastly, it's easier to set your phone/tablet on the stand, rather than having to slid it in as we mention in step 4.
3) Assemble Phone Stand
The phone stand ships as two pieces to avoid any damage en route.  Assembling the stand is pretty simple, screw the bottom tripod into the top phone holder.  The legs of the tripod telescope out to get your phone higher off the ground and to give it a better angle to track the ball from. You stand may look a little different as they've been updating the stand they use over time.
If you upgraded to the tablet stand you won't receive the two part stand, just the one piece metal stand that works for phones and tablets.
4) Slide in Android or iPhone
Pull up on the top section of the phone holder, slip your phone into the holder, and let the top slide back down and hold your phone tight.
Be sure to position your phone far enough to the right so that the stand doesn't press on any of the buttons on the side of your phone.
We've found it helps to angle the phone downwards a bit once it's in, point it slightly towards the floor. Something else to be aware of is that a bright light in the background behind the ball can throw off it's tracking. For example, if you're inside and there's a bright lamp behind you it can cause issues with the upcoming scan step.
5) Open the DribbleUp App
The main areas you want to get to know are the Workout, Progress, Library, and Leaderboard screens. The app does change frequently so if what you're seeing is different than what we describe please let us know.
Workout – This is the main screen you'll use to start your playlists. Once you do your daily workout you can continue to do additional playlists.
Progress – This screen includes a scrolling calendar where you can look back at your history over time. It also shows you a summary of your reps this week, last week, and your streak (number of days in a row you've gotten touches).
Leaderboard – This screen shows you how many touches you've gotten in comparison to other DribbleUp users this week and also over time.
Library – This screen has all the drills organized by category. Here you can preview each drill and practice the moves.
6) Soccer Drill Prep
A good way to get started before jumping right into one of the workouts is to choose one of the soccer drills from the library like Foundations.
To get started is with practice drills in the Drill Library go to Library in the app menu. Once you choose a drill you tap the "Practice Drill" button. Once you tap on a drill it will show you a preview video of the drill. The app shows you the trainer doing the foot skill and then zooms in and shows you a slo-mo shot of the drill so you can see how it works.
After you scan the ball you can do the drill as long as you want to get comfortable with it. This is better than jumping right into a playlist when you first start. It's a nice way to start because it's only 1 drill and gets you used to the Dribble Up app and how it tracks the ball. There's no time pressure of moving onto the next drill, you can keep playing with the same drill again until you're comfortable with it and have the hang of how the smart ball app works.
The playlist does give you a demo of how to do each drill but it's short and as it runs you through the drills one after another it can be overwhelming for players new to the app.
Here is an example of the trainer demonstrating one of the drills for you.
Once you're comfortable with the moves in the playlist you're ready to press the Start button.
7) Start the Playlist
Once you press the green Start button you'll see this screen, asking you to scan the DribbleUp ball. Drop your ball on the floor and roll it with your foot so it shows up inside the square on the screen and once the ball is scanned the playlist will begin.
You'll know right away if the scan didn't work because the square that shows on the screen will be red.  Typically the square is green and only turn red if you go outside of them.
If you can tell immediately the scan didn't work, tap the screen again and you'll be given the option to either Quit or Resume.  Choose the Quit option – then press the Start button and scan your ball again.  If you're consistently getting red make sure you don't have a bright light source behind you that's confusing the app.
Each drill will show you a video demo and then give you a few seconds to get ready before it starts a timer.  When the timer begins that means the app has started grading your skills.
7) Review Your Performance
After you've completed the playlist the app shows you a score of how you did on each drill. The drills are graded on four different aspects:
Speed – Execute as quickly as possible while keeping control
Cone Control – Keep the cones green
Consistency – Each touch should take the same length & time
Pattern – Match the pattern of touches for the drill.
You can tap the screen to read more about your score for each one of those areas.
Player Progress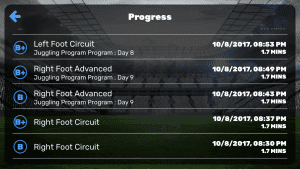 DribbleUp also has a Progress tile that shows a history of all the skills sessions you've gone through. This is a great measure of technical development because players can see their progress over time. Ideally they'll see themselves getting higher scores if they consistently use the app to train those same playlists.
At some point when they move up to the next level of difficulty it's likely the scores will dip again as they work to master the additional attention to detail.
Awards & Leaderboard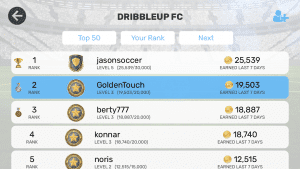 One of the ways that Dribble Up motivates players to train harder is via the Rewards tile which unlocks different awards as you progress through your skills training. You reach different levels by earning points. It has multiple Levels such as "Rising Star", "Going Pro", "First Cut", "MVP", "Corner Kick", "Gold Star", "Pitch Legend", etc.
Some of the levels will turn the ball tracker a different color (purple, green, yellow, orange, red), which is a neat visual way to show progress. As you train more your ball tracker will change colors as you move up the Levels.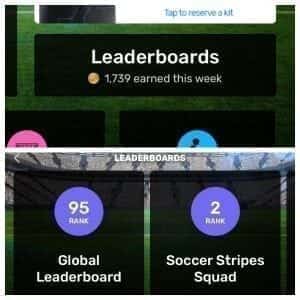 Another common motivational tool that has proven successful in many sports is the Leaderboard. As you can see in this graphic you access it from the main screen by tapping the Leaderboards tile. This view compares you to other players using DribbleUp and has been particularly effective in getting my kids to consistently train with the app. There's something about a player list and where you rank that keeps you coming back into the app and wanting to move up higher relative to the other players.  Of course the only way you can do that is to train more!
Everyone sees the Global leaderboard but if you're a part of one or more virtual teams, like our Soccer Stripes Squad, you'll see multiple leaderboards and your rank on each one. The leaderboard has two different views, you can see where you stand for the current week and also "All-Time".
So if you've logged hundreds of hours with Dribble Up since you downloaded the smart ball app you might rank pretty high on the "All-Time" leaderboard but if you've had a busy week and haven't done much training you could be towards the bottom of the weekly leaderboard.
Juggling
The Ball Control feature is probably the most used feature of the smart ball app. The library of drills is pretty big and the combination of playlists of drills can keep players improving for a  long time on their footwork with a variety of different drills each day or week.
However, many users waited eagerly for the Juggling features when the app first came out and we're happy to say now that they're available.
As you can see here you can access Juggling from the main screen by tapping on their respective tiles. The Juggling tile tracks how many consecutive juggles you're able to successfully string together. The juggle counter only counts touches that are below the knees so this method requires more control. We did a juggling app review and also offer some tips on how you can start off simply and get better at juggling over time.
DribbleUp Support
If you have a problem using the ball you can email us and we can give you our tips. You can checkout our player and parent guide here.
If you have a problem with the app report it to the DribbleUp team. We had a strange bug in beta mode where the Slap Cut Squirt drill set our kids points back to zero. Needless to say they weren't very pleased but the Dribble Up team got the bug fixed right away and corrected the whole issue quickly. So if you find a bug in the app the team will fix it right away.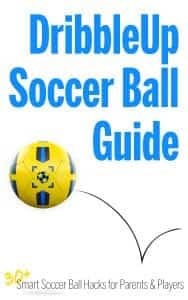 If you have feature requests can also submit those to the DribbleUp team but those aren't guaranteed to be made. The developers of the app are eager to improve the experience but I had a few suggestions that weren't implemented because they solved the problem we were encountering in a different way than suggested. So if you have recommendations or enhancement requests please pass them to the DribbleUp team for consideration.
If you have any other questions that aren't addressed here please leave a comment below or send us an email to support@soccerstripes.com
To help make sense of the app and get the most out of your smart ball we just released the DribbleUp Soccer Ball Book with over 30 tips on how you can use the smart soccer ball! You can also try out the DribbleUp Soccer ball  for a season or off-season to see how well if fits into the development of your player or team.