DribbleUp is coming out with a new feature called DribbleUp Live that lets you go through their soccer drills with an instructor. They let us demo the new smart ball app feature this week and it went pretty well. Update:  The DribbleUp Live feature is now available in the smart ball app.
As you can see from the DribbleUp video demo below the new feature adds a new tile in the soccer ball app called "Live" that lets you sign up for a scheduled class. So basically you get a soccer skills training session along with the smart ball.
Once you tap the Live tile you're given an option to "Join Class" and if there's one in session you're asked to scan your smart soccer ball. At that point you can see the instructor and at the class start time he starts walking you through the soccer drills. The app has a split screen where you can see the instructor on one half and yourself on the other half.
The soccer drills are ones from the DribbleUp library so if you already use the soccer app then you're familiar with the moves he's walking you through. Once the drill starts you have a certain amount of time to get in a certain number of touches based on the drill.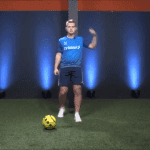 The video quality was great for us and I liked how he showed how to do the move and then motivated each player to work hard through the skills. At the end of the session the instructor stretches the player out a little while they waited for the leaderboard to show up. At this point it looks like the leaderboard shows how many touches each player put in. We were a little late joining so our rep count was a lot lower but we're looking forward to jumping in on time next round.
DribbleUp Live isn't available for general release yet  DribbleUp Live is now part of the smart ball app. It's a great addition to the smart ball app to give players a chance to train live with an instructor. When you buy a new Dribble Up ball you have the option of adding in Dribble Up Live. If you already have a smart ball and want to add in the Live feature you can go to the same site where you created your Dribble Up user account and add DribbleUp Live.