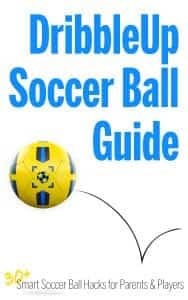 DribbleUp Soccer Ball Book just released with over 30 tips on how you can use the smart soccer ball! You can also try out the DribbleUp Soccer ball for a season or off season to see how it works for your player.
The new Dribble Up soccer app released yesterday has a lot of upgrades that make it easier for players to train with the smart ball. Demand this time of the year has been quite high for the Dribble Up smart ball so unfortunately we're out of stock for now. If you need a smart ball in time for the holidays you can find the ball on Amazon. We've been using the new stand that holds both the phone and tablet and highly recommend it. Not only does it hold tablets in addition to your phone, it's also more stable and since its folds up it's more portable.
Better Ball Tracking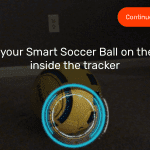 One of the biggest differences for players is that you don't have to hold the ball up to the app to scan it any longer. Now once you start a playlist you leave the ball on the ground and simply roll it into the middle of the tracking square. Not only is this a lot more convenient it just "feels" a lot better as a soccer coach.
I don't know how many times I told my 5 year old daughter's team "no hands" when they went to touch the ball yet my 11 year old was picking up the ball every time he wanted to start a Dribble Up playlist. We were willing to use our hands because the smart ball was so great in many other ways but now that we don't have to pick it up to scan the ball it makes the whole experience even better.
The overall ball tracking is definitely improved. When you do your first playlist with the new app you'll notice that the tracking seems smoother, not jumpy like it used to feel at times. The ball tracker seems a lot more fluid and moves much more quickly across the screen along with the ball.
No More Waiting on Downloads
It used to be that when you chose a workout program that you had to wait on the drills to download to the app. You would get a progress screen and you couldn't proceed into the app until it was done.  In addition, some folks had an issue where that progress screen would freeze so they couldn't get into the app. It also meant that every time you switched workout programs you had to wait while it downloaded the new one. After the update we're no longer running into any of those frustrations.
It could be that the app still downloads the drills. I'm guessing that at some point it has to download them but maybe now it does it in the background so you don't have to wait. This is a welcome improvement to the user experience.
Player Customization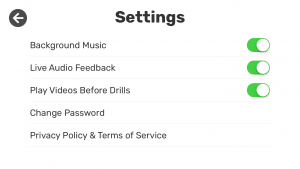 Trainer Feedback
My daughter is not a fan of the verbal feedback the app gives her as she's working on her playlist. Her least favorite is when she's working on her weak foot and struggling along and the virtual trainer tells her "needs to be better". Sometimes she snaps back "I'm doing the best I can". Well now she'll be much happier because a player can turn off the audio feedback if they don't want to hear it.
Background Music
We like the music in the background when we're out on a soccer field but when we're using the Dribble Up ball at home sometimes we crank up the Alexa Show with a Spotify playlist and don't want the background music so now it's nice that you can toggle that on and off as well.
Preview videos
In one of our Dribble Up smart ball lessons learned posts we suggest reviewing the preview videos before you do a drill so you know how the move works before you track yourself in it's performance. We still recommend that for players new to Dribble Up or for players doing a new move for the first time. However, for players that know the drills well they might not want to watch the previews each time. The new version of the Dribble Up app lets you turn off the preview videos. We've seen that requested by several coaches on Facebook so that's a welcome feature for some.
Player Profiles

If you have multiple players that share the same device like we do there's another new feature that comes in really handy. It used to be that if you wanted to share a smart ball and a device that the players had to sign out/sign in when switching back and forth.
Now on the Settings screen there's an option to switch player profile right inside the app and you can easily go back and forth between multiple profiles once you setup the password for each one.
Training Options
The latest version of the app has multiple different programs that you can choose between. These programs are cool because it sets the player up with a playlist for each day. You can choose your training program in the app settings screen. Here are the ones they offer:
30 Day Program
14 Day Youth
14 Day Intermediate
14 Day Expert
14 Day Pro
Daily Touches for Beginners
I still think they should offer a weak foot program that gets kids regularly working on their weak foot.
New Drills & Playlists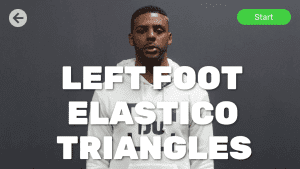 One of the moves that we requested be added was the Scissors so we're glad to see that in the new version. Some of the other moves that the app has added are:
-Triple Sole Role
-Elastico
-V's (Left, Right, V-Tap)
-Three Step (we call this Brazilian toe taps)
-In & Out Rolls (Left and Right)
In addition to adding new playlists Dribble Up also released new videos for playlists. Now the video starts zoomed out on the whole trainer's body doing the move and then zooms in on their feet to give you a better idea of how the move is made. If you've been using the app for a while one thing to note is that a few of the drills were renamed:
Squirts -> Push Outs
Side Taps -> Foundations
Ball Steps -> Toe Taps
That's why it's good to watch the preview video first, to see what the drill actually looks like.  We had turned off the preview to test out the new settings option and were running through one of the new programs. One of the drills was the Triple Sole Role which we hadn't done before and without the video preview we just guessed at what to do and our score definitely suffered.
One comment we have is about the Outside Scissors skill. We always emphasis to our players that they should explode into the push with the outside of the foot after the scissors move. The move gets the defender to lean one way and then you create space by exploding into that push the opposite direction. The video shows the push as just a tap but we'd like our kids to train with it as a big push so that's one adjustment that could be made to the drill video.
Improvements

The team leaderboards are working much better than they used to. In the past there was a maximum number of players you could show at once on a leaderboard but now it shows however many players are part of a team. The leaderboard sorting also appears more accurate based on the players performance than it was in the past.
Training Calendar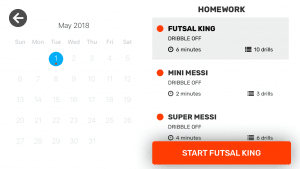 Dribble Up added a training calendar along with their various programs so you can see your progress over time.
The app already showed you your drill history so you could look at how you were progressing in terms of technical ability but it didn't really have a time component. Now it has a calendar so you can see how you're doing in terms of training consistently over time. There's a calendar view for both Homework and also for Practice Drills.
One of the things I liked about Techne Futbol was that it showed you how many days of a training streak you had going. Psychologists have shown us that once you get a streak going you're more likely to do the work necessary to keep it alive. You get a taste of that with the new calendar view in this app update.
Summary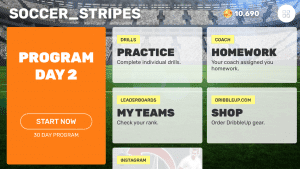 As you can see from this screenshot the main Dribble Up app screen has also been updated. I like how it organizes the Practice Drills, Homework, and your Teams. I already follow Dribble Up on Instagram so I don't really need that tile but I can see how it'd be convenient for folks that don't.
Overall the new app version seems to make it easier for a  player to train with Dribble Up. The better ball tracking, player customization,  training programs, new drills & videos, and the training calendar really show a focus on the making the overall experience better for players. I have to say I've been impressed with how the team has incorporated player and coach feedback into the new app version and think it's a big improvement.
One thing I would like to be able to do that I don't see anymore is a list of all the drills you've done over time and your scores for them. It seems now you have to go into the calendar view to get access to your drill history.
DribbleUp Live
DribbleUp has also added the DribbleUp live option in the app if you want to go through a live class with a trainer. Those are pretty slick, they're at a set time each day. That feature does cost extra but it's nice for some kids to be able to have a live trainer walk you through the drills. Could be helpful especially for players that are new to DribbleUp.
To help make sense of the app and get the most out of your smart ball we just released the DribbleUp Soccer Ball Book with over 30 tips on how you can use the smart soccer ball! You can also try out the DribbleUp Soccer ball for a season or off season to see how it works for your family or team.
To stay up to date on DribbleUp updates and discounts just enter your email below.