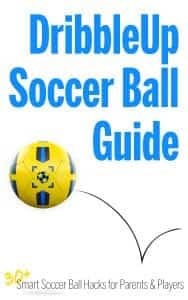 DribbleUp Soccer Ball Book just released with over 30 tips on how you can use the smart soccer ball!
One great thing about Dribble Up is that training with the smart ball just a 10 minutes a day can help your foot skills. To maximize your time on the ball here are 10 things to avoid that we've noticed as we've used the soccer ball for training at home during the off season. We were actually listening to the Coaching Soccer Weekly podcast episode titled "How to Improve Technically at Home" as we wrote up this list. The end of the episode has a great story about a player who worked hard in the off season and her effort paid off when she made the 1st team in the Spring. Hopefully these tips will make it easier for you to practice at home with the Dribble Up ball and put in the time to start off next season with more control and confidence.
1) Settle Into the Drill
Don't wait for the timer to start before you do the drill. At the start of each drill the trainer will demo the skill before the app starts timing you. Rather than waiting for the timer to begin – start trying the skill as he demos it. This will get you into a rhythm so when the app starts tracking your movements you'll have settled into the drill. Use that demo period as a warm up for the drill. But what if you don't know how to do the drill? That leads to the next tip…
2) Preview the Playlist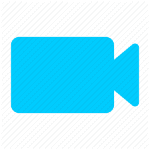 Don't start a playlist without first reviewing the videos and trying out the skills. Imagine you're at practice and your coach is trying to teach the team a new footskill. Is it easier or harder to learn a new move when you feel like the whole team is watching you try?
That's one of the great benefits of Dribble Up and other tools that help you practice at home. You can learn the moves at your own pace, without the pressure of trying to learn it quickly under the watchful eye of your coach and teammates.
I'm sure we've all seen or experienced players struggling with learning a new foot skill at practice and getting embarrassed and giving up on it. Since you're not at practice, take your time and watch the drill preview as many times as you need to and try it out. I wish there was a way to put the preview video on a loop so it would keep playing while you practiced it.
It's great that Dribble Up does challenge you by putting you under pressure with a timer and grades you – eventually we'll all be under pressure in a game situation. But your coach probably wouldn't want you to go out and try a brand new move in a game. She'd rather you practiced that new move at home or in training and then use it in a game once you're more comfortable.
Same with Dribble Up. Don't put yourself under pressure to execute the very first time you learn a new skill, practice it first before grading yourself.
3) Choosing the Right Drill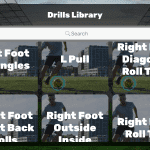 Don't worry about whether you're doing the "right" drills. I've had parents ask about which drills their players should be doing and how they know if they're doing the right ones. One nice thing about Dribble Up is that it gives you different skills to choose from but sometimes when we're faced with lots of options it makes it harder for us to decide.
For example, if you go into the Drills library you could spend a lot of time looking at all the skills and deciding which to work on. The key is to just pick one and get started. There is no "right drill" but a sign of a "wrong drill" is that it's too easy for you. That's probably a sign you need to select the Medium or Hard scoring level or maybe move on to another drill. Which brings us to our next tip…
4) Challenge Your Feet & Brain
Don't get discouraged when you're doing a new drill and it feels like your feet can't keep up with your brain. If you try a new drill and it's tricky it can be tempting to go back to one that you know well. Don't avoid a drill just because it seems difficult. Your brain and feet might not line up right away but keep at it – the more you do a playlist the better you'll get at it. You can look back in time at the Progress tile and see your skill improving.
5) Don't Worry About Your Score
Don't worry about getting a low score when you're doing a new drill. Think about it in terms of grades at school. First you learn something, then later you're tested to see how well you understand it. In Dribble Up, the first time you do a drill you're learning it and the 2nd, 3rd, etc. Although you're given a score each time you shouldn't expect it to be good right off the bat. It's kind of like a pre-test in school. Your instructor doesn't expect you to ace it, rather it's to set a baseline to see what you know. What's important is that you focus on understanding the move and doing it well and over time your score will improve.
6) Don't Speed Through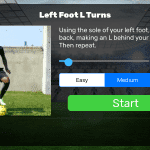 Don't try and go full speed through each drill. Pay attention to the details of the moves and things like the body position of the trainer and speed will come over time.
Take the Left Foot L Turns drill for example. After you pull the ball behind your body with your left foot the job of the right foot is simply to roll it with the sole back to the left to setup the move again.
The whole focus of the drill is executing a crisp L Turn so do that part quickly. Think about how you'd use the move in a game situation. You want the turn to be as quick as possible so focus on speed there but your right foot roll is really just to set the move back up.
7) Don't Count Only on Dribble Up
Of course the ball has helped our kids and many others improve their foot skills but it's only intended as a supplemental tool. There's a lot about the game you won't learn from Dribble Up that's critical to be a well rounded footballer. Using a smart ball to train is what's referred to as "unopposed" training. There's a debate in the soccer coaching world about which is better opposed vs unopposed practice our opinion is that both are good when used in conjunction.
A common scenario for many players is that team training is more tactical so they don't get a ton of touches on the ball. If a player is part of an Academy they might have an extra night of technical training but if not then they're possibly not getting enough touches on the ball each week. That's where tools like Dribble Up and Techne come in, getting players more time on the ball each week. Some players work with personal trainers to get in more ball work and this makes a big difference but the two downsides of that approach are cost and scheduling.
The nice thing about Dribble Up is that is has the trainer built into the app and you can work on it whenever you want. One possible approach is to start off with Dribble Up to get more comfortable on the ball and to supplement team training. Then once they're farther along technically they could progress to small group or personal training – at that point the coach would be able to do a lot more with the player since they'd be more technically proficient.
8) Consistency Counts
Don't focus on being perfect, rather focus on being consistent. No player is perfect, even professional players make mistakes. You can't expect yourself to be perfect but you can challenge yourself to be consistent. This means training regularly and also focusing on technique. As we touched on earlier don't worry about your score and don't speed through the drills. Instead focus on getting into a rhythm and executing the move properly each time. This builds muscle memory so when you have the ball at your feet in a game you won't have to think about controlling the ball and your brain can think about all the other aspects of the game.
9) Don't Use Your Email Address
When you sign up for your Dribble Up account don't user your email address as your user id. If you do everyone will see it in the leader board. I suppose if you want people to be able to email you then maybe use your address but often times the players using the smart ball app are younger kids and don't want to share their address out to the world.
10) Don't Train in Socks
Dribbling in socks is bad news. On hard wood you'll slip and even on carpet the ball can slip right under your foot when you go to change direction. This isn't as big a deal if you're using bumpers but it messes up your rhythm. We'd say wear shoes but sometimes you're kicking around the house and want to do Dribble Up and you'd have to run and put on your shoes. Don't create reasons not to train, you want to remove obstacles from getting in footwork. In that case it might be best to just lose your socks and do it barefoot.
One good time to get your footwork in is anytime you spend just waiting around. For example, if you're riding the bus to school and waiting for it to show up you could get in a playlist or two- you already have your shoes on an ready to go!
Dribble Up Success
Hopefully some of these tips were helpful for your training. Remember, the Dribble Up ball isn't meant to be the only thing you train with but using it can help improve your game.
An example we've experienced is the "Strong Roll" drill that's part of the "Left Foot Advanced" playlist. Over the off season we've been working on the weak foot so my son's done that drill quite a bit. The other day at training the coach used him as an example for that move, which is definitely a confidence boost for any player. The coolest thing though was to watch him use it successfully in a game last weekend.
That's one example of how tools like these can have an impact on your team training and also in your games.  What drill will be the one to make a difference in your next game?
Happy Dribbling!